New York rapper Tekashi 6ix9ine's is living her best life in a new spot. Jade has stepped up to show a glimpse into her new living quarters alongside her daughter.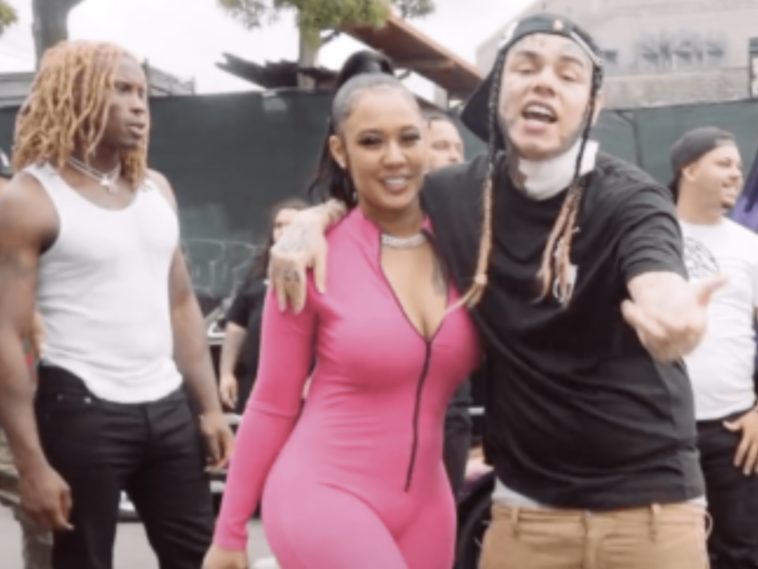 149 Views
Comments Off on Tekashi 6ix9ine's GF Jade Reveals Her New House
Tekashi 6ix9ine's GF Jade Gets A New Spot
The Big Apple native hit up her Instagram page with a must-like pic. Along with posing next to her daughter and vowing loyalty forever, Jade referenced the pic's location is from her new house.
"i got you forever 🤍"
Tekashi 6ix9ine's Jade Might Not Be Single
A few weeks ago, the mother of one hit up her Instagram page with a set of pics she initially used to set the Internet ablaze. However, her previous "single" caption was no longer in the caption.
Jade posts up the same pics she used to announce she was 'S I N G L E ' – turns out it was all cap? #First#BOHH#BlackOwnedHipHop
People also lit up her comments section to blast away at her for most likely capping about her and Tekashi breaking up.
"Not single this time though 😂"
"unt unt …naw we aint forget u posted these and it said "SINGLE""
"69s not happy bout the tat"
"Is she single or what ? She was on 69 story yesterday"
"Yea u better not put single in yo damn caption again 🥰"
Jade Covers Tekashi 6ix9ine Portrait Tattoo
Recently, a clip of Jade getting a new massive tattoo went viral. The vixen's new piece, which is of a Koi fish, went over the tattoo she had of 6ix9ine's face located on her upper left chest.
"When designing this tattoo for Jade she originally said " I just wanted a Koi fish"understanding that it was a cover-up and there were multiple layers of different colors added to originally. I had to tackle it in perspective of understanding form and understanding what the concept should mean. We went with the blue Koi fish because blue means peace serenity and calm then as a secondary image to help with the rest of the cover up towards the upper part of her shoulder area I went with a peony. Peonies are also a strong symbol of good fortune wealth and prosperity , they are also commonly used to symbolize beauty."
Jade had continued to use her Instagram page to send subliminal messages presumably aimed at 6ix9ine doing something bad enough to tear them apart.
"Don't ever violate & think you safe with me .."
The Troll's Girlfriend Is Single
The controversial troll might need to join a dating app. The hip-hop troll's ride or die has social media's attention after appearing to announce she's officially on the market. Jade hit up her Instagram page to deliver the shocking news. She posted up a pic of herself flexing bikini goals and announcing her presumed new status.
"S I N G L E"
It's worth noting this could all have all been an April Fools joke – however, her entire page was also wiped clean of any past Tekashi 6ix9ine pics.