YoungBoy Never Broke Again has debuted a new look. The Baton Rouge rapper can be seen wearing face makeup in his new music video for "Black Ball" and says it makes him feel "comfortable." The practice of wearing makeup goes all the way back to African tribal traditions.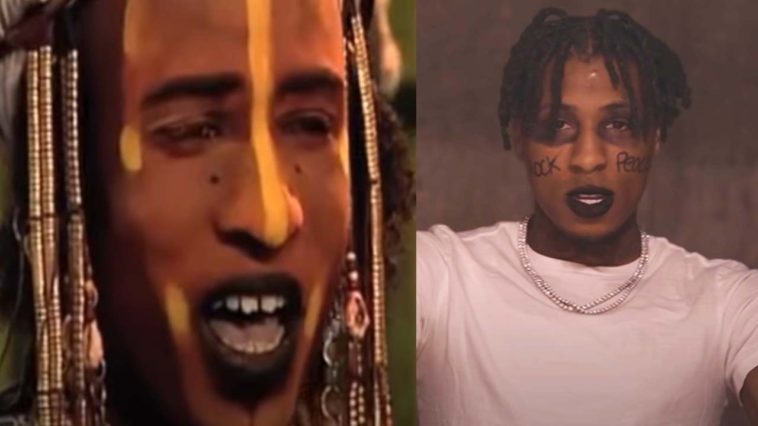 249 Views
Comments Off on NBA Youngboy Says Wearing Makeup Makes Him "Feel Comfortable." Black Men And Makeup Go Back To African Traditions.
NBA YoungBoy Sports MakeUp And Loves It
The "Black Ball" music video was shot at NBA's home while he is still in confinement under his new house arrest arrangement. In a clip of the video, you can see his eyes and lips are covered with dark makeup. The words "Rock" and "Peace" were written on his cheeks.
While speaking with DJ Akademiks on the Clubhouse app, YoungBoy opened up about his love for makeup.
"I like doing my face, I like painting my face or putting makeup on," said YoungBoy. "I like to look in the mirror and see everything black, my eyes and sh*t."
Some fans are concerned that NBA Youngboy may be dealing with a psychological phenomenon called "The Lipstick Effect" in which wearing makeup can give individuals a superficial confidence boost by making them feel more physically attractive, increasing feelings of self-esteem, attitude, and personality.
However, Black men and makeup go back to African traditions, such as the Wodaabe people of Niger, whose men cover their faces in lavish makeup to attract females. 
Social media influencer Damilola Adejonwo – whose "men wearing makeup" video went viral on Tik Tok — has this beauty manifesto: "To be visible enough wearing makeup so that men can see that its completely genderless and, indeed, something they can wear too."
YoungBoy Finally Free
Recently NBA YoungBoy was freed from jail.
The last time his team requested a bond for the rapper, it was denied. However, things are different this time around. His attorneys requested that Youngboy be relocated to his Utah residence to serve his time on house arrest.
With approval of this request, the rapper now has access to his in-home studio and is being monitored by a private security team.
NBA Drops Compilation Album
In addition, NBA recently released a compilation album in collaboration with Motown Records.
Never Broke Again: The Compilation Volume 1 was released through Motown Records on November 19. The compilation was a follow-up to last year's Never Broke Again Vol. 1 (Ain't Too Long 2), and features contributions from NBA YoungBoy and artists from his label.