For the first time since the Astroworld Festival tragedy, rapper and Houston native Travis Scott is talking about the night that resulted in the deaths of 10 of his fans. Many are saying the embattled rapper isn't showing enough remorse.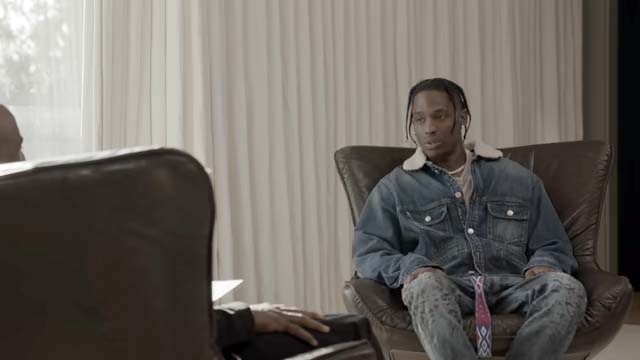 249 Views
Comments Off on Travis Scott Opens Up In 1st Interview Since Astroworld Tragedy, Fans Question His Remorse
In an interview posted Thursday morning to Charlamagne Tha God's YouTube channel, Scott sat down with the TV and radio personality to discuss what happened.
Charlamagne Tha God Interviews Travis Scott About Astroworld For The First Time
Scott was asked minutes into the nearly one-hour-long interview when he knew that things went horribly wrong.
"It wasn't really until minutes into the press conference that I found out exactly what happened. Even after the show, you're just hearing things," he began. "But I didn't know the exact details until minutes before the press conference."
"And even at the moment, you're like, 'Wait. What?'" Scott continued. "You just went through something, and it's like, 'What?'"
"So you didn't know people had actually passed away?" Charlamagne asked.
"No. Until minutes before," Scott said. "The thing is, people, pass out. Things happen at concerts. But something like that. It's just like…"
When asked, Scott also said that he never heard fans in the crowd screaming for help to get his attention.
"It's so crazy because I'm that artist, too, you know, anytime you hear something like that, you want to stop the show. You want to make sure fans get the proper attention they need," Scott explained. "Anytime I could see something like that, I did. I stopped it a couple times just to make sure everybody is OK. I really just go off the fans' energy as a collective. Call and response. I just didn't hear that. I've got music. I've got my in-ears. I just didn't hear that."
Travis Scott's Lawsuits Up $2 Billion
Recently, Travis hired Trump's lawyers to assist with his Astroworld lawsuits.
Travis Scott and Live Nation have been hit with over 250 lawsuits for over $2 Billion and are hiring lawyers from the top law firms in the country.  Scott has turned to Daniel Petrocelli, the head of litigation at O'Melveny & Myers LLP, a Los Angeles-based firm with one of the top entertainment practices in the country, to help his case.
Hulu Astroworld Documentary Gets Nixxed
In addition, recently Hulu marketed their Astroworld documentary which was met with immediate backlash online from fans who said it was too soon.
Just one month since Travis Scott's deadly Astroworld Festival tragedy where 10 people lost their lives and over 300 people were injured. The streaming platform, Hulu advertised a documentary on the event that caused an uproar from fans,  causing the platform to shut down all mentions of the documentary and promotional efforts.