Former "Empire" actor Jussie Smollet was found guilty of falsely reporting a hate crime yesterday. His defense team is planning to appeal the jury's decision.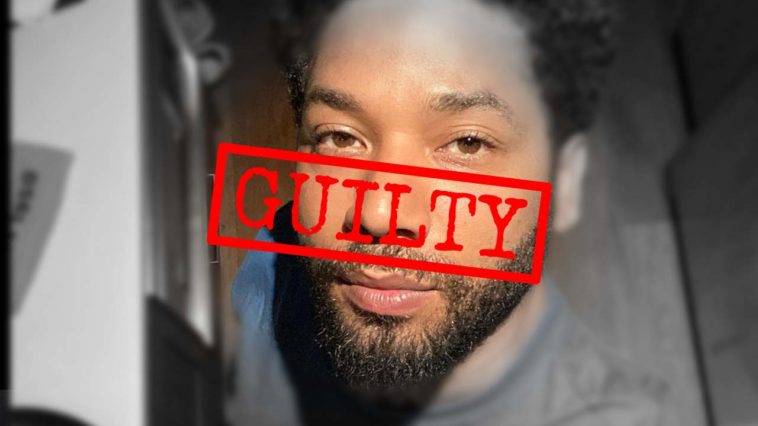 99 Views
Comments Off on Jussie Smollet Found Guilty Of False Reporting A Hate Crime
Jussie Smollet Found Guilty By Jury
Jurors deliberated for two days to come to the decision. While Jussie stayed steadfast to his denial of false reporting, his accomplices had different testimonies as well as evidence to support.
Smollett always maintained his innocence on the stand and denied the accounts of Olabinjo and Abimbola Osundairo. However, prosecutors pointed to the brothers' testimony and evidence that they were paid by Smollett to stage a fake crime in order to garner sympathetic media coverage.
A disorderly conduct charge for a false crime report is a Class 4 felony and punishable by up to 3 years in prison and a $25,000 fine. Cook County Judge James Linn will have set a sentence at a concurrent or consecutive sentence for each of the five counts at a later date.
Nenye Uche, Smollett's attorney, said he "respectfully disagrees" with the jury's decision and that the case will be won on an appeal.
Jussie Hooks Up With The Accomplice?
Recently, Jussie testified that he masturbated and kissed with one of the brothers after taking drugs in a gay bathhouse.
While in court, attorney Allen asked Abimbola if he and his brother told Smollett that they wouldn't testify and he could make this "all go away," by paying them each $1 million; which Abimbola denied. The same brother was asked about visiting a Chicago bathhouse that's known for having a large gay clientele and allegedly playing pornography inside. Abimbola shared that he didn't recall seeing porn on-screen at the spa, or having masturbated with Smollett there.