Ohio rapper Kid Cudi might count on the music industry as his day job, but he's definitely a businessman at heart. The rap heavyweight is seizing a golden opportunity to sell the very dress he performed in on this past weekend's "Saturday Night Live" broadcast.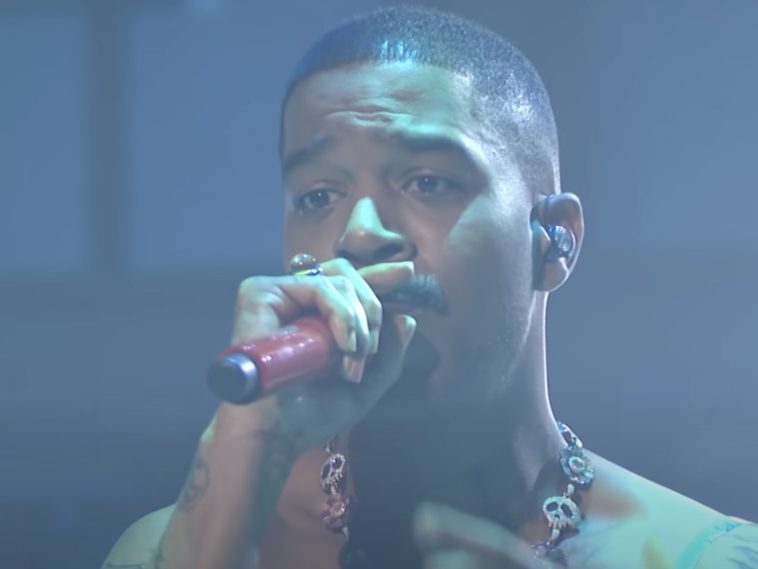 @sohh @sohhdotcom

129 Views
Comments Off on Kid Cudi's Legit Selling His Kurt Cobain/SNL Dress
Kid Cudi Sells His SNL Performance Dress
Kid shocked fans with his tribute "SNL" performance of "Tequila Shots." Not only were there hidden signs to former "SNL" cast member, Chris Farley, from a T-shirt he wore during the first part of his presentation. Cudi also confirmed that he honored Nirvana lead singer Kurt Cobain by wearing a floral print dress, which Cobain was known to wear in the late 1990s.
The hip-hop star announced that he would be including the dress in his upcoming off-white collection after realizing the impact it had on fans. Cudi also shared that Off-White fashion house head Virgil Abloh had designed the dress for him through a shout out to the designer on social media.
"I'm doin a collection w Off White and the dress will be included!!"
Cudder also vowed to return to "Saturday Night Live" anytime the iconic show wants him back.
"Dream come true!! Love to everyone at SNL for being awesome!! Let me know when u need me again and im THERE 🤗 @nbcsnl And Carey u crushed it!! special shout out to Lorne for havin me!! ❤️🙏🏾"
Kid Cudi's Floral SNL Dress
According to reports, Cudder didn't just happen to rock the jaw-dropping fit. Kid used the outfit to pay homage to late 90's rocker and Nirvana band leader Kurt Cobain.
The rapper, 37, rocked a maxi-length, spaghetti-strapped floral sundress at one point, and a rumpled green cardigan at another, while performing songs from his latest album on the NBC sketch show. Each was a clear tribute to the late Nirvana frontman, who committed suicide at age 27 on April 5, 1994. "Kid Cudi pulling the ultimate Kurt Cobain tribute on #SNL on the week of his death. @KidCudi all about love and suicide prevention and awareness!!!," one fan tweeted. The grunge legend famously wore a floral dress on the 1993 cover of now-defunct British magazine The Face a year before his death. Cobain also memorably donned a grubby, cigarette-burned green cardigan during Nirvana's MTV Unplugged concert in 1993. (Page Six)
Kid Cudi + Jack Harlow To Grace 'SNL' Stage
In March of 2021, news broke that Kid Cudi would be the musical guest on the April 10th, 2021 episode of "Saturday Night Live," hosted by actress Carey Mulligan. That comes two weeks after Kentucky rapper Jack Harlow will be the 'SNL' music guest on March 27, with comedian Maya Rudolph hosting. In between that, Judas and the Black Messiah star Daniel Kaluuya will host the April 3 episode.
Kid Cudi Promises To Level Up
In January 2021, Cudder went to his Instagram and didn't hold back on his promises. KC said fans could expect his to keep grinding and really blow everyone away with what he's working on.
"From here on out you will see me glow in everything I do. I will show the world Im a true force and nobody can stop me. I think it, I can make it happen. Doesn't matter if u hate me, you're gonna have to watch me glow. That will always bring a smile to my face. Im not going anywhere. To everybody out there that's been watching me all these years, you aint see sh*t yet. I am Gods messenger and I am not done here. To all my friends and family that have been ridin with me from day 1, thank you so f*ckin much. I wont let you or the world down."
The powerful words sparked some major co-signs from hip-hop artists including Jaden Smith and Trippie Redd.
"I have only ever seen you glow big bro, im so excited for what's coming" -Jaden Smith
"So inspirational" -Trippie Redd