Hollywood actress Karrueche Tran is proving age is nothing but a number. The high-profile entertainer has blessed the world with a glimpse at herself soaking in major bikini goals for her 33rd birthday.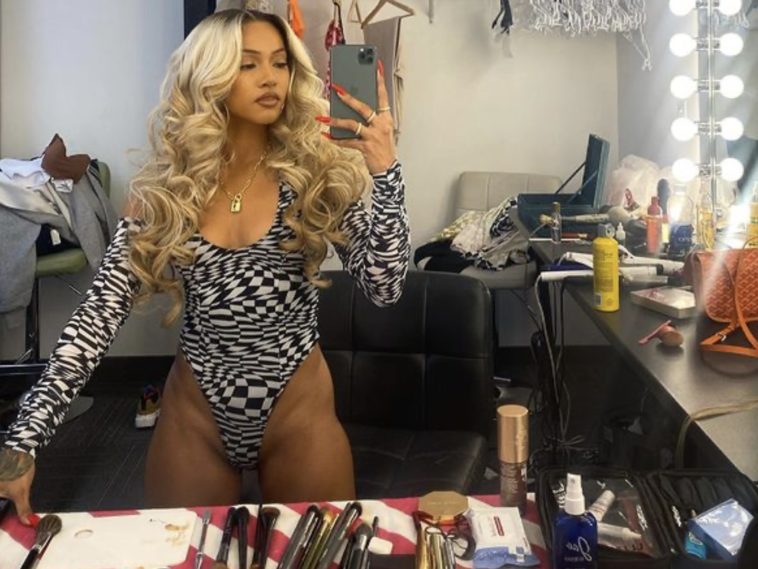 149 Views
Comments Off on Karrueche Welcomes Turning 33 W/ Steamy Bikini Flex
Karrueche Welcomes Turning 33
KT went to her Instagram page with a stunning shot of herself. The pic spoke for itself with a matching two-piece sitting aboard a boat.
"Big 33 💜"
The must-see post sparked endless shout-outs from everyone including Atlanta rapper 2 Chainz and vixen Apryl Jones.
"Happy birthday gorgeous❤️" -Apryl Jones
"Happy birthday gorgeous 😍😍" -Eudoxie
"Happy bday sis" -2 Chainz
Karrueche Slays In New Thong Pictures
In February 2021, Karrueche tried to break the Internet by taking to her Instagram with some jaw-dropping shots. In the first picture she was still wearing pants but removed them to reveal a yellow thong and bra on the second photo. Karrueche made a nod to her backside in the caption as well.
"Little Booty Chronicles 🍑 (yeah I know I forgot to cut the tag stfu)"
Karrueche's Bikini Goals Activated
Karrueche Tran is living her best life even if it means she'll be single heading into Valentine's Day. The popular entertainer has blessed social media with a fresh look at herself soaking in bikini goals with friends. KT went to her Instagram page with the must-see pic. The shot features her squatting down alongside a couple of pals from a paradise-looking hot spot.
"Spicy 💥 @[email protected]"
Her Post-Breakup Plans
Recently, KT went to her Instagram page and kept things 100 on what's next for her. Instead of dishing on the topic of romance, Karrueche stressed her interest in working toward bringing awareness to self love, mindfulness and wellness.
"My 6 month vision board.. I kept it simple and didn't want to overbear myself.. sometimes it's easier for me to focus on a few things at a time.. For the next couple of months I want to continue to bring light to all things self love, mindfulness and wellness.. stay focused on my health/fitness.. push myself to new heights with acting.. elevate in fashion and curate something BIG in skin care 🤎"