Rap star Tory Lanez is looking extra G.O.O.D. these days. The hip-hop crooner has saluted rap heavyweight Kanye West for being the inspiration behind some new ice he copped himself.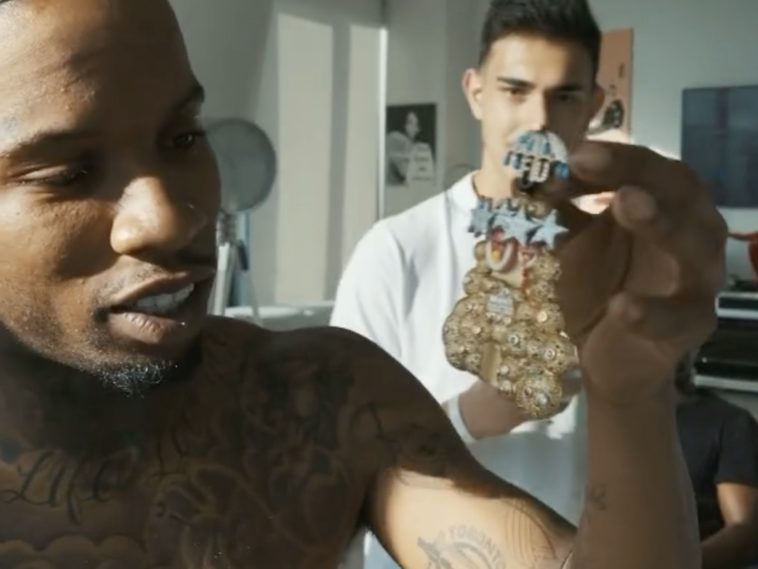 99 Views
Comments Off on Kanye West Inspires Tory Lanez's Insane Iced-Out Chain Design
Kanye West Inspires Tory Lanez's New Ice
TL went to his Instagram page with footage of himself donning some insane new jewelry. Lanez shared a clip revealing Ye wore the same type of design back in 2007 and ultimately motivated him to bring back the look.
"THE TAKASHI MURAKAMI JESUS PIECE …. I always thought this was dope as a kid watching Kanye … so I remade the design !!! 🌎🛫🍾😈🍝🎶🌎🎯🤯🎊. .. S/O MY GUYS @imperialjewelry"
The footage comes following Lanez getting personal on his Twitter page. Tory spoke out on people having negative feelings toward him and vowed to live his best life on his birthday. Tory also made his born day memorable by releasing new music.
"I JUST DROPPED 5 NEW SONGS FOR MY BIRTHDAY 🥳🎯🔥🤯🌎🔥!!! I put them all in a capsule called " We Outside " …… OUT NOW EVERYWHERE !!!! WHICH SONG IS THE BEST ?!?? HashTag the title and SEND ME GIF that describes how u feel about that song !!!!!"
Tory Lanez Keeps His Word + Drops New Song
This past Monday, Lanez went to his Instagram page to let the world know they could finally hear his new "Grah Tah Tah" single. Lanez also vowed to drop the song's accompanying music video hours later.
"TORY x KODAK BLACK = GRAH TAH TAH ……… SONG TONIGHT @12 AM …… VIDEO TOMORROW @9AM …… LETS F*CKING GOOOOOOO🎊🍾🎯🎯😈🔥🤯🎯🔥🍾 📽: @christhedirector"
Tory Lanez + Kodak Black Collab is OTW
Not to be outdone by rap star Kanye West's epic Donda album listening event last week, Tory Lanez hyped up music of his own. Lanez posted a video of himself and Kodak jamming out in the studio with a caption relaying details of their upcoming drop. 
Not only did Yak and Tory deliver a new song together Monday, Tory also promised he would be releasing a 5-song capsule in honor of us all being "outside" this summer. To end his announcement Tory also took the time to acknowledge his partner's trending on Youtube, saying "my dog Kodak…is #1 trending on youtube right now".
"YAK x TORY … #GrahTahTah …… SONG + VISUAL ….. MONDAY !!!! …… 5 SONG CAPSULE …. TUESDAY !!!! #WeOutsideCapsule 🤬🤯🤬🤯 … LETS F*CKING GOOOOOO 🎹 @foreverolling_music …. PS : MY DOG KODAK NEW SH*T IS #1 TRENDING ON YOUTUBE RIGHT NOW 🖼🔥🔥🤌🏽🎯🌎🌎🌎 📸: @cotto0verdidit"
Tory Lanez Strict Women-Only Policy
Lanez wasn't playing around with his birthday weekend festivities. The hip-hop singer stepped up to dish out how he planned on turning 29 and admitted men wouldn't be allowed to get on the guest list.
TL went to his Instagram page and didn't hold back on how he saw his Miami takeover going down. Lanez shared some snapshots of where the fun would take place and revealed men couldn't RSVP for access to his house party.
"THIS IS WHERE MY OFFICIAL BIRTHDAY / ROLLING LOUD SATURDAY HOUSE PARTY WILL BE HELD !!!!! ONLY WOMEN CAN RSVP …… TO GET THE INFO AND GET ON THE GUEST LIST , goto "[email protected]""