Model and activist Amber Rose is using her platform to stand up for the LGBTQ+ community after North Carolina rapper DaBaby and Atlanta trap legend T.I.'s speculated anti-gay comments rattle the Internet.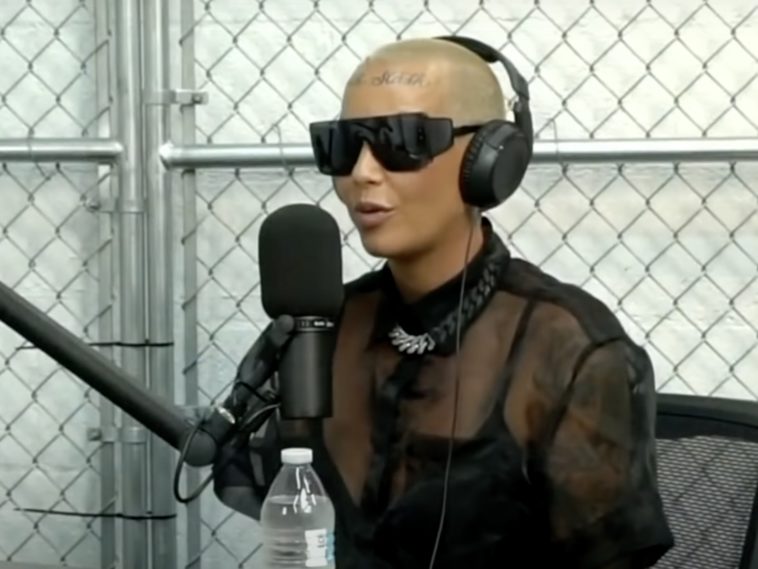 99 Views
Comments Off on Amber Rose Explodes On T.I. + DaBaby Over Homophobic Stance
Amber Rose Takes A Stand Against DaBaby + T.I. After Homophobic Comments
DaBaby's Rolling Loud Miami performance this past weekend was one of the most memorable for several different reasons, good and bad. One of the most discussed moments of the performance was his impromptu speech he delivered on-stage.
In the speech he discusses those with HIV/AIDS and men in the LGBTQ+ community leading to much backlash over his seemingly random derogatory comments.
"If you didn't show up today with HIV, AIDS, or any of them deadly sexually transmitted diseases, that'll make you die in two to three weeks, then put your cellphone lighter up…Fellas, if you ain't sucking d*** in the parking lot, put your cellphone lighter up."
Once the Internet caught hold of the video footage from the performance many were up in arms. T.I. took this chance to rush to DaBaby's defense and express his own opinions. In an Instagram comment, T.I. said DaBaby should be able to "kick his sh*t in peace" comparing what DaBaby said during his performance to openly gay rapperLil Nas X.
"If Lil Nas X can kick his sh*t in peace… so should dababy [shrugging emoji] #equality."
This only further fueled flames causing more celebrities to step in. Amber Rose, a known supporter of the LGBTQ+ community, used her Instagram story to express her disappointment with the comments of both rappers and with homophobia in the hip hop community in general.
"What in the homophobia??? Y'all are so mad that @lilnasx is f***ing winning! To be this homophobic feels like they are battling something internally. This is not equality this is hatred. Period…I stand with the LGBTQ Community. We should all feel safe at a concert no matter what our status is, who we love or who we wanna give head to. I literally do not understand the logic behind 'Straight men can have freedom of speech too' it's giving ALL lives matter. when you are referring to a marginalized group of people in a hateful and spewing homophobia it is literally just f***ing wrong. A lot of white people do this to black people when it comes to racism. Not all white people but a lot. And we sit and get so upset Yet we condone homophobia??? I'm so confused. Make it make sense"
DaBaby Speaks On Rolling Loud Comments
Despite the perception, DaBaby has since come forward to clear his name. Baby went on Instagram Live to clear up the air and let the world know he didn't care one bit. He made sure it was clear everybody enjoyed his show and nobody was hurt or offended.
"'Cause regardless of what you muthafu*kas talking about, how the internet done twisted up my muthafu*kin' words, me and all my fans at the show, the gay ones and the straight ones, we turned the fu*k up I'm talking 'bout my boy that was at the front of the stage, left, over there by where I jumped at. Ask 'em. He got clips all on his sh*t. The whole night, he was recording. We was turnt the whole night. My boy had the crop top on, front row. He out there in that jungle, in that water. Yeah, he out there. He standing on the rail, godda*n cuttin' up. Word…I saw him. I'm rapping the bit*hes with him. Yeah, the hell y'all talking 'bout. Shut the fu*k up. You nig*as that wasn't at the show, the show was for nig*as that paid money and took the time out they life to come enjoy the show. Not you muthafuc*as watching it on the internet, at the crib. No nig*as, get your tickets and come fu*k with the live show killer."
DaBaby's Original Controversial Comments
DaBaby originally spoke on homosexuals and sexually transmitted diseases on stage. DB was asking people in the crowd to turn up when he spit out some dicey things.
"I said if you don't got AIDs, put a cell phone light up. I said if you ain't suckin' di*k in the parking lot, put your cell phone lights up. So I can drop my next song. I wasn't going on no rant. That's called a call to action. That's what that's called 'cause I'm a live performer, I'm the best live performer. I'm the live show killer. You interact with your fans, you get what I'm saying? Look, all the lights went up, gay, straight. You wanna know why? 'Cause even my gay fans don't got fuc*in' AIDs, stupid a*s nig*as. They don't got AIDs. My gay fans, they take care of they self. They ain't going for that. They ain't no nasty gay nig*as, you know what I'm saying? They ain't no junkies, you know what I'm saying? On the street. The hell you talking 'bout, nig*a? Then I said, if ain't suck d*ck in the Rolling Loud parking lot, put your cell phone light up. You know what my gay fans did? Put that muthafu*kin' light up, nig*a. 'Cause my gay fans, they ain't going for that. They got class, nig*a. They ain't suckin' no di*k in no parking lot. Nig*a, you gotta get a room, ni*ga. A good one. Five star hotel for them nights or godda*n… Yeah, you gotta wait 'til nig*as go to the crib."
DaBaby Brings Tory Lanez On-Stage at Rolling Loud
The North Carolina rapper's Rolling Loud performance has made headlines for a myriad of reasons, another one of them being his surprise guest Tory Lanez and people having mixed reactions.
DaBaby shocked the Rolling Loud audience when he undressed a man in costume to reveal that man was in fact Tory Lanez. Tory arrived in a bobble head suit and stood next to Baby on stage, DaBaby then bet the crowd $1 Million if they could guess who it was in the suit.
This guest appearance has led to much uproar online as a result of Lanez, DaBaby, and Megan Thee Stallion's past history. DaBaby has been a long time collaborator and friend to Megan but that all fell apart when DaBaby put out a song and video with Tory Lanez, who allegedly shot Thee Stallion in the foot back in July 2020. Thee Stallion and DaBaby then had a heated conversation on Twitter shortly after "SKAT" dropped, which ended with Megan and DaBaby unfollowing each other.
Tory Lanez then further fueled flames with his recent Hot 97 freestyle in which he points the blame at being framed by Meg for him and his peers not getting the rewards he feels they deserved.
Whatever side you stand on, DaBaby bringing out Tory Lanez during his set was still a huge statement, and one of the most talked about moments from Rolling Loud Miami sending the internet in a tail spin.