Last night, Kanye West and Drake came together in an epic benefit show for Larry Hoover in Los Angeles. The show was dedicated to raising awareness about prison and sentencing reform, but Kanye also took a moment to serenade his estranged wife, Kim Kardashian.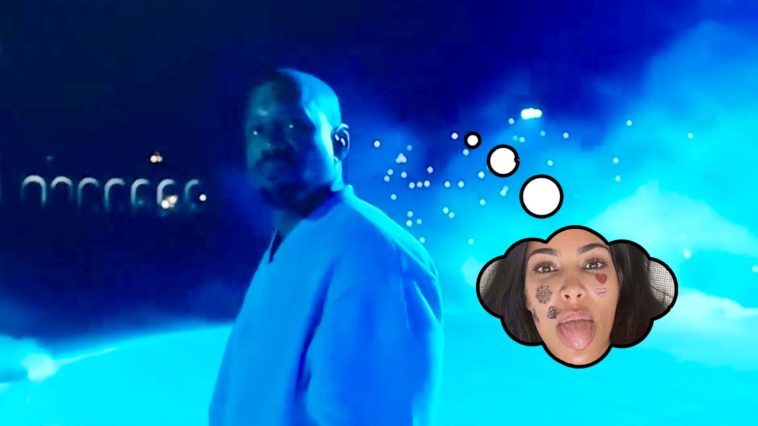 169 Views
Comments Off on "Kimberly" Trends After Kanye Serenades Kim At Larry Hoover Benefit
Kanye Needs "Kimberly"
While performing his hit song "Runaway" Kanye remixed some of the lyrics in a passionate display of longing for Kim Kardashian, rapping:
"I need you to run right back to me, more specifically, Kimberly."
The phrase "Kimberly" is now number one trending on Twitter. Many social media users are emotional as they admire Kanye putting his heart out on display in front of the entire world. And yes, Kim was in the audience.
So far, Kim has yet to respond to any of Kanye's public appeals for her love and she appears to still be dating Pete Davidson.
The Larry Hoover Benefit Concert
Recently we reported on aerial footage of the stage being built at the LA Coliseum in preparation for the Larry Hoover benefit concert.
A photojournalist who used a drone to capture the footage, saying the buildout was so massive that he originally thought it was a monster truck rally setup.
"Massive build out tonight for the Ye (formerly Kanye West) and Drake concert set for December 9th at the LA Coliseum. Looks like a circular mound is being built with sand and concrete or stucco. At first, I thought this was a monster truck rally setup."
Ye Supports Virgil's Last Show
Rumors are flying that Kanye West might be tapped to take Virgil Abloh's former role at LVMH. Kanye was seen at Virgil's last fashion show for Louis Vuitton with Pharrell.
The two artists/producers were seen vibing out to a 1964 Brazilian song that Kanye has previously sampled. The pair also brought their children, North and Rocket, along to the show.