G.O.O.D Music singer John Legend wants herd immunity. The award-winning artist has come forward to share his thoughts on vaccinations after recently receiving his Pfizer shot.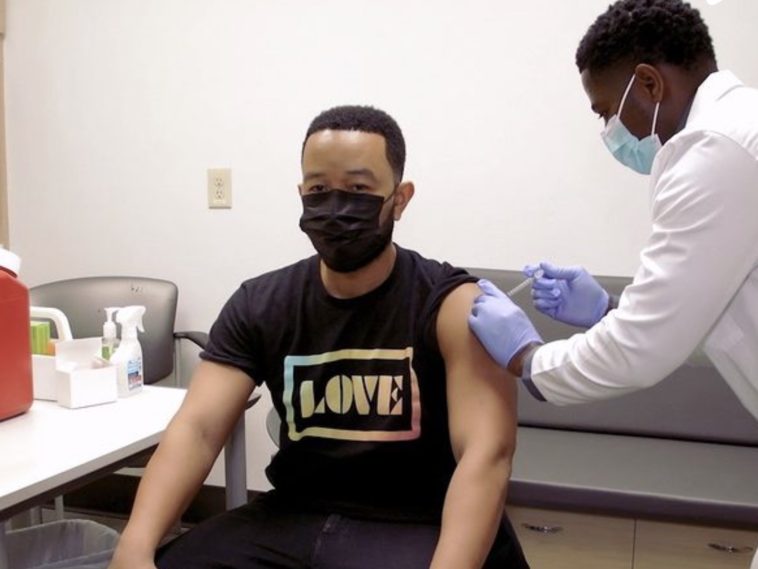 159 Views
Comments Off on John Legend Pushes For Everyone To Get Vaccinated
John Legend Pushes For Everyone To Get Vaccinated
In a new interview, Legend dished on his well-being after making the push to get himself vaccinated. John also talked about the importance of keeping loved ones and friends safe by getting the shot.
"It gave me a sense of greater optimism and relief as well," Legend says on the phone from Los Angeles. "I'm just excited that the vaccine has proven to be effective and to be safe, and that we're on our way to opening back up more and more people get vaccinated. … If you're getting vaccinated – preventing yourself from getting the virus, preventing yourself from giving the virus to any of your relatives and loved ones, and getting the nation back closer to opening up slowly – it's a small price to pay." (USA Today)
Legend also shared footage of himself getting his COVID-19 shot.
"Thank you @walgreens for administering my COVID-19 vaccine. If you're still uncertain about the vaccine, your local pharmacist is available to answer your questions. #ThisIsOurShot #Ad Schedule your vaccine at walgreens.com/OurShot"
NBA Team Turns Home Game Into Vaccine Site
This week, reports emerged about eligible fans in attendance at a May 2 Milwaukee Bucks home game at Fiserv Forum can get their first dose of the Pfizer COVID-19 vaccine. Attendees must be at least 16 years and older.
The Milwaukee Bucks and the Milwaukee Health Department have partnered to bring a mobile vaccination site to Fiserv Forum's Panorama Club Sunday, according to a news release. "We strongly encourage everyone to get vaccinated and are pleased to team with the Milwaukee Health Department to give fans this easy and convenient opportunity," Bucks and Fiserv Forum president Peter Feigin said in a news release. "This is a critical time for all of us to take the necessary step that will help return our lives to normal. Let's make this happen together." (Milwaukee Journal Sentinel)
CDC Approves Vaccinated People To Go Maskless
Earlier this week, according to the Centers of Disease Control and Prevention, the newest guidance on outdoor mask use gives Americans the freedom to comfortably interact with both vaccinated and non-vaccinated small groups. However, large indoor gatherings are still discouraged and should be avoided even for vaccinated people.
Fully vaccinated people can now unmask at small outdoor gatherings, or when dining outside with friends from multiple households. The CDC is telling unvaccinated people that they still need to wear a mask at such gatherings."If you are fully vaccinated and want to attend a small outdoor gathering with people who are vaccinated and unvaccinated, or dine at an outdoor restaurant with friends from multiple households, the science shows if you are vaccinated, you can do so safely unmasked," CDC Director Dr. Rochelle Walensky said during a virtual White House briefing on Tuesday. (CNN)
Jeezy Gets The Shot
Recently, Atlanta rapper Jeezy shared footage of himself getting his second vaccination. The Georgia native also acknowledged that he is now fully vaccinated and would qualify to not wear a mask in small gatherings.
"Second dose! Fully vaccinated. It not about you it's about your love ones and the ones closest to you. It's to protect them. Shout out to Navicent Wellness Center Macon Ga. Was so accommodating and professional 💯"