Houston rapper Travis Scott's long-awaited return of the Astroworld Festival is officially secured. The hip-hop star has announced the mighty comeback of his jam-packed and music-filled Texas takeover.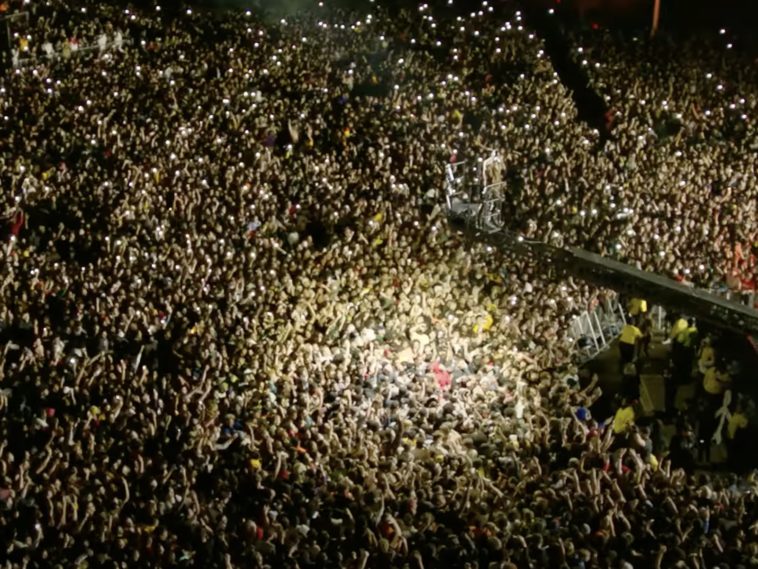 179 Views
Comments Off on Travis Scott's Astroworld Festival Is Baaaaack
Travis Scott's Astroworld Festival Returns
Cactus Jack's huge event is slated to go down this November. For 48 hours, attendees will get to experience a lineup of superstars personally chosen by Scott.
Texas-born, GRAMMY Award-nominated, and multi-platinum hip-hop artist Travis Scott is proud to announce that his Astroworld Festival will officially return this coming fall on Friday, November 5 and Saturday, November 6 at NRG Park in Houston, Texas. The third annual music festival is expanding to two days this year due to overwhelming demand as well as rave reviews around the festival's incredibly curated lineup personally selected by Scott, and an experience that fans have now come to expect from his one-of-a-kind music festival.
Travis also went to his Instagram page to acknowledge both his birthday and how special this post-quarantine concert will be in November.
"FOR THIS BDAY ALL I WANT IS RAGE MAN WE BEEN LOCKED IN A HOUSE FOR SOMETIME NOW AND I BEEN BANGING MY HEAD AROUND TRYNNA TO GET BACK TO IT I BEEN WANTING TO SHARE AND EXPERINCE WITH ALL THE OTHER LIKE MINDED CHAOTIC RAGER LIKE ME FOR SOME TIME NOW. THAT BEING SAID IN NOVEMBER POP OUT AT THE FEST ASTROWORLD FEST 2021 2 DAYS THIS YEAR WITH AND OUT LANDISH LINE UP SEE U SOON !!! @cactusjack @astroworldfest"
Travis Scott Breaks New Records W/ CACTI
In March 2021, Scott made history with his CACTI alcoholic beverage. A spokesperson revealed CACTI had the "highest rate of sale in a debut for any variety pack in Anheuser-Busch Seltzer history." Travis Scott predicted this would happen on Instagram several months ago, getting fans hyped up for the release, which has clearly been a hit.
Not only that, the rep tells us Cacti broke into the top 5 seltzer category, with sales volume allegedly overtaking marketshare of seltzers from VIZZY, Coors and more. When it comes to first week sales, the rep tells us Cacti had a higher sales volume than White Claw Variety Pack No. 2 as well as seltzers from Coors and Mikes Hard in their first weeks combined. Thanking everyone for their support, Travis tells us, "The reaction to the product has the team and I motivated to go even harder as we plan out what's next for the brand. We are just getting started." (TMZ)
Travis Scott's CACTI Releases Merch
Fans of the Texas rapper could enjoy his new CACTI beverage brand without being 21 or older. The rap star released a line of merchandise to commemorate the company's first nationwide drop.
Travis Scott's CACTI brand came out with a slew of clothing items and accessories, including ice trays and coasters as well as hats, slides, and socks. Trav took to his social media pages to share the new drop with followers.
Spiked Seltzer Out Now
The rap star who made headlines last year with his Cactus Jack McDonald's fast food meal and Sony Playstation partnership released his adult seltzer beverage earlier in the month. An agave spiked seltzer, it's in stores nationwide around the United States. Travis Scott posted up for the company's Instagram and got everybody hyped up for the new release.
"CACTI IS AVAILABLE IN STORES NATIONWIDE NOW – CALL YOUR LOCAL RETAILER TO CONFIRM AVAILABILITY STORE LOCATOR UPDATED DAILY ON DRINKCACTI.COM/FIND LIMITED SUPPLIES AVAILABLE ONLINE NOW DRINKCACTI.COM/BUY"