New York vixen Jade might have had the best seats in the house at Tekashi 6ix9ine's Miami concert. The hip-hop model has lit up social media with a clip of herself chilling on-stage just feet away from the rap game's biggest troll.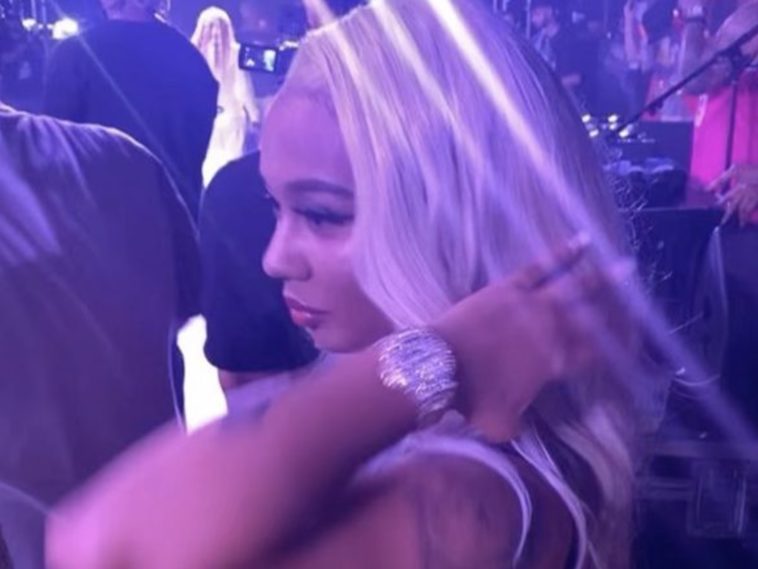 129 Views
Comments Off on Jade Reunites At Tekashi Show + Exposes Baby Bump?
Jade Reunites At Tekashi Show
The curvy model hit up Instagram with a snippet of herself looking boss'd up behind 6ix9ine during his set. She even acknowledged her high-end Versace fashion drip.
"Versace hottie 🔑 🌈"
However, the biggest appeal might have been people thinking Jade might have shown signs of a baby bump.
"Are you pregnant?🤔"
"I thought y'all broke up-"
"No lie – I can't tell if there's a baby bump or just the camera angle."
6ix9ine pulled through Saturday night for a jam-packed event. Along with sharing the stage with other artists, Tek notably saluted slain Florida rapper XXXTentacion who died in June 2018.
"R.I.P X 😔"
Tekashi 6ix9ine Reveals What Crazy Antic's On Deck
Earlier in the week, 6ix9ine hit up his Instagram page to play with followers' heads. Tekashi shared a shot of himself draped in multiple colors and hinting at a stage jump possibly going down Saturday night in Miami.
"SHOULD I JUMP IN THE CROWD TOMORROW INFRONT OF 15,000⁉️ @boohoomanofficial 🌈🌈🌈"
A few days ago, Tek shared footage of himself turning up at a packed concert.
""He NoT GonNa bE Able tO cOmE ouTsiDE" JUMPED IN THE CROWD WITH ALL MY JEWELRY 2,000,000 WORTH. REAL LIFE > THE INTERNET If you mad just say that don't @ me"
Tekashi 6ix9ine Lets His Enemies Know Where He's At
This week, 6ix9ine hit up his Instagram page with some super trolling footage. Tekashi used the camera time to plug his weekend performance in Florida.
"This Saturday I'm in Miami, Marine Stadium. 15,000 people. Ain't no more f*cking excuses. You looking for me? You know where to find me, n*gga."
"Best Performance" Ever Performance Announced
Earlier in the week, Tek made a major announcement. Barring any setbacks, 6ix9ine will appear in Miami for one of his first live concerts since the pandemic and his prison release in 2020.
"THEY SAID HE CANT DO NO SHOWS IN AMERICA 😂😂😂 THIS SATURDAY MIAMI 🌈🌈 MIAMI MARINE STADIUM 🎥 THE BEST PERFORMANCE YOU HAVE EVER SEEN ‼️ SEE YOU THERE @triller @bobbysarn"