Kentucky rapper Jack Harlow has something major coming. During a recent interview, he revealed who he sees as his biggest inspirations and also promised a collaboration with one of them is soon coming.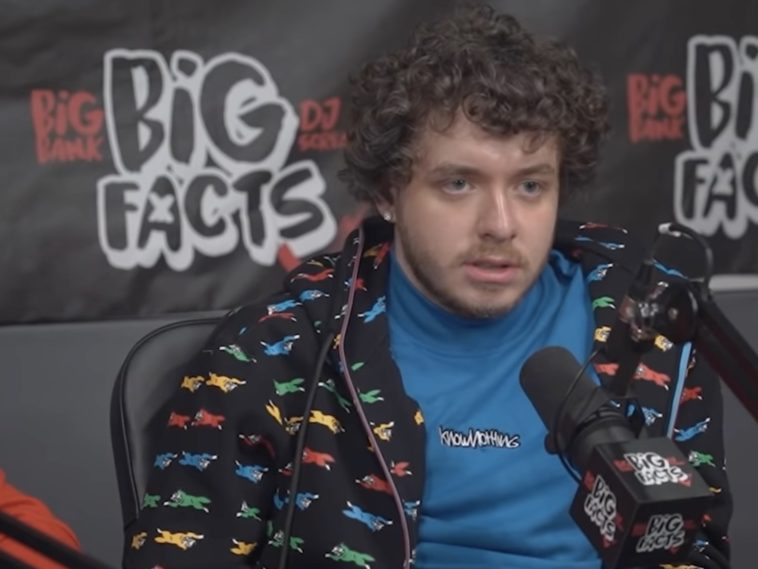 @sohh @sohhdotcom

99 Views
Comments Off on Jack Harlow Reveals He Has A Legendary Collabo On Deck
Jack Harlow Reveals He Has A Major Collab Coming
In a Q&A alongside his mentor DJ Drama, Harlow named off Drake, Eminem, JAY-Z, Andre 3000 and Lil Wayne as his biggest inspirations in hip-hop. He already has a track featuring Wayne though, so the upcoming music must not be with Weezy F. Baby. Jack Harlow did gets fans amped with his comments though, saying that he did have a song coming with one of the legendary names he listed (skip to 40:00 below).
"It's always such pressure. I want to go so far with this – the pressure's already there but it's created by myself. I always know what I want to do next – I like to evolve. If you listen to my music from two years ago, three years ago, I've come a long way. [Rap influences?] Drake. Andre 3000. Wayne. Eminem. JAY. [I've worked with] Wayne – one other one is coming up. One I listed is coming up."
Jack Harlow Reacts To Drake and Kendrick Co-Signs
The Louisville native is in disbelief. He went online recently to reveal some major co-signs, including one from another historically good rapper, and share his reaction to their words. Jack Harlow took to social media to react to Kendrick Lamar and Drake co-signing him.
The rising hip-hop rookie went to his Instagram Story with a shocked reaction to Kendrick liking Harlow's own meme tweet (his first use of the platform in over two years, as well) of him rapping as a child. At the same time, Drake dropped a comment of approval on a post featuring the video on Instagram.
"What the hell" -Jack Harlow
"Hardddddddd" -Drake
"So this is what it takes for the great ones to recognize my work ?" -Jack Harlow
Quavo + Jack Harlow = Hoop Duo
Four of hip-hop's top hoopers shared the court in a 2-on-2 game during the NBA's All-Star Weekend in Atlanta several weekends ago. Southern stalwarts Quavo and Jack Harlow faced 2 Chainz and Lil Baby, and the Migos member predicted his side is getting the W.
Quavo (who won MVP of the 2018 NBA All-Star Celebrity Game) thinks he and Jack Harlow (who showed a little bit of his skills in the "Tyler Herro" video) will definitely beat 2 Chainz (who's 6-foot-5 and played college ball) and Lil Baby in Bleacher Report's Open Run game on March 6. Quavo bet big on himself and it paid off, as they won 21-7.
"Those are four good guys on one court — that's gonna be fire. We the best two that's gon' win. You know anyone with me is going to win. Let's get it. I hope they bring their A-game."
Quavo Previews New Migos Album
Quavo Huncho is keeping everybody on their toes. The rap star recently went online with a fire snippet of some new Migos music that's most likely from upcoming album Culture III. Maybe they'll have a Jack Harlow feature!
A snippet of new music from Migos, courtesy of Quavo