West Coast rapper Game is keeping things 100 with his fans. The hip-hop veteran has come forward to reveal the weight gain he had during the height of quarantining and staying at home during the COVID-19 pandemic.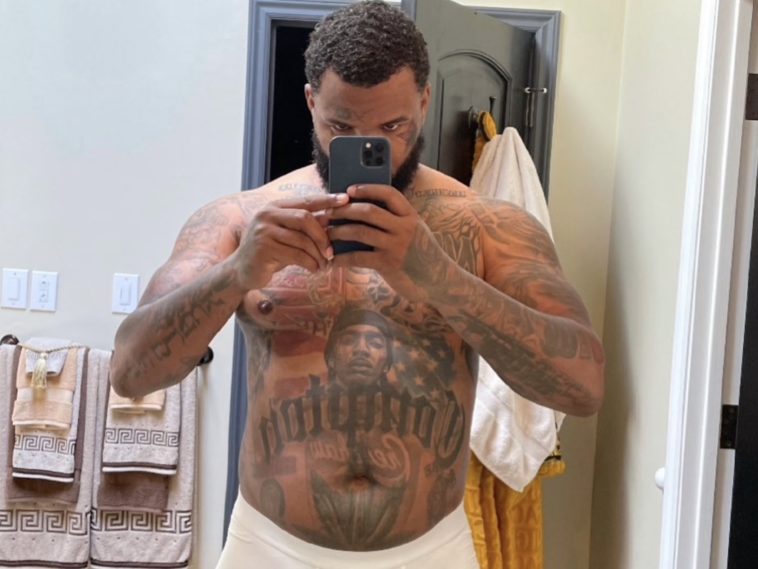 129 Views
Comments Off on Game Reveals How Much Weight He Gained In Quarantine
Game Reveals How Much Weight He Gained
The Los Angeles hitmaker went to his Instagram page with a pic only a Man Crush Everyday contender would feel confidence in displaying to the world. The rap heavyweight acknowledged packing on pounds while staying indoors to slow the spread of COVID but also shined light onto getting back in shape.
"Quarantine had me 30 pounds over weight…. In the house eating whatever my kids ate like the outcome was gonna be smooth. Nope, shit went straight to my belly & face…. stomach was out ta here———> ask anyone that knows me lol… Sh*t had me out of my bag for a year plus. Soon as the world started to open back up, I made a decision to take back control of my body & get myself back to a place where my most fit & comfortable. After 56 days into my @60daysoffitness, I am healthier, lean again & getting ready to fuck the summer up !!! And this is only the beginning."
Game even hinted at an even bigger transformation and results being ready for display come his 42nd birthday on November 29th.
"Give me til my birthday to show you what you can really do on this program when you're focused !!! Go to 60daysoffitnesschallenge.com today & start your journey !!! I started mine early cause I knew the summer was coming… no "weird body niggas" over here lol….. now I'm ready to go on my 1st real vacation ever !!! HOT BOYS up 1-0 @thegoat 🐐"
Game Is Taking Fitness Challenge + Killing It
"Hate It Or Love It" hitmaker Game was recently already 46 days into a 60-day fitness challenge, and he took to Instagram to show his results so far. The hip-hop star should be completing the challenge right around the time he goes wheels-up for the private island getaway he's promoting on his page.
"How it's going, f*ck how it started !!! I'm back b*tch….. well, almost lol… Day 46/60"
Game Shows Big Respect To 50 Cent
Game paid homage to a legend as he cruised the L.A. streets. He posted a video of himself in the car while appreciating music by New York rapper and his former G-Unit boss 50 Cent.
The greatest duo 🔥
YOU KNOW WE ALL HERE FOR IT
Their verzuz is probably coming..
50 Cent References 'Hate It Or Love It'
In July 2020, 50 Cent made his own gesture of appreciation when he went to Instagram with a reference to their 2005 "Hate It or Love It" classic.
"I tend to disturb things without effort. Now i'll say it again, you can love it or hate it the underdog's on Top. #HHHS available where all books are sold. #bransoncognac#lecheminduroi"