The wait's almost over for hitmakers Swizz Beatz and Timbaland to put their biggest records against one another. The hip-hop pair and creators of VERZUZ are slated to face-off this evening and all the streaming details are now public.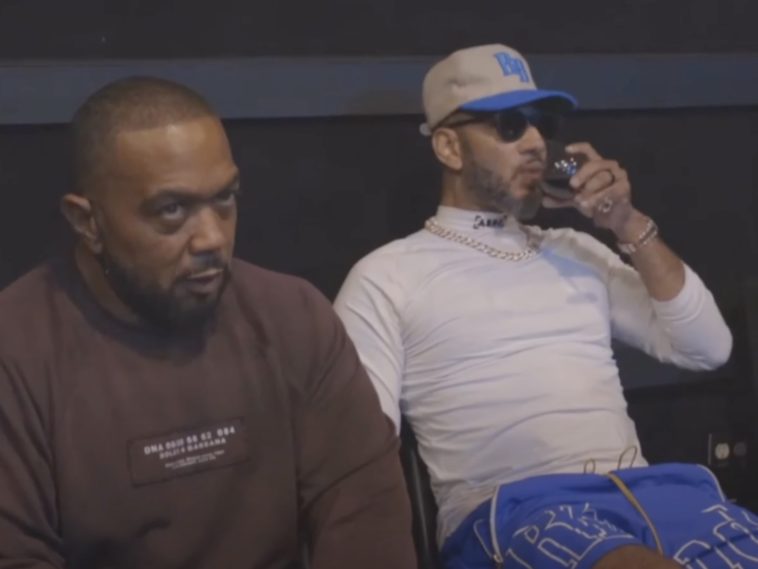 149 Views
Comments Off on Here's When + How To Watch Tonight's VERZUZ Rematch
Here's When + How To Watch Tonight's VERZUZ
Barring any last-minute changes, Swizz and Timbo are going to face-off at 8 PM ET tonight. The competition's social media pages made things extra easy to follow by posting time zones both in the United States and internationally.
"TONIGHT ‼️ Drop some 🔥🔥🔥 if you're ready for THE REMATCH with @TIMBALAND and @THEREALSWIZZZ."
No longer an Apple exclusive, there are three ways for people to tune in including Instagram and the digital Triller app.
Classics On Classics
The longtime friends and hip-hop hitmakers first faced off against one another three years ago at annual Hot 97 Summer Jam's June concert. They're known for having classics dating back decades.
With Timbaland's extensive history of producing megahits for fan-favorites including JAY-Z, Lenny Kravitz, Missy Elliott, Kanye West, Aaliyah, Cher and Madonna, Beatz — who has produced for Eve, Diddy, Lil' Wayne, The Weeknd, Drake, the late DMX, among many more — is in for a tough rematch. (Billboard)
SWV VERZUZ XSCAPE Really Happened
A few weeks ago, legendary R&B groups SWV and XSCAPE faced off in epic fashion. From SWV's "I'm So Into You" to "You're The One" going up against "Understanding" and "Wifed Up" – the battle turned more into a celebration than a true face-off.
SWV has a number of hit songs to their name and they decided to perform on the same with an intention to impress their online fans. The trio took over the stage with their chart-topping singles such as 'Weak', 'I'm So Into You,' 'Right Here (Human Nature Remix),' and 'You're The One' among a few others. For the unversed, 'Weak' had also reached at number one on the Billboard Hot 100 chart at the time of its release. Speaking of Xscape, the four-member group performed on their hit singles such as 'Understanding', 'Just Kickin' It,' 'Off the Hook', 'Traces of My Lipstick', 'Wifed Up' and 'Dream Killa'. (Meaww)
VERZUZ made sure to go to its own Instagram page to salute the ladies for delivering an unforgettable night.
"Thank you @officialswv and @officialxscape for an AMAZING NIGHT 🔥🔥🔥 Thank you @djspinderella and @thedjaone! Thank you @femmeitforward 💐 Drop your favorite moments in the comments!"
Redman + Method Man Deliver Epic VERZUZ
Following mounted anticipation, rap veterans Redman and Method Man recently came through big with a concert-style night of performances packed with special guests, collaborations and solo flexing. With help from DJ Scratch, Reggie dug into his bag of classics with "How to Roll a Blunt" while Meth delivered on songs like "Shadowboxing" and "Shame on a N*gga."
Even after skating through their solo records with fervor, Red and Meth didn't have a problem performing lyrical gymnastics on their collaborative records such as "Diz Is For My Smokers" and "Y.O.U." After Method Man breezed through his verse with vigor on the latter, Redman matched his lyrical agility, proving why their chemistry remains stellar 20-plus years after the song's release. (Billboard)
The duo also took time to acknowledge the guilty verdict of George Floyd killer and former cop Derek Chauvin.
And while they reveled in telling jokes to the virtual crowd, the pair took a moment to chime in on today's verdict. After Meth yelled out "Guilty," Red issued a resounding message to Chauvin: "You get what you put out there. He deserved every f–king bit." Midway through their performance, they surprised viewers by bringing out Keith Murray, who dished out his 4/20 friendly hit "Get Lifted." Later, Meth introduced his Wu-Tang brethren Inspectah Deck and RZA for the earsplitting gem "Wu-Tang Ain't Nuthin to F– With." (Billboard)