Charlotte rapper DaBaby is facing the consequences of his actions. He's no longer credited on one of his hit collaboration tracks.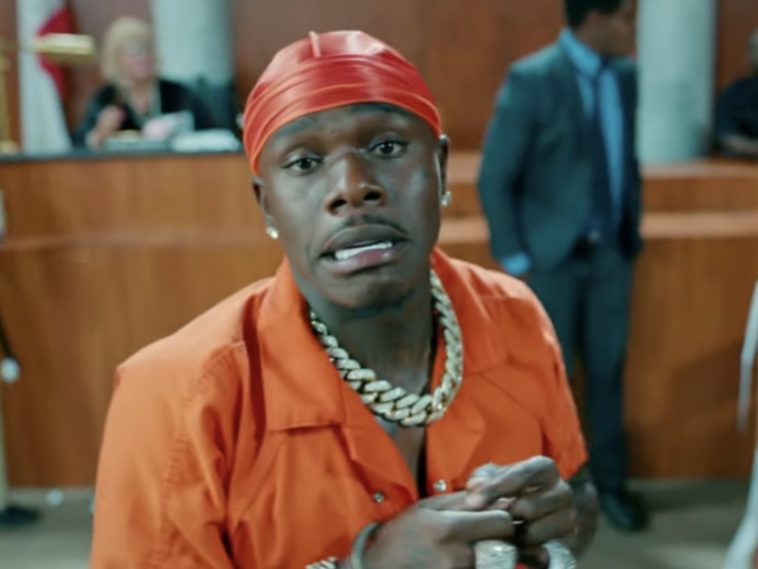 234 Views
Comments Off on DaBaby Removed From Hit Song On Billboard Charts
DaBaby Removed From Hit Song On Billboard Charts
In light of his Rolling Loud comments, DaBaby is no longer credited on the Billboard Hot 100 chart for "Levitating" with pop star Dua Lipa. Their remix has been in the Hot 100 for months, most recently at #6, but Baby is no longer listed on the chart. It's unsure if this was a move by Lipa or Billboard, but he will not get any more chart weeks for that song.
DaBaby Hilariously Announces He's Quitting Rap
Baby might not care about the chart removal, because he is quitting rap music after all. He went online with a hilarious video about what genre he was switching to.
After recent weeks of controversy and backlash, he says he's switching to R&B. Baby added a laughing emoji and made it clear it was a joke, playing into the recent cancelations of himself.
"THEY DONE CANCELED YO DADDY TWIN I'M SWITCHING TO R&B, FU*K A RAP."
50 Cent Thinks DaBaby's Career Will Be Okay
New York rapper 50 Cent thinks things will be alright for DaBaby, so maybe he should stick to hip-hop after all. In light of the recent drama and controversy over the North Carolina native's Rolling Loud comments, Fif has dished out on the situation.
In a recent interview, 50 Cent discussed how he think's Baby's career will turn out just fine. Curtis Jackson first gave nothing but praise to DaBaby for his talent. He also noted how his rise to superstardom and later dished out on the standards certain big names are held to.
"He is a really talented, special artist, right? And he just transitioned from being in that pool that everyone's in as a rap artist. Like, they didn't notify him that he's turning into a superstar. There's nobody that tells you, 'Now, you're held to these standards' that are mainstream standards that you can't say things and you can't do these different things. He didn't have a publicist involved and this is why the response took so long. Even his apology, the first apology attempt at it, was what made it worse. You know what it is? When a person makes a general statement, 'cause he made a general statement on stage, he's not directing that to any individual, but what happens is he's still new and he's being attacked by individuals."
Fifty noted how people tried to cancel R&B artist Chris Brown, whose career ended up getting back on track following his publicized abuse of Rihanna. He made his opinion on the matter clear and said Baby will "bounce back".
"He's only two years into his career. There's no artist development. There's no strong A&R in this. There's definitely no media training. Remember they tried to cancel Chris Brown five or six times."
Trouble Defends DaBaby
Besides the BMF boss, Charlotte rap star DaBaby at least has one other person on his side. Atlanta rapper Trouble recently went on a nearly four-minute rant on social media vocalizing his support for Baby.
Trouble went off on Instagram, and made his point very clear. He made it be known he didn't care about being politically correct and discussed many things. Trouble added how unfair it was for everybody to be cancelling DaBaby over his recent comments and literally talked until he was out of breath.
"Fux ah cancle culture!! This jus how I feel!!"
"I'm not finna be on no politically correct shit or none of that sh*t dawg… I just rock how I rock and I feel how I feel, And you muthafuc*as really starting to piss me the fu*k off, bro. On lord, all this sh*t just fake as fu*k. How in the fuck a muthafuc*a just sit back with a smile on your face on this fake a*s cancel culture shit, watching a n*gga sh*t just demolish who you just lifting up, for one muthafuc*ing mistake about sh*t. And you acting like a n*gga just went on this b*tch and said, 'Fu*k all gays, I don't fu*k with no homos, none of this shit.' N*gga said, 'If you don't got AIDs or HIV, put your muthafuc*ing lighter up.'