Hip-hop stars Quavo and Saweetie might be back together. New reports reveal the two musicians have been clocking in time with one another after a painful breakup several months ago.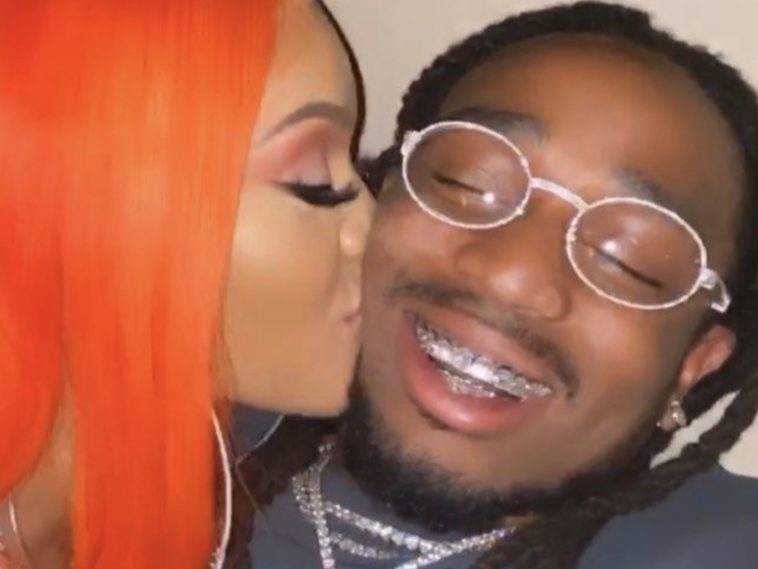 234 Views
Comments Off on Quavo + Saweetie Are Spending Time Together Again
Quavo + Saweetie Are Spending Time Together Again
The Migos rapper and the McDonald's meal cover girl have been in New York City together on the low after they broke up back in March 2021. The two were in the Big Apple, leading Quavo to ask to link up – it's been a success, because the two are liking it.
"Saweetie and Quavo are currently both in New York and have quietly been spending time together on the DL," a music insider EXCLUSIVELY told HollywoodLife. "Quavo has missed Saweetie since they broke up and he's been asking to see her. Apparently she gave in because they linked up in NY and have hung out since they're both there at the same time." (HollywoodLife)
Jack Harlow Reveals If He Wants To Date Saweetie
Rap newcomer Jack Harlow is extra confident in his swagger but he's not trying to cuff up anytime soon. The Midwest rap artist had to simmer down the idea of wanting to wife up the single rap peer after locking eyes with her at the 2021 BET Awards.
During a red carpet interview back in June 2021, Harlow cleared up immediate speculation of him shooting his shot at the "ICY" rap star. Despite what the rap game might be rooting for, he credited his politeness as being mistaken for him trying to kick game on Saweetie.
"That was me saying hello but you can't say hello these days I guess. I'm a nice person. [Would I ever shoot my shot at Saweetie?] Nah, it's a friend vibe." (TSR)
After a photo of the two rap stars having a moment surfaced on social media, fans immediately ran wild with one joke after the next. Many also began to speculate whether there is real chemistry between the two.
50 Cent Drags Quavo Into Wild Saweetie Rumor
A few weeks prior, rap star 50 Cent went to his Instagram page with a snapshot suggesting Brooklyn Nets star James Harden dropped massive stacks to go out with Saweetie. Instead of staying mum and letting the snapshot do the talking, Fifty had to weigh-in and drag her ex-boyfriend Quavo for making his ex-girlfriend an alleged high-priced date.
"👀wait he a super star, why the f*ck is he paying a b*tch to go on a date. 🤔🤦‍♂️see what you did @quavohuncho they don't know what they like till they see somebody with it 🤷🏽‍♂️SMH LOL Help me understand this!"
Saweetie Defines Her Pretty B*tch Style
Saweetie recently took a moment to look back at her rise into stardom. The West Coast girl confessed her difficulties with confidence as her career took off, along with the label of "pretty privilege" that followed her.
"After 'ICY GRL' hit, I was in such high demand, and it really was like night and day. I had no artist's development," says the 27-year-old, who has always felt like she's living with the criticism of "pretty privilege." "I realized that I never equated attention with happiness, so all that attention I was getting was overwhelming for me and I didn't know how to handle it. Which is why — fast forward to last year and this year in quarantine — I had a lot of time to reflect, and that made me want to take back my power of being confident and made me want to rethink my career." (Teen VOGUE)