Southern rapper Boosie Badazz has big words for Gucci Mane. The Louisiana hitmaker has vocalized some frustrations with Guwop's now-infamous VERZUZ battle with former rap rival Jeezy and his decision to call out a slain associate.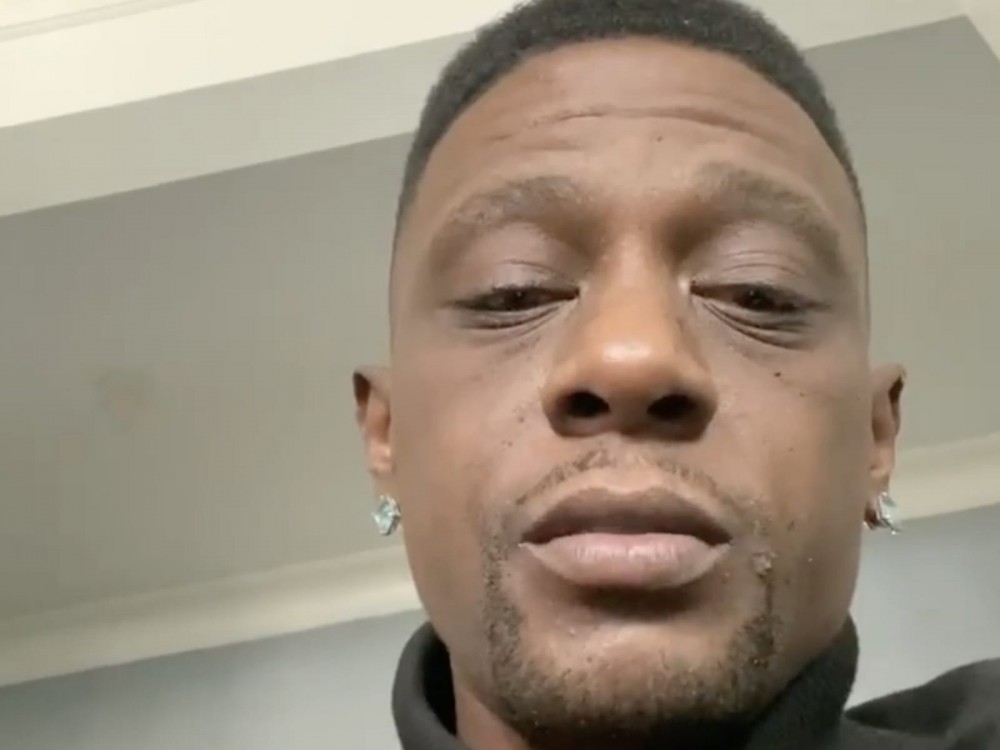 @sohh @sohhdotcom

189 Views
Comments Off on Boosie Badazz Reveals Why He Would've 'Charged' Gucci Mane
Boosie Badazz Reveals Why He'd Have Gone At Gucci Mane
In a new interview, Boosie spoke on Gucci making headlines for name-dropping the Jeezy affiliate he killed in self defense in the mid-2000's. BB took personal offense to Gucci disrespecting the Snowman's deceased friend.
"He said 'I'm smoking on that Pookie Loc tonight,' I like how they bossed up, but I would have charged that n*gga. If he had said he was smoking on my partner, I'd have felt that was a type of disrespect. I thought we were walking about music. You can say that in a song if that's part of a song, but you ain't gon' say…"
Back in November 2020, Gucci Mane called out one of Jeezy's dead friends during their VERZUZ battle.
"D*mn, d*mn. Put that n*gga a** in the dirt. Smoking on Pookie Loc tonight."
Boosie Badazz + GF Rajel Own It On Date Night
The Southern rap veteran and his girlfriend, actress Rajel Nelson, hit the town recently flexing relationship goals in their matching outfits. Boosie and his boo have publicly been an item since early last year and continue to put the spotlight on their inseparable bond. Boosie Badazz and Rajel Nelson tastefully did the matchy-matchy thing with red tops, white bottoms, white shoes and iced-out chains on a night out last week. Boosie can be a magnet for controversy, but in this instance the popular MC was simply having fun with his lady.
"Okay! Looks like #Boosie and his boo are still going strong 👏🏽👀"
Mike Tyson's Child Wanted To Fight Boosie Badazz
Fighting runs in the family. Boxing legend Mike Tyson recently revealed his child, Ramsey (who identifies as non-binary) wanted to see Boosie in-person after hearing rapper's past transphobic comments.
"My daughter lives that life and she came from New York to right here in this office right here to confront this guy. And she's violent. And I said, 'You know what, I thought she came to see me.' I thought she came all the way down here to see her father, her stepmother.' She came to confront him physically so I had to, I just had to take care of that. … She wanted to physically grab this guy and attack this guy and so I had to come in." (VLAD TV)
Tyson Reflects On Night 2Pac Was Shot
The former world heavyweight champion recently admitted he still feels guilty about the death of rap legend 2Pac, due to his role in Tupac Shakur being in Las Vegas on the night he was fatally shot. On Sept. 7, 1996, 'Pac was in Vegas to attend Tyson's title fight against Bruce Seldon.
"I feel a little guilty about him coming to the fight and me pressuring him. … I was supposed to go out with him that night. I promised to go to the 662 with him that night but I just had a little baby and her mother was provoking me to stay home so I stayed home."