West Coast rap boss Wack 100 is fuming. The hip-hop executive went online with some angry words for Los Angeles rapper K-Duece after being muted in a Clubhouse chatroom that the musician was moderating.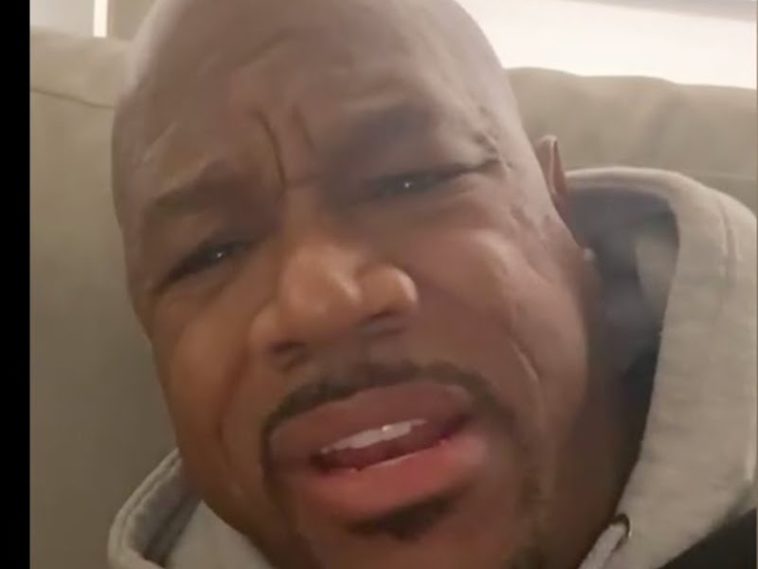 99 Views
Comments Off on Wack 100 Goes Off On ClubHouse Moderator: "Don't Play Me"
Wack 100 Goes Off on K-Duece
Wack 100 joined another room that K-Duece was in, and was clearly upset about the snub from the previous conversation. He invited him to a street fight and dropped some wild threats about beating him up, but didn't stop there. His fiery tirade was recorded. Duece tried to reiterate that he doesn't have a problem or want smoke with Game's longtime manager, but it wasn't enough.
"Don't play me like I'm some b*tch, n*gga. I raised my hand and you cut the muthafu*ka off. You the only moderator, n*gga!  When I beat you, you're going to bed n*gga! That will teach you to respect real n*ggas. Matter of fact, where you are though dawg? I'm outta here now. F*ck all that you whole a*s n*gga? Where you at since you said anyway? I'm out here now Blood, I'll pull up on you n*gga. It's no problem. I'm with the full fledged bullsh*t wherever I go. Where you at n*gga? F*ck the respect you b*tch a** n*gga! Nah, f*ck that. Where you at since you talkin' gang? Bring Blood to the table. I swear to god, I will beat the f*ck out of you, n*gga. Don't play with me like that no more, n*gga. I'm gonna leave it like that. You got a problem with me, say that n*gga."
Funk Flex Is Here For Wack 100 Versus Meek Mill
New York radio veteran Funk Flex is here for the digital smoke between Wack 100 and Meek Mill. The hip-hop entertainer recently came forward to share his take on the tensions between the hip-hop executive and Maybach Music Group artist following a past Tekashi 6ix9ine run-in.
"Hahahaha! 69 shouldn't be waiting for anyone in parking lot after club with a camera! Meek was right not to engaging/fight no one who cooperates! JUST MY OPINION! BUT- This Wack100 vid and caption is beyond hilarious! I can't breathe!"
Wack 100 Flames Meek Mill
Wack 100 lit up Instagram with content aimed to question Meek's character. Specifically, his posts suggest Meek might have manufactured a new feud with 6ix9ine because his music isn't hitting right now.
"MEEKWASHINGTON THE ACTOR #JordanTower don't know you but your on point with this one . We wanna know why you folded – It's one thing to have a phobia for rats but this one doesn't have a tail —- 🐀1- 🎤0"
"Selective Politicking 🐀1 🎤0″=
"🐀1- 🎤0 IF YOUR WORRIED ABOUT THE CONSIQUENCE OF A BEEF STOP BEEFING"
Meek even responded to some of Wack's posts with comments.
"If you jealous of me and want it wit me… we could of did that in person easily! You know how I rock 💎"
Where It All Started
Problems initially ignited after Wack 100 called out Meek for not clapping back at 6ix9ine after getting pulled up on.
"@safaree was chased down right #SelectivePoliticing -I keep it real. If any man I gotta issue with approached me in a threatening way you will be attacked. Your team against mine if that's the set up. Either way it's suppose to be smoke . #RattsUp1 – 🤷🏾‍♂️ Fact YOU GOT PULLED UP ON —— DONT GRAB THE CAMERA BALL YA FIST UP OR GRAB THE PEACE MAKER —-"

Wack 100 goes off on Meek Mill.