Rap crooner Tory Lanez is keeping his word on helping states in crisis. The hip-hop entertainer has announced he's pulling through in Texas today to deliver free water.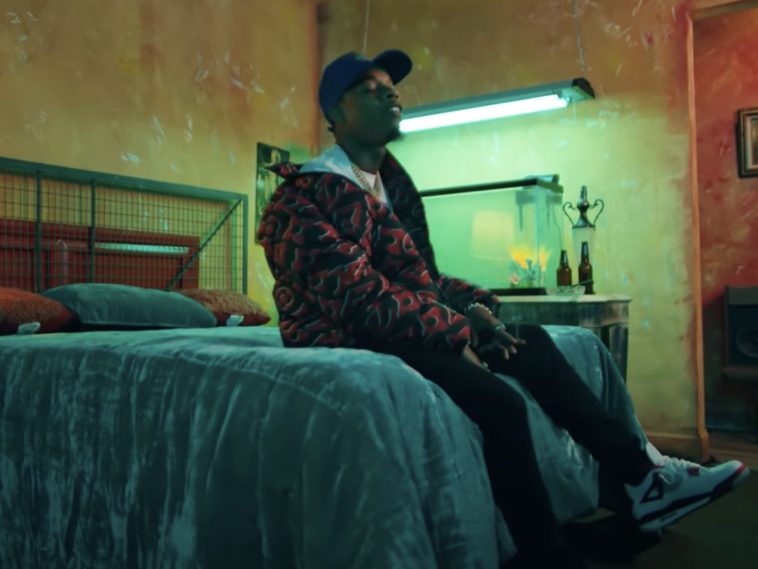 @sohh @sohhdotcom

149 Views
Comments Off on Tory Lanez Announces He's Giving Out Free Water Today
Tory Lanez Announces He's In Texas
TL went to his Instagram page to break the big news of his presence in Dallas. Lanez also promised locals could come through and pick up bottles of his newly launched Umbrella Alkaline Water.
"ITS EARLY … BUT F*CK IT WE OUT HERE … THIS MORNING DALLAS TX… here is where you can go to get FREE UMBRELLA ALKALINE WATER TODAY .. I will be passing it out"
Lanez is also gearing up to drop some visual fire to get everyone's Thursday started right.
"Tomorrow 10AM PT – Intro Part 1 DROP THOSE ☔️☔️☔️☔️☔️☔️☔️ IF YOUR READY🔥🔥🔥🔥🔥"
Tory Lanez Comes To The Rescue
Earlier in the week, Lanez announced the launch of his new water line. Along with revealing Umbrella Water, Lanez said he would use his new product to help areas of the United States going through statewide problems including Texas which recently experienced power outages and water supply issues from a winter storm.
"I SET MY MIND TO THIS !! …. AND I ACHIEVED MY GOAL ….. CANADIAN BLACK OWNED ALKALINE WATER 💎💎💎 Umbrella Alkaline Water IS OFFICIAL AS OF TODAY !! … before we take it public for sale …. we are going to GO TO STATES AND CITIES LIKE TEXAS , LOUISIANA , FLINT …. ETC . AND IM GOING TO PERSONALLY HAND DELIVER THE FIRST EVER " UMBRELLA WATER " To PEOPLE STILL IN NEED OF WATER 💦 …. WE WILL BE STARTING IN SHREVEPORT TODAY 💎💎"
Tory Lanez Reveals Why He's Ready For Anything
A few days ago, Lanez released the latest episode from his "P.S.A" video series. Most notably from the video is a segment where Lanez acknowledges some of the negative press he receives and being in full control of staying in the media.
"I'm never worried about what comes out in the news or whatever comes out about me because my confidence is just so high. I don't even understand, like, when God was doing my attributes, he definitely put extra stones in the confidence part – my confidence is through the roof. I think it's dope that I'm always in the news. People don't understand I have a thing for being viral, I know what I'm doing. I know how to create moments. I know how to turn the situation around – I know when to pop my sh*t – I 'know' what I'm doing."
Another standout moment from the episode is Lanez revealing he actually doesn't have a manager helping guide his career.
"What a lot of people don't understand about me or know about me is I'm fully independent. I don't have a manager. I am my manager and I'm also a manager of other artists and I do a great job at that sh*t because I'm always active and I keep myself moving and improving."
He Wants A Fair Shot
A few days ago, Lanez called out digital powerhouses for possibly intentionally blacklisting his content despite fans' eagerness to hear it. The remarks came following Tory dropping his new Playboy R&B capsule of music.
"I'm not tryna single out any platforms …. at all … I JUST ASK THAT AT THIS POINT … I get treated FAIRLY… as an independent artist … and as a BLACK BUSINESS .. I ACTIVELY still make the platforms money with my music … So it should NOT BE RIGHT .. for any platform to CENSOR AND SILENCE ME FROM THE EDITORIAL PLAYLIST OR HOME PAGES OF THESE PLATFORMS THAT HELP TO GIVE EYE BALLS TO YOUNG ARTIST … I've stayed cool for the last 2 projects … BUT THIS IS JUST NOT FAIR ." -Tory Lanez
"👏🏾" -Timbaland applauds Tory Lanez with a clapping hands emoji.
Hours prior, Tory blessed fans with his new Playboy R&B music capsule.
"MY R&B CAPSULE "PLAYBOY" OUT NOW EVERYWHERE !!! 🔥🔥🔥🔥 LINK IN BIO 🔥🔥☔️☔️☔️☔️☔️"