New York rapper Tekashi 6ix9ine is tired of the excuses. The hip-hop troll goes to his social media pages to let loose on his enemies about where to find him 48 hours from now.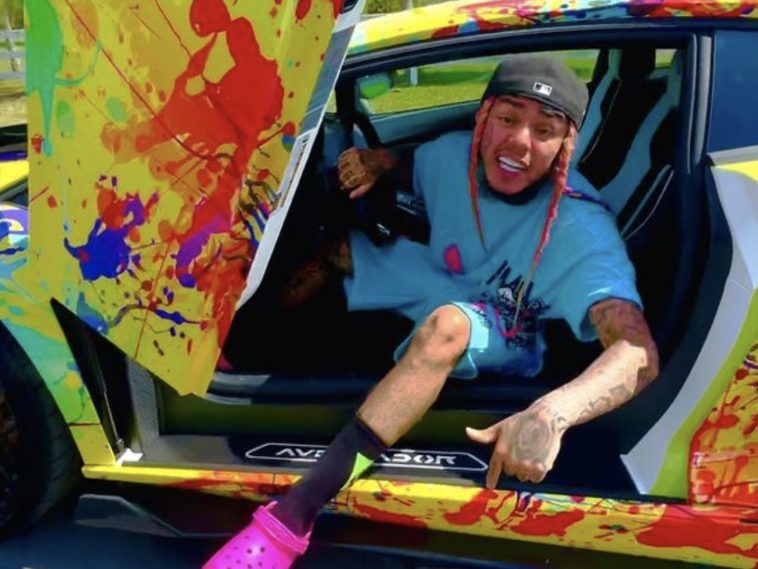 109 Views
Comments Off on Tekashi 6ix9ine Lets His Enemies Know Where To Find Him
Tekashi 6ix9ine Lets His Enemies Where He's At
6ix9ine hit up his Instagram page with some super trolling footage. Tekashi used the camera time to plug his weekend performance in Florida.
"This Saturday I'm in Miami, Marine Stadium. 15,000 people. Ain't no more f*cking excuses. You looking for me? You know where to find me, n*gga."
Tekashi 6ix9ine Announces "Best Performance" Ever
Earlier in the week, Tek made a major announcement. Barring any setbacks, 6ix9ine will appear in Miami for one of his first live concerts since the pandemic and his prison release in 2020.
"THEY SAID HE CANT DO NO SHOWS IN AMERICA 😂😂😂 THIS SATURDAY MIAMI 🌈🌈 MIAMI MARINE STADIUM 🎥 THE BEST PERFORMANCE YOU HAVE EVER SEEN ‼️ SEE YOU THERE @triller @bobbysarn"
Tekashi 6ix9ine's GF Jade Gets A New Spot
Tek's concert announcement comes hours after his Big Apple girlfriend Jade hit up her Instagram page with a must-like pic. Along with posing next to her daughter and vowing loyalty forever, Jade referenced the pic's location is from her new house.
"i got you forever 🤍"
Tekashi 6ix9ine's Jade Might Not Be Single
A few weeks ago, the mother of one hit up her Instagram page with a set of pics she initially used to set the Internet ablaze. However, her previous "single" caption was no longer in the caption.
Jade posts up the same pics she used to announce she was 'S I N G L E ' – turns out it was all cap? #First#BOHH#BlackOwnedHipHop
People also lit up her comments section to blast away at her for most likely capping about her and Tekashi breaking up.
"Not single this time though 😂"
"unt unt …naw we aint forget u posted these and it said "SINGLE""
"69s not happy bout the tat"
"Is she single or what ? She was on 69 story yesterday"
"Yea u better not put single in yo damn caption again 🥰"