New York rapper Tekashi 6ix9ine is determined to make sure Lil Reese know he's keeping tabs on him. The hip-hop troll has targeted the Chicago rap artist following a near-death shooting.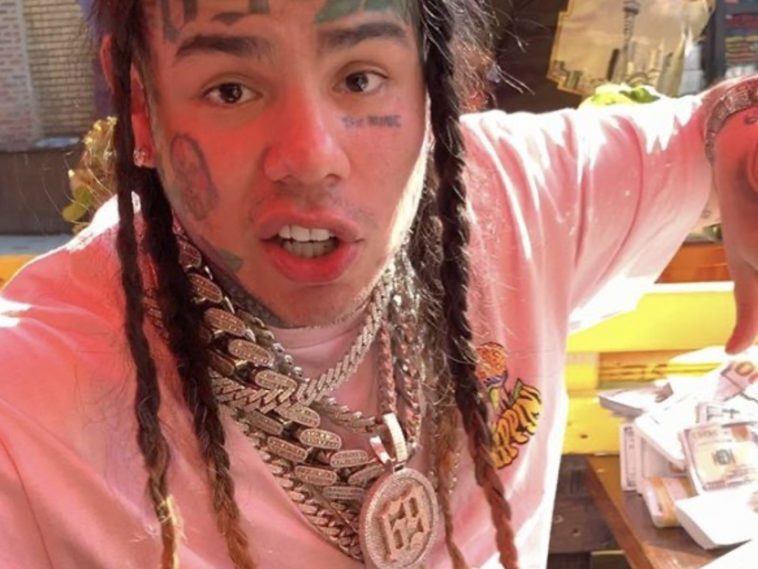 119 Views
Comments Off on Tekashi 6ix9ine Goes On Trolling Spree Against Lil Reese
Tekashi 6ix9ine Goes On Trolling Spree
6ix9ine went to both his Instagram and Instagram Story to let loose on Reese. The jokes stemmed from speculation about Reese catching a bullet for allegedly trying to steal a car.
"Pray for him HE STOLE THE WRONG PERSON CAR TODAY … What happen today it's not funny let's all chip in and help him buy his own car"
Lil Reese Shot In Chicago
According to reports, the near-death situation took place Saturday morning in a parking garage near Chi-Town's River North neighborhood. A shootout between Reese's crew and an unknown gang ultimately resulted in him suffering an injury.
TMZ has confirmed that the 28-year-old gunshot victim — who was grazed in the eye — is, in fact, Lil Reese. Graphic video has surfaced that purportedly shows Lil Reese bleeding on the ground — this after he was allegedly involved in a car jacking of some sort that ended in gunshots. The footage of a man that appears to be Reese (and bleeding from his head profusely) is making the rounds online … and it shows him being accused of stealing someone's car, and then being tracked down and beat up/shot over it. We aren't posting it here, but it's easy enough to find. (TMZ)
Multiple Injuries At Lil Reese Shooting
Along with Reese, there are at least two other people dealing with injuries. Reports claim at least one affiliate is in critical condition.
The three men, ages 20, 27 and 28, were found inside a parking garage, according to a police media notification. The 20-year-old man was shot twice in the knee and taken to Stroger Hospital in good condition, while the 27-year-old man was wounded multiple times in the body and taken to Northwestern Memorial Hospital in critical condition, police said. The 28-year-old man was grazed in the eye and taken to Northwestern in fair condition. (Chicago Tribune)
Reflecting On Beating Death
Back in December 2019, Reese stepped up to reflect on dodging death following a shooting attack. He released a statement centered on suffering a gunshot to his neck.
"Can't believe I was just in hospital could've died from gettin shot in neck I'm just bless to be here around this time Biggest Blessin Gift to still be here with my family fans all people who love me can't wait til my [voice] fully back thats my gift"