Hip-hop veteran T-Pain almost started an unwinnable battle. He has revealed which legendary rapper he tried to diss in a new Drink Champs interview.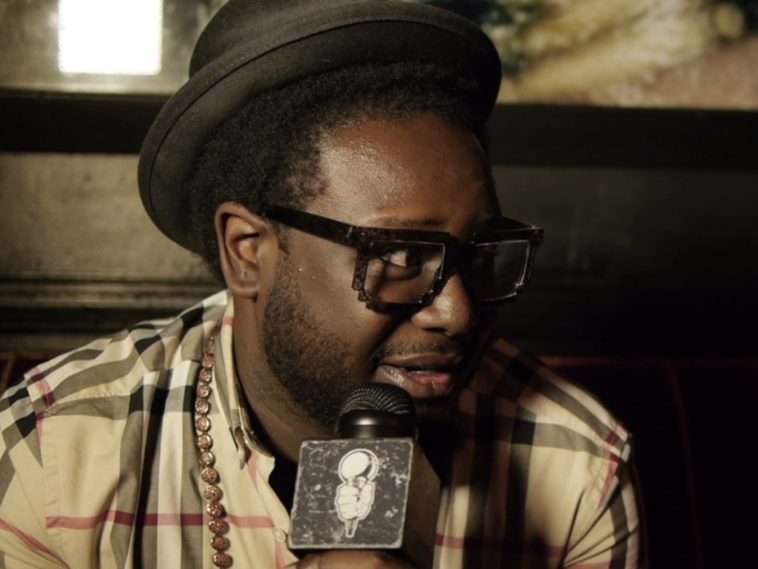 149 Views
Comments Off on T-Pain Tried To Drop A Career-Ending JAY-Z Diss Track
T-Pain Tried To Start JAY-Z Beef After "D.O.A."
After New York star JAY-Z released "D.O.A. (Death of Auto-Tune)" in 2009, T-Pain says he was harassed at crowds to the point where he went to record a diss track. He was so fired up and went immediately to the studio to roast Hov, but was stopped by management.
"I made the record after I did a show in Vegas and everybody in the crowd was like, 'JAY-Z killed you, bro!' I was like, 'All right, I'm never doing shows again!' And it's all, like, bros, it's all white boys with their shirts off and shit. 'JAY-Z, it's the Roc, bro. Fuck you, bro!' I ended the show early and then I just tried to drink myself to death … I was just ready to go, man. I went in the studio and started recording the record. I don't even think I finished it. Because my manager came into the booth while I was doing it and it was like, 'Let's just stop. All right, now you're doing too much."
This entire situation started a low-key feud between the two, which is long over after Pain apologized to Hov. The two made up from what was never really a real beef at a Grammy Awards afterparty.
"I had two cups of Hennessy, so I couldn't shake his hand. I wanted to say two things and they collided. I wanted to say, 'Thank you for everything,' but also, 'Sorry about the confusion.' And I fuc*ing said, 'Sorry for everything."
T-Pain Admits Who'd Beat Him In A Verzuz
The Tallahassee, Florida knows not to start battles he can't win and also isn't afraid to admit defeat. During the same interview with N.O.R.E., he dishes out on who would beat him in a Verzuz battle.
While he backed up his own tracks, T-Pain says Atlanta rapper Future would win in a faceoff – in the public eye, at least. He added onto his comments with questions about what songs Future would play in response to his, but said at the end of the day the public would take Future because of what year we're in.
"To the public, Future would win. Absolutely. Because it's right now. We don't have the same records. What's the feel-good records — what would Future play after 'Bartender?' What would he play after 'I'm Sprung?' Cause we gotta match records. When you play records, you gotta match records. If I play 'If I Could Change The World' with me, Diddy, Mary J. Blige, and Akon, what's Future going to play after that? We in two different categories."
Cam'ron Almost Turned LOX/Dipset Verzuz Into Craziness
There's no information on if T-Pain or Future would ever actually battle each other, but regardless, the most recent Verzuz was one to remember. However, New York rapper Cam'ron came "this" close to not letting the epic battle go down between The LOX and his mighty Dipset. Terror Squad boss Fat Joe has revealed just how wild things turned moments before this past Tuesday's classic Big Apple bout.
According to Joey Crack, things could have turned ugly real-real quick courtesy of Cam nearly ditching the entire face-off. Joe said something ultimately made Killa rethink the situation and push through on the Verzuz.
"Cam'ron was on his way out the building. Not being scared. For some reason, he wasn't f*cking with it," Joe said. "He was about to leave Madison Square Garden. That's a Joprah moment."
Hip-Hop Won The Verzuz
Last week, G-Unit's Lloyd Banks went to Twitter to voice his opinion on the faceoff's victory. He let followers know he thought it was amazing for hip-hop as a whole.
"Amazing night for hip hop"