Comedian and entertainment mogul Steve Harvey was really trying his hardest. The TV mogul recently spoke on how he tried to dislike his daughter Lori Harvey's boo, but it just didn't work.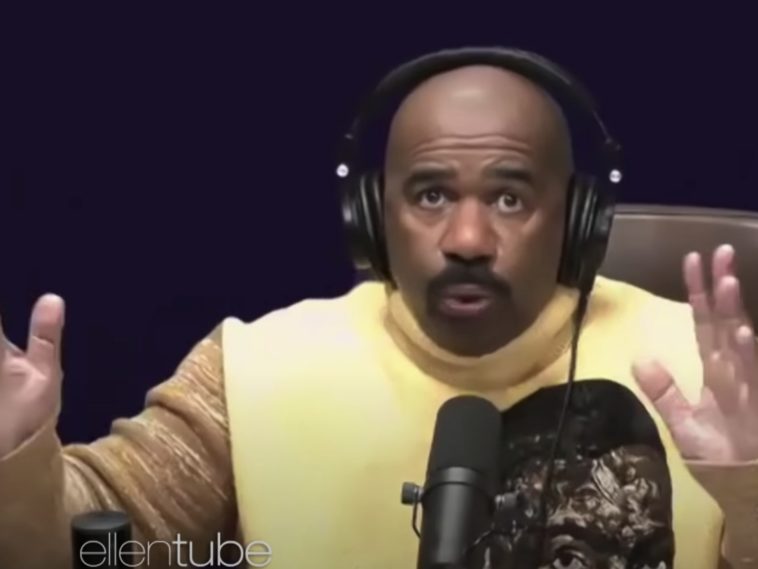 109 Views
Comments Off on Steve Harvey Can't Find A Single Michael B. Jordan Flaw
Steve Harvey Can't Find Anything To Dislike About MBJ
The "Family Feud" host he really can't just find anything wrong with fellow Hollywood star Michael B. Jordan. Harvey said he was in search of finding something to dislike Jordan over, but now he loves him and went on "The Ellen Show" to publicly praise the Black Panther, Just Mercy and Creed actor.
"You know, I have tried not to like him. I have tried to find something wrong with him that I could dig in and go, 'cause I done got rid of all of them. All of them. Some of them that snuck in the back door on me and lasted a lot longer than I wanted it to. This guy is such a good guy, man. He is one of the nicest guys, man. I've met his father. I've set up with him, we've talked for hours. I just can't find nothin' wrong with him."
Steve Harvey Can't Give Michael B. Jordan The Crown
Steve Harvey could potentially become the father-in-law of Hollywood actor Michael B. Jordan. The veteran performer shared some thoughts on MBJ in a recent interview. Steve Harvey was a guest on "Jimmy Kimmel Live" and was asked about Michael B. Jordan — his daughter Lori's new boyfriend — being voted "Sexiest Man Alive" by PEOPLE magazine. Steve disagreed, but all jokes aside, he said he likes Lori's new boo.
Steve: "Let's be clear about something: He is a nice guy, but he is not the 'Sexiest Man Alive' to me. At all."

Kimmel: "Who is the sexiest man alive, to you?"

Steve: "Me! All these people I'm paying for? If that ain't sexy, what is?"
Does Steve Harvey Have 'Pure Hatred' For Future + Diddy?
The "Family Feud" host suggested Jordan is the first one of his daughter's boyfriends to get his approval. Asked if he approved of Lori's past boyfriends, Steve said, "Nothing ever. Ever. Pure hatred." FYI, Lori's real dating history is rumored to include rapper Future, hip-hop icon Diddy, and R&B singer Trey Songz.
"Happyyy Birthdayyy Nugget 🎂
I love you baby…hope today has been at least half as special as you are 🤍"
Lori Harvey + Michael B. Jordan Flex Black Love Goals
Hip-hop model Lori Harvey and her man were at their photogenic best on a recent date night. The pair can't hide their happiness in the pics they each posted on Instagram.
"All smiles"
I love you baby 🤍🖤