Atlanta rapper T.I. and his wife Tiny's problems are multiplying. The reality TV couple is already facing allegations of sexual assault from several women, and now there are reportedly six more accusers stepping forward.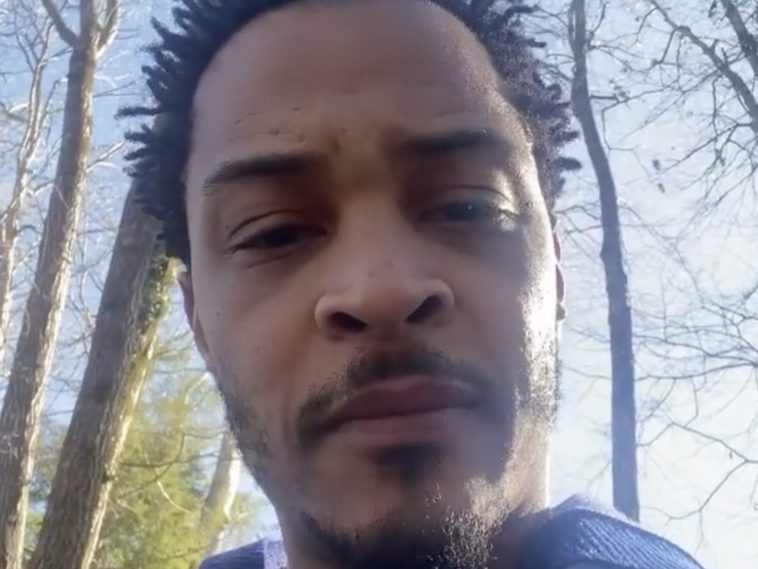 @sohh @sohhdotcom

129 Views
Comments Off on T.I. + Tiny Reportedly Accused By Additional Women
Disturbing Allegations Surface In T.I. + Tiny Case
The lawyer representing 11 of the original accusers revealed more allegations against T.I. and Tiny from six additional sources. One of the most recent accusers was a high school student at the time who interned for T.I.
She described an alleged incident when she was 17 and working for the couple, on T.I.'s tour bus, when she claims his wife gave her a drink and two pills that made her 'hot and and sweaty… [and she] began hallucinating and felt like she was floating.' She claims that Tiny took her to the back of the tour bus to 'cool off' and that T.I. came over next and started commenting on her appearance. She says she then blacked out and woke up 'naked on a bed… bleeding from her vagina. She also felt discomfort in her anus.' The next day, she claims she was taken home by one of the couple's employees who said 'she needs to learn to keep her mouth shut' and 'if she did not that bad things could happen to her and her family.' 
T.I. + Tiny Criticized For Trying To Make A Deal
The Harrises are fighting for their lives and their livelihood. The rapper/actor and his wife are facing serious allegations, and are reportedly trying hard to make this go away. Attorney Tyrone A. Blackburn claims the couple attempted to "make a deal" with his clients, but got no takers.
"(Attorney) Steve Sadow reached out to me looking to make a deal on behalf of T.I. and Tiny. And I told Steve Sadow my clients want justice. So, if the deal involves Tiny and T.I. turning themselves in and admitting to the crimes they have committed then fine we got a deal. But if it does not, then I would prefer the investigators do that work and to bring criminal charges against Tiny and T.I. for what they've done throughout the years."
T.I. Zapped From Ant Man Movie Sequel
Tip will not be returning to the big screen yet. He will reportedly have to fall back on continuing his Hollywood career for the third installment of Marvel's Ant-Man franchise.
Peyton Reed won't be getting the whole gang back together in Ant-Man & the Wasp: Quantumania. According to a new reporter, T.I. is not listed on the cast list for the upcoming Marvel threequel. It isn't clear whether it was his decision or Marvel's. T.I. and his wife Tiny are facing a number of sexual abuse allegations, among other things, The Hollywood Reporter notes in their story on the Ant-Man move. A suit was filed yesterday on behalf of 11 alleged victims, and was met with a total rejection of all allegations from T.I.'s lawyer. In the films, T.I. played Dave, a member of Scott (Paul Rudd)'s group of ex-con partners. (Comicbook)
Although the reasons behind Disney's decision to not renew his contract for the movie are currently unknown, it has been confirmed that it has nothing to do with his recent sexual abuse allegations with his wife.
Insiders close to the Disney project said T.I. was never slated to return, despite the implication that recent and grave allegations against him had to do with the decision. T.I. and his wife, Tiny Harris, are currently facing allegations of sexual abuse and drugging by multiple women. Representatives for T.I. did not immediately respond to Variety's request for comment. (Variety)
Kandi Burruss Supports Harris Family
Instead of going off on Tiny and T.I. over the allegations, family friend and singer Kandi Burruss recently appeared on "What What Happens Live" and admitted society as a whole needed to stop rushing to conclusions. She also admitted to never witnessing Tiny doing anything she's accused of including trafficking and drugging women.
"You're guilty until proven innocent instead of [being] innocent until proven guilty. And I don't like that. I don't like when people start rumors on folks and I would like for society to stop being so quick to try and make somebody guilty without really taking the time to get real evidence." ("Watch What Happens Live")
Burruss also admitted to having a close-knit bond to Tip and Tiny. Kandi dished on just how far back her relationship with T.I.'s wife goes.
"They are like family to me. Tiny and I grew up together. Because of the things that were said on our show before, people always try to wrap me up into any rumor that happens right now, [and] I don't like that. I don't like what's happening right now." ("Watch What Happens Live")