West Coast rapper Saweetie is putting major respect on a legendary verse. During a recent interview with "Insecure" star Issa Rae, the California native named her best female bar in hip-hop history.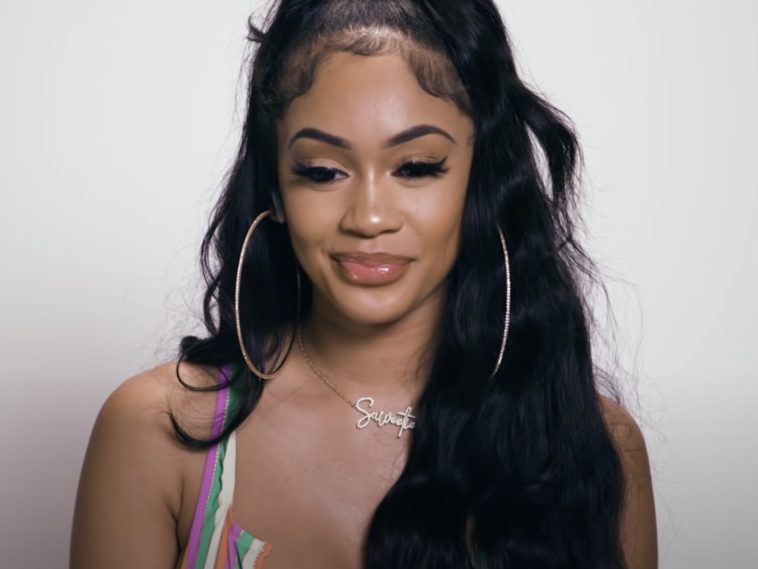 @sohh @sohhdotcom

149 Views
Comments Off on Saweetie Names Her All-Time Favorite Female Rap Verse
Saweetie Singles Out Lil Kim's 1996 Rap Verse
Saweetie gave total props to New York veteran Lil' Kim. She quoted 1996 song "Not Tonight," citing what she views as the best lyrics from a woman ever spat in a rap song.
"I think Lil' Kim's 'Not Tonight.' I think this is the best bar in female history. I like when she says, 'Tryin' to impress me with your five G stones / I'll give you 10 Gs, ni**a, if you leave me alone.' When I heard that, I was like…I felt it. I knew what she meant and that's just the most boss thing someone could ever say. Like, I love that line."
Announcing An Iconic Collaboration
Saweetie is sticking to the music. The hip-hop superstar recently lit up social media to get fans hyped about a new mega collaboration gearing up to go down. While she didn't dish out a specific name, Saw went to her Instagram page with a slew of new pics. In the caption, she let the entire world know this is far from a regular collaboration going down.
"pretty b*tchin omw to the studio to do a feature for someone……. guess who 🥺😩 …… hint: she's iconic"
Saweetie + Paris Hilton Are Pink Tracksuit-Matching Best Friends
The West Coast star is doing big things in 2021. The hip-hop star recently blessed social media with a look at herself bossed up with reality TV star mogul Paris Hilton. The clip featured her hanging out alongside Paris as they cruised around Los Angeles with Saw and fellow Cali native Doja Cat's "Best Friend" song playing.
"i know das right 😛 @parishilton #thatshot"
"Love you sis! 😍 Always have so much fun with you!🥰" -Paris Hilton
Saweetie's Valentine's Day Pics
Several weeks ago, Saw hit up Instagram with some epic shots. While some featured her and hip-hop boyfriend Quavo together, the vast majority of them showcased Saweetie showered with red roses and candles.
"fight night"
Quavo also went to his Instagram page to share footage and pics from their V-Day together.
"I'm Buddy Love ❤️ #HappyValentinesday"