Wu-Tang Clan's RZA is the man to call when change is needed. The hip-hop hitmaker and leader of the all-mighty Clan came to the rescue when Good Humor needed a replacement for its racist-rooted jingle and wants ice-cream truck drivers to project their necks – and vehicles with its new tune.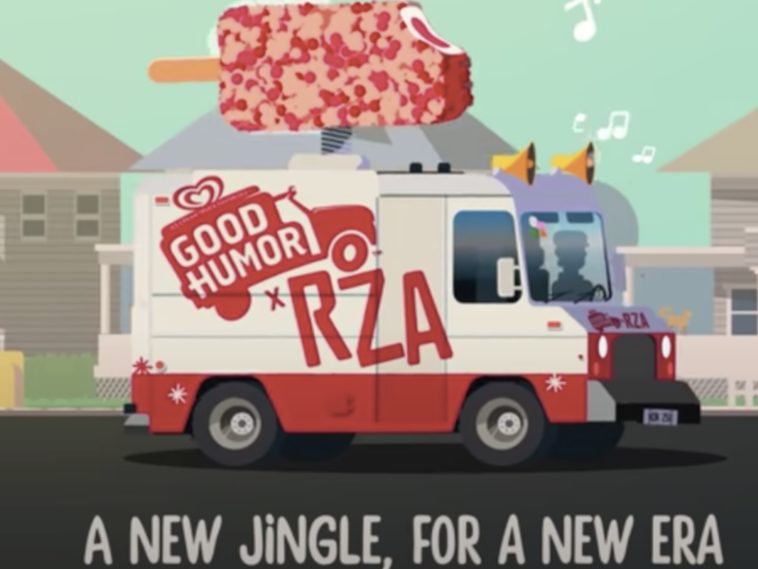 129 Views
Comments Off on RZA flips racist-rooted Good Humor song for the kids
RZA flips racist-rooted ice cream song
In 2020, Good Humor celebrated its 100th anniversary by linking with Bobby Digital for some much-needed change. In a year where racist-rooted products like Aunt Jemima syrup and pancake mixes received a makeover, RZA saved the day too for Good Humor.
Step inside RZA's studio and find out why the Wu-Tang founder linked up with Good Humor to create a new ice cream truck jingle for a new era.
The Good Humor Sweepstakes
Following an epic revamp and new song creation, Good Humor is continuing to push the movement forward. The ice cream powerhouse has started a sweepstakes to give away 100 music boxes to neighborhood truck drivers to swipe out "Turkey in the Straw" to RZA's version.
Good Humor has not owned ice-cream trucks since the 1970s and, until now, has never created jingles for them. Yet starting this week, Good Humor is holding a sweepstakes in partnership with Nichols Electronics called the Good Humor Music Box Program to help ice-cream truck drivers access the new jingle. The ice-cream company works with Edelman.  "If you're an ice cream truck driver in the U.S., Good Humor invites you to apply for the chance to receive a free music box (value: $265)," Good Humor said on its website. "One hundred drivers will receive an Omni 2 music box from Nichols Electronics, plus a new ice cream truck speaker, on a rolling basis through June 2021." (PR Week)
Never Forget Ol' Dirty Bastard
The Wu-Tang Clan recently showed major love to a late group member. Bobby Digital went online to share some dope graffiti of a Buddha-adapted Ol' Dirty Bastard and let fans in on the secrets of meditation. There was no location noted on where the traffic was located but stood out as an epic-looking hip-hop monument. 
Tour Coming Soon?
Bobby Digital recently gave fans hope to see the Clan back in action. RZA wrote on Instagram, "Stay positive we will be back on Tour before you know it." Remember: Quarantine is temporary, but Wu-Tang is forever.