New York rapper Nicki Minaj is just hours away from unloading some new music and is doing the most to get everyone's attention. The rap game's most popular Barbie hits up her social media pages with a jaw-dropping look at herself topless and teasing a midnight drop.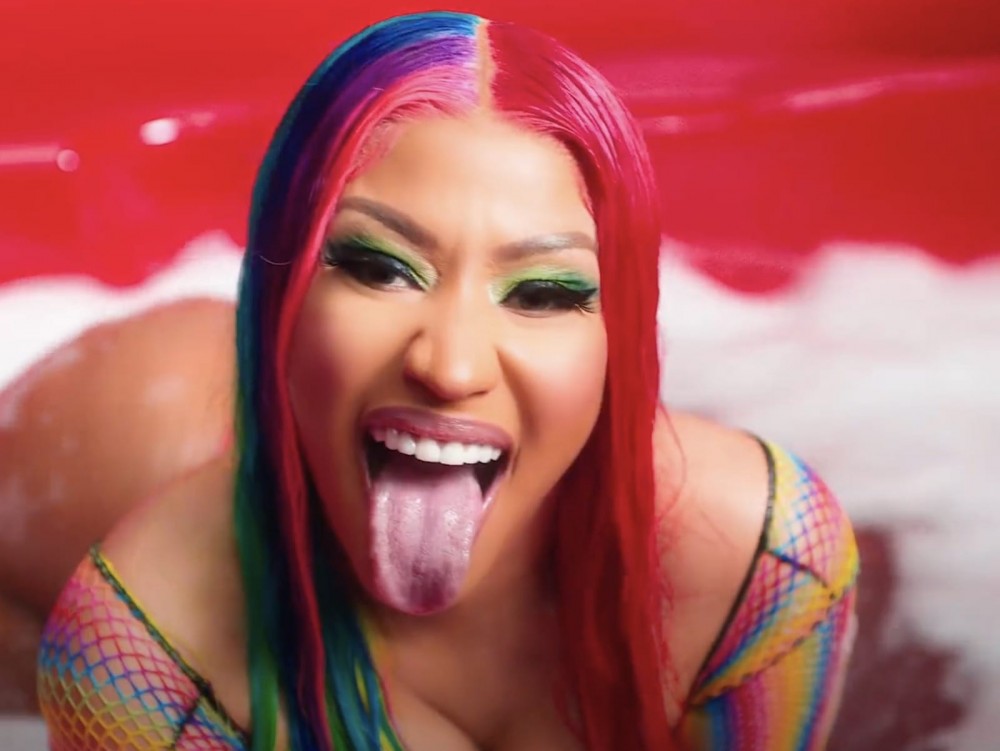 99 Views
Comments Off on Nicki Minaj goes topless in latest new music announcement
Nicki Minaj goes topless in newest tease
The Queens native returned to Instagram with an eye-opening slideshow of pics. The shots feature her only rocking a hat and underwear while promising to both go onto IG Live an hour before dropping new audio fire.
"New 🎶 @ MIDNIGHT ⚔️ Going LIVE @ 11PM EST. DON'T MISS IT."
Nicki Minaj pulls up + makes Thurs night reveal
Hours prior, Onika hit up her Instagram page to give followers a reason to cancel any major and minor plans for Thursday night. Nicki announced she's going live tonight an hour before her "FRACTIONS" single likely premieres. The video featured Minaj driving with her husband Kenneth Petty riding shotgun as she plays a sneak listen to new music.
"Going live tmrw night @ 11PM EST— it's the PINK Richard Milleeeee 4 meeeeeeee ⌚️ only 8 in the world. Anyway, be on time tmrw night 😘😝"
Nicki Minaj Announces 'FRACTIONS' Song
Earlier in the week, Nicki stepped up to let the world know she has big bars gearing up to drop in the form of a new song presumably called "FRACTIONS." Onika hit up Instagram with a slideshow of fire pics. Along with slaying in the shots, Nicki shared some lyrics and appeared to reveal her song is set for a Friday drop.
"Btchs act like they want action, heard they want action, btch we aint duckin no action. I'm bout to giv'em dat traction, send a distraction— then ima line'em like FRACTIONS ✍🏾 F R I D A Y 🤞🏽"
The huge announcement sparked co-signs from vixen Jade to rap star Lil Wayne's daughter Reginae Carter.
"BADDDD 😍😍😍😍" -Jade
"Sheeeshhh😍😍😍😍" -Reginae Carter
"🔥🔥🔥🔥🔥" -Baddie Gi
'LLC' Becomes A Hit, 3 Years Later
Earlier this month, in music-related news, the song "LLC" from Nicki Minaj's 2018 album Queen suddenly became a hit. The rapper's dedicated fan base ("The Barbz") banded together to get the song trending — 3 years after its release — in their attempt to motivate Nicki to drop some new music.
@nickiminaj LLC is now number 1 on us ITunes HIPHOP Genre Charts 😆🔥🔥🔥🔥🙈🐐