Maybach Music Group's Rick Ross doesn't do regular – at all. The hip-hop veteran has lit up social media with an epic-looking shot of himself bossed up with former late night talk show heavyweight Jay Leno.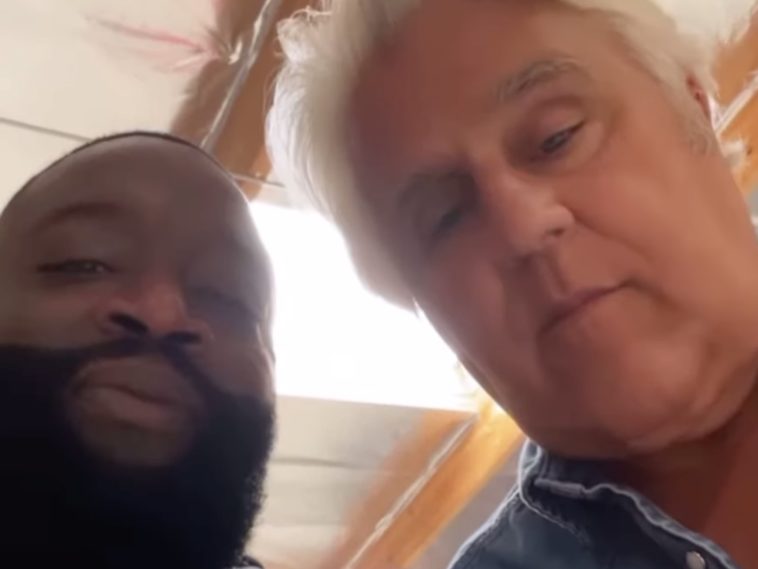 129 Views
Comments Off on Rick Ross Links W/ Late Night Talk Show God Jay Leno
Rick Ross Links W/ Jay Leno
Yung Renzel went to his Instagram page with the must-see shot. Ross acknowledged hooking up with Leno over their love for fancy vintage vehicles.
"I thank Jay Leno @jaylenosgarage for bringing me and my team @geterk_183rd @iamlexpierrelouis to Burbank,California to film an episode starring my prized possession '57 Renzel' built by @57freddy out of Miami.I got to ride thru Cali hills top down,windows up talking classic rides with the Legend today.Cool shit huh..episode coming stay tuned!!! Dade county just took it to another Level 💯"
Ross also went to his Instagram page to share footage from their outing together.
Rick Ross Has Big Movie Plans
Recently, Renzel went to his Instagram page to let the world in on what he's brewing. Ross hinted at a movie, music and other things gearing up to come together with help from filmmaker Quincy Jones III.
"Riding thru 305 the MIYAYO with Quincy Jones lll @therealqd3 talking Miami streets,rap sh*t,past and present and a huge film idea I have.This brother is a genius and after us going to purchase an entire film set up today I owe my homie one. I suggest all hustlers to remain hands on. BOSS MOVES ONLY!! @villonfrance toast."
Ross' former Slip-N-Slide labelmate Trina hyped up the potential collaboration in the comments section.
"Biggest 👏🏽👏🏽👏🏽👏🏽"
Rick Ross' Mansion Makes Money
Rick Ross made headlines a few years ago when he bought a Georgia property that had belonged to boxing legend Evander Holyfield. Recently, Ross made some of that purchasing price back by charging Hollywood studios almost $3 million to shoot on location.
"We may be able to work something out but I gotta be clear and make it clear this is what excites Rozay. And as soon as I say that number, it's like 'BOW' go off and the confetti falls."
Rick Ross Scrutinized After Video Clip Surfaces
A few months ago, Ross caught serious backlash after an old clip of his appearance on VH1's Signed re-emerged. People are citing the performances from contestants Just Brittany and Kaiya, in which Kaiya said Ross shut down her performance because he was focused on Brittany's butt.
"My song is original. I wrote it myself. Brittany used the same exact melody and the same ad-libs. You didn't change anything. I think he was so blinded by the butt that he wasn't paying attention like that." – Kaiya