In honor of the late PnB Rock, his girlfriend recently took to social media with a request. She asked fans to support the Philadelphia artist's only independently released song, titled "Luv Me Again."

129 Views
Comments Off on PnB Rock's Girlfriend Asks Fans To Support The Late Artist's Only Independently Released Song
This past weekend, PnB Rock's girlfriend, Stephanie Sibounheuang took to her Instagram story and asked fans to support his only independently released song, "Luv Me Again."
"Go run this up. Play it all day. Back to back. This bae only independent record so this the one that counts," she said in her story's caption. 
The late artist was shot and killed at Roscoe's Chicken & Waffles located in Los Angeles. He was also the sixth rapper once signed to EMPIRE Records to be killed in the past several years.
PnB Rock's Girlfriend Breaks Her Silence Since Tragic Death
On September 12, 2022, PnB Rock was shot and killed at Roscoe's Chicken & Waffles in LA. Stephanie Sibounheuang, the girlfriend of the late rapper, broke her silence after the rapper's passing.
Instagram influencer Stephanie Sibounheuang was lobbed insults and accusations from many online users, blaming her for PnB's death. Sibounheuang faced backlash for posting Roscoe's location in an Instagram story before the shooting. Many public figures have come to her aid since, including Cardi B and J. Prince. 
In a lengthy Instagram post on her, Stephanie paid tribute to PnB, whose real name was Rakim Allen. Alongside an intimate reel of some of their warm moments together, she shared:
"My man saved my life, Throwing me under that table. I'm not supposed to be here, but bc of him. I am. No one would be able to handle this. TBH, I can't even handle this."

"I felt this time in my relationship everything was finally perfect for our family. My man had gave his self to GOD. Did a complete 360. He was loyal. He was patient. He was teachable and a teacher. I was finally letting the past go, and letting him show up as his changed self."

@stephsibounheuang Instagram
Kodak Black Issues A Public Apology To PnB Rock's Girlfriend
Kodak Black has said some outlandish things throughout his rap career, but he is now apologizing for a comment that fans considered to be out of line.
The "Super Gremlin" rapper is known for his controversial comments on many subjects, but he is now issuing an apology to PnB Rock's girlfriend after blaming her for his death.
While going on Instagram live, Kodak attempted to take accountability for his words and apologized to PnB Rock's girlfriend. 
"I was angry at that moment", Kodak said. "I just went with what everybody was saying."
The South Floridian rapper was referring to fans on social media who also blamed his girlfriend at the time. 
Later on in the video, Kodak gave his formal apology.
"I give my apologies to her, I hope she keeps her head up," Kodak said. 
To pay homage to PnB, he posted a picture of his chicken and waffles plate with the caption "Long Live PNB."
Kodak initially said on his Instagram story, "that hoe might as well kill herself" after learning the Los Angeles Roscoe's Chicken N' Waffles location was shared.
Similar comments that pointed the finger include tweets by Nicki Minaj and Cardi B, who disagreed on who the blame should be on. 
Cardi's tweet blamed the shooters, while Nicki tweeted that the location shouldn't have been posted.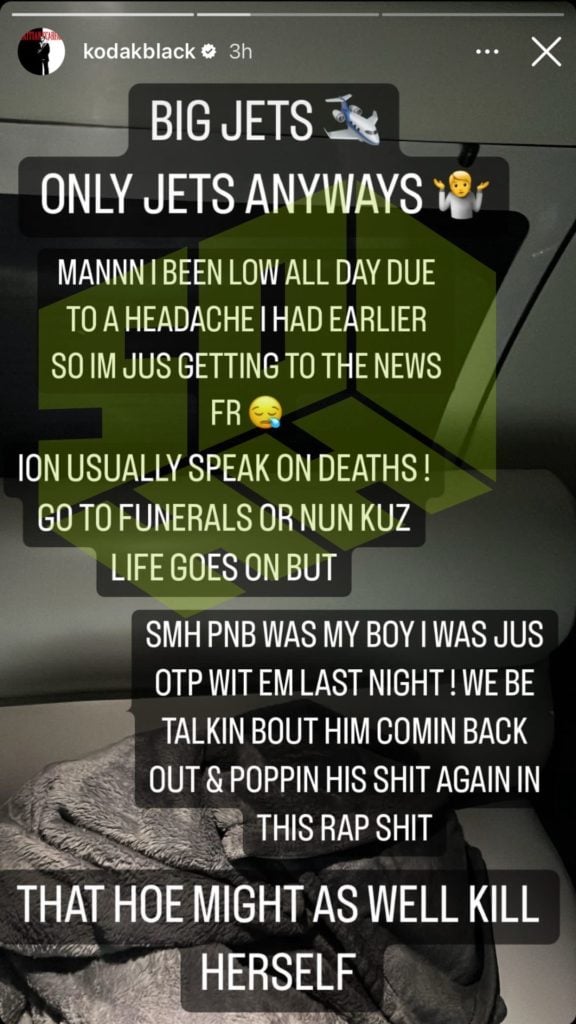 Kodak And Azealia Banks An Ideal Couple?
Kodak Black and Azealia Banks could be a match made in heaven.
The two have made controversial statements in the past, with the South Florida rapper having cold words after PnB Rock's death and Azealia going after Nicki Minaj on Twitter.
Between the voodoo and controversial opinions, this is a list of why they'd be a match made in heaven.
Additional reporting by Michael Omoruan.