The COVID-19 pandemic hasn't left yet but there's at least one fully FDA-approved vaccine aimed to lead the way in defense. The Prizer solution has become the first to get the complete green light from the Food and Drug Administration.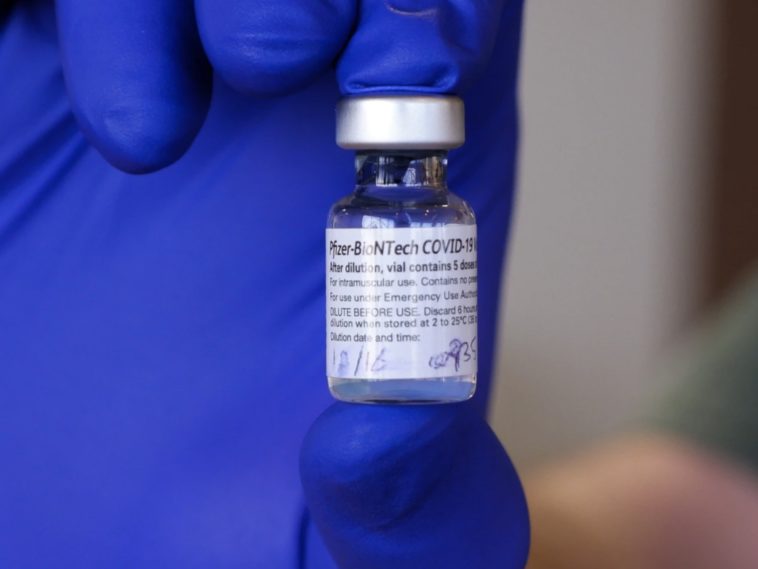 146 Views
Comments Off on Pfizer Vaccine Becomes First To Receive Full FDA Approval
Pfizer Vaccine Becomes First To Receive Full FDA Approval
Despite vaccines being available dating back to late 2020, not all have been full approved by the FDA. Some also had potential side effects and stirred up debates on whether or not people should continue social distancing and wearing face masks or go forward with a vaccination shot.
After nearly an entire year, the FDA's full approval of Pfizer's vaccine is not only historic but a potential opportunity to encourage more people to get a proven defense against coronavirus. Dr. Anthony Fauci has since addressed what this means for the country.
"No one can argue now with the effectiveness and the safety of these vaccines because the FDA did precisely what they should have been doing," Fauci said in a phone interview, stressing the independence of the process. "They took the very great care in analyzing all of the information." Fauci said he believes the full FDA approval could encourage as many as "20-30%" of unvaccinated people to get vaccinated.
In addition to more people getting vaccinated, there's also a strong chance for businesses and universities to require vaccine requirements.
Jim Jones Admits Getting Beat Down W/ COVID-19
New York rapper Jim Jones recently stopped all the COVID-19 jokes. The hip-hop veteran came forward to explain the seriousness of COVID-19 and reveal just how much it personally impacted his life after battling the infection.
Jimmy went to his Instagram page to speak out on his state of mind. He also explained how downplaying coronavirus ultimately came back to bite him.
"What's up everybody. I was contemplating whether I should do this or keep my business to myself. But I think it's more important for me to do this. I urge everybody to stay safe out there. COVID is real. You heard? I was running around here thinking I was Superman and COVID knocked the socks off Superman. So I urge and encourage anybody to just continue to mask up, please continue to hand sanitize, social distance as much as you can, you heard? Try to stay away from a lot of packed and crowded places. The sh*t is no joke. At all. You heard? I really felt it. And I don't want anybody to feel like I felt. I'm not in charge of the FDC or anything, I'm not here to tell you to get your vaccination. I'm here to tell you to take care of yourself because this is very real. I'm grateful and I thank God that I'm back to getting healthy. I'll see y'all soon."
Jones also went to his caption to provide more details and reveal just how badly COVID impacted his own life.
"Super man is no match for covid please take care of urself out here mask up hand sanitizer keep tht wit u and say a prayer cause this shit is like a stray bullet it don't care who it hits I'm grateful for all those who called to check up on me I'm negative and it's time to get back Healthy God is good"
There's no telling when and how Jones exactly became infected with COVID-19, however, Jimmy recently teamed up with Dipset's Cam'ron and Juelz Santana for a publicized Verzuz battle against The LOX. The August 3 face-off appeared to be a potential super spreader location since it took place indoors and a majority of on-stage individuals performed maskless.
Coincidentally, attendee Fat Joe followed Jones' message with a message promising COVID-19 was in the building. He was one of the only people shown on-camera wearing a face mask.
"Oh it was in the Building! God Bless i dont wish that on nobody But its there! #wearamask"
Summer Walker Is Not Supporting The Vaccine
R&B singer Summer Walker wants zip-zero to do with vaccinated people. The popular crooner recently came forward to share her issues with anyone getting treatment to lessen the severities of COVID-19.
Walker went to her burner Instagram account to keep things 100. She relied on the power of IG Story to encourage those folks to steer clear of her.
"If U Vaccinated Please Stay Away From Me"
40 Gets His Vaccine
The news came after rap star Drake's longtime friend and producer Noah "40" Shebib went to Instagram to celebrate getting his vaccine. Shebib dropped a picture of himself giving a thumbs up alongside a nurse.
I wasted no time and signed up for a vaccine as fast as humanly possible. All I want to say is that getting the vaccine is a privilege we have in this country but not all of us have it. And that's even more reason for those of us who do to get our shots and protect vulnerable people who can not. Nothing makes me happier then being a part of a team and helping and this is a way for us to all help each other. Be kind to each other, and change each others lives. We are all in this together and together we can get out of it!! We're almost there 😇 Peace and love ❤️🧡
The OVO Sound producer took it a step further and made his caption deeper than just a shot. He noted his Multiple Sclerosis and added in details about what the vaccine means to him.
I'm proud to share that this is my happiest moment since this pandemic started. I was originally told I could not get vaccinated due to the medications I have to take to manage my Multiple Sclerosis. Really it had to do with vaccine availability and the reduced effectiveness because of my immunosuppressant meds but none the less, they figured out the timing for things to be more affective and suddenly I was eligible.