Memphis rapper NLE Choppa has turned over a new leaf and predicts the same for "canceled" Charlotte, North Carolina rapper DaBaby. At least Baby has someone in his corner.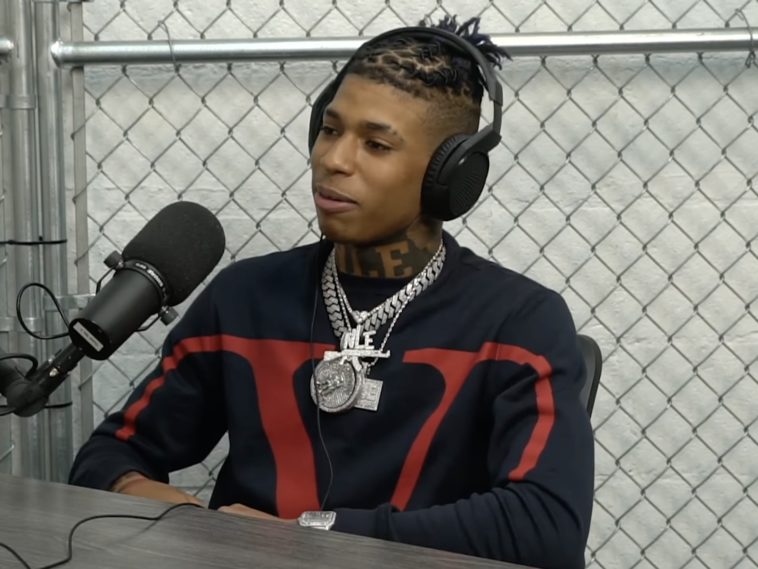 149 Views
Comments Off on NLE Choppa Predicts The Fate Of DaBaby's Career
NLE Choppa Predicts A Comeback For DaBaby
DaBaby has been the talk of the town and not for good reasons. Ever since his homophobic comments during his Rolling Loud Miami performance, it seems his career has taken a downward spiral. Almost every major festival has dropped him, he has been canceled by some music industry giants like his collaborator Dua Lipa, pop legend Madonna, and the rocket man himself, Elton John. Despite this, there is is one still hoping for DaBaby's career to make a recovery. Baby has found a friend in NLE Choppa.
On Twitter, NLE voiced his opinions on the whole situation claiming that DaBaby was going to "come out bigger than ever" and that those who were saying he was done for are "down playing the man".
A fan of Choppa's then responded to this statement saying that DaBaby's comments were still "disrespectful and mfn insensitive". To this NLE Choppa made sure to clarify that he understood the gravity of DaBaby's statements but that everyone is acting as if "we ain't human". He went on to add that people are "delusional" if they think he went on stage with the intentions of hurting anyone and that there are "comedian[s] saying worse sh*t". NLE Choppa's comments have caused somewhat of a rift between his followers. Some agreeing that everyone should give DaBaby a second chance and others being less forgiving of DaBaby's actions.
"Dababy Gone Come Out Bigger Than Ever While Y'all Tryna Down Play The Man" (@Nlechoppa1)

"See nie choppa sdfu 😂 that shi he said was still disrespectful and mfn insensitive 🙄‼️" (@quiquishaa)

"Ian say it was. But not everybody acting like we ain't human. If y'all think bruh said what he said with the intent to hurt somebody y'all delusional. It's comedian saying worst shit then what bruh said" (@Nlechoppa1)
NLE Choppa's New Hustle
As aforementioned, NLE Choppa has turned over a new leaf. He is thinking way deeper than music-making. The hip-hop star who plans to drop the mic on his rap career is determined to help cure a slew of health complications for people including STDs and erectile dysfunction.
Choppa went to his Twitter page this week to make a slew of proclamations. The vegan-inspired hip-hop star vowed to come up with solutions to help the human race before 2022 ends.
"By the end of the year I will have herbs that can cure Herpes, gonorrhea, chlamydia, and even more STDS ‼️ … I love when people think I'm incapable, imma show you how capable I am WATCH – I Will Have A Herbal Concoction By Next Week That Will Cure Erectile Dysfunction And Also Help A Male Sex Life. Also A Concoction That Will Treat Insomnia And Anciety/Fear"
NLE Choppa Explains Why He's Quitting Rap
Last month, Choppa went to his Twitter page to keep things 100 with followers. Along with revealing how he planned to properly bow out of the rap game, NLE credited his love for herbal remedies and lifestyles for steering his decision to retire.
"Finna buy out my contract and become full time herbalist. Forget the music stuff about to help my people ‼️ … My daughter my whole world. Most beautiful girl I've ever seen 💜💜💜💜💜💜💜💜💜"
'Letter To My Daughter' Is Choppa's Realest Video Yet
Recently, the rap heavyweight released an emotional, introspective ode to his daughter. The track found Choppa tapping into his reflective side to outline the ways in which his child has changed his life for the better.
The 18-year-old explores the maturity he's found now since he's responsible for another life. "Never let life lessons break you," he raps. "Evaluate the mistake and just wait on your breakthrough."