New York rapper Tekashi 6ix9ine doesn't stop with the trolling. He continued going after Lil Durk with another comment about his late brother DThang.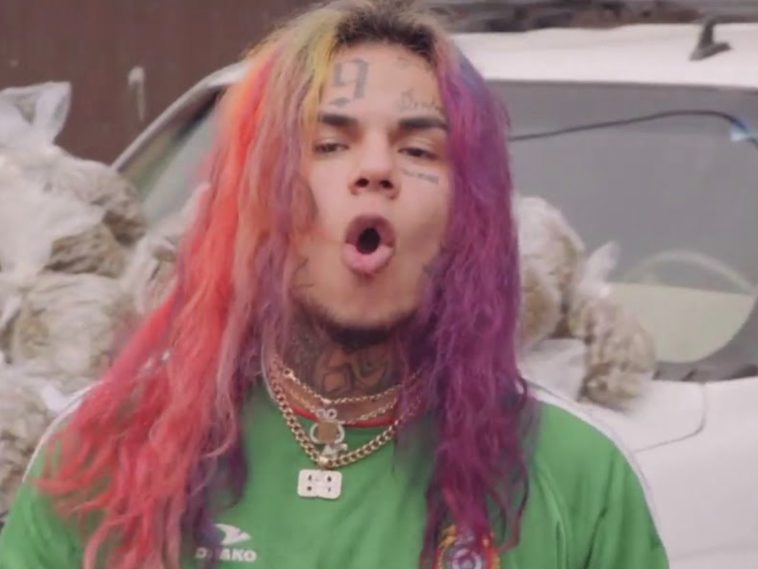 189 Views
Comments Off on Tekashi 6ix9ine Continues Trolling Lil Durk's Dead Brother
Tekashi 6ix9ine Trolls Lil Durk's Dead Brother Again
After Durkio tweeted about not mentioning the dead in his song anymore, Tek went full troll mode. He dropped a remark about the reason being because Durk was scared after his blood brother was murdered last month.
"I'm not mentioning the dead in my songs no more or performing songs with they name in it…… – big Smurk"
"This man scared after they shot his brother in the head don't stop now"
Tekashi 6ix9ine Asks Lil Durk To Square Up
6ix9ine wants to fight – no cap. In a new podcast-slash-interview with rap personality Akademiks, he revealed who everybody figured he wants his opponent to be.
6ix9ine says he wants to fight the Chicago hip-hop star. He asked Ak to get him in the same room so the pair can throw hands, a battle Tek clearly thinks he'd win.
"Before you leave Miami, you call Durk and get him in the same room as me — make it happen. You got the phone right there."
Tekashi 6ix9ine Won't Stop Disrespecting Lil Durk
The Big Apple native is just straight disrespectful when he's feuding with his enemies, and Lil Durk is one of them. The hip-hop star stepped up to blast away at his longtime rap foe last month and dragged Durkio's late protégé King Von.
6ix9ine recently went to his Instagram page with a TikTok clip joking about someone in heaven not having his team get vengeance for his death. Tekashi took things a step further by sharing another clip of Von rapping "my n*ggas gonna slide everyday" before his 2020 death. Tek even referenced the recent fatal shooting of Durk's brother DThang.
"😂😂😂 He really thought ya loved him 😂😂😂 He believed y'all 🤣🤣🤣 if he ain't slide for his brother who got shot in the head you thought u be different 😂😂😂😂😂😂"
Tekashi 6ix9ine Blasts Lil Durk
In early June 2021, a screenshot showing a headline revealing Durk's family loss initially started to circulate online. Tekashi ultimately reacted to the post in an Instagram comments section with a reference to Durk's late slain affiliate King Von.
"Time to smoke a NEW pack .. it's like every week.. I didn't even finish enjoying smoking Von yet 🤣🤣 YALL dying to fast"
According to reports, Durk's brother suffered a fatal gunshot wound to his head outside of a Chicago nightclub. Details were still coming together on the attack.
Cook County officials tell us Dontay Banks Jr. — DThang's government name — was found deceased on the 7900 block of S. Loomis Blvd. in Chicago, and has been assigned a case number. An autopsy still has to be done to figure out the cause and manner of death. Reports say DThang was shot in the head outside of a nightclub and died on the spot … citing alleged witnesses who say they saw the shooting go down. (TMZ)