Everyone has something to say about North Carolina rapper DaBaby's controversial comments during his Rolling Loud performance. From Elton John to Madonna to Miley Cyrus, it was only a matter of time before New York rapper and singer, Azealia Banks shared her thoughts.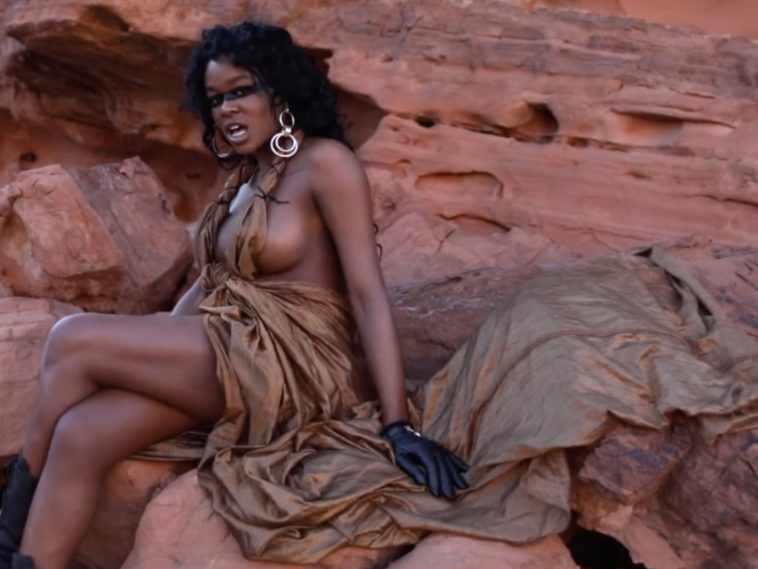 189 Views
Comments Off on Azealia Banks Wants DaBaby Canceled But For A Different Reason
Azealia Banks Wants DaBaby Canceled But For A Different Reason
DaBaby's comments at Rolling Loud Miami was the sound heard 'round the world. These comments have resulted in major backlash and calls for the end of his career. Baby has been dropped from around 7 music festivals at which he was set to perform, in addition to losing sponsorship deals with brands like BooHoo. Despite this, for Azealia Banks it is not these comments which pushed her over the edge.
Banks is not without controversy of her own, in fact her whole career is centered around her beefs with various celebrities and the unpredictable nature of her social media comments.
This time Azealia has chosen to speak out against DaBaby who also shares a checkered past. In an instagram story post Banks brought up DaBaby's March 2020 incident where he punched a female fan in the face, knocking her to the ground. In the post she dismissed the "performative cancelling" of Baby that is happening now and advocated for him to be official canceled regardless of any apologies.
"Y'all should have BEEN canceled dababy when he was caught on camera punching a female fan in the face. I'm not believing any of this performative canceling ppl are doing now when everyone so quick to forget that happened. Apology or not, Keep him canceled."
DaBaby Was Supposed To Make An Apology Video
While Azealia Banks has decided she wont be accepting any future apologies, DaBaby reportedly was "this" close to apologizing before almost getting canceled. New reports reveal he was going to record an apology video to the LGBTQ+ community before being cut by a handful of festivals.
DaBaby was going to issue an apology before a slew of festivals took him off their lineups. His representatives reached out to seven fall festivals but he never recorded the video, which was supposed to premiere on Sunday before his Lollapalooza performance.
Since yesterday, DaBaby has been booted off of several festival line-ups. ACL Fest, iHeartRadio Music Festival, and Music Midtown festival announced that DaBaby would no longer be going on stage at their events.
DaBaby Shows Just How Much He's Hustled
The Charlotte native hasn't taken a vacation during the best time of year. Instead, the now-controversial rap star has shared a sneak peek into just how much he has been grinding since June.
DB went to his Instagram page with a slideshow of video productions he's put together in-house. Baby even reminds naysayers he's the person also responsible for directing the visual gold.
"My last 4 drops since June. 📺 All 4 videos Written, Produced, and Paid for IN-HOUSE by @billiondollarbabyentertainment & Directed By some n*gga they call @dababy . Aight don't pay me no mind, back to work 🤫"
DaBaby Officially Apologizes After Everyone Canceled Him
This week, Baby finally caved in and kept things 100 following backlash he received since making anti-gay remarks at last month's Rolling Loud Miami festival. DB shared a message explaining why he was remorseful if his words and comments touched people the wrong way.
"Social media moves so fast that people want to demolish you before you even have the opportunity to grow, educate, and learn from your mistakes. As a man who has to make his own way from very difficult circumstances, having people I know publicly working against me— knowing that what I needed was education on these topics and guidance— has been challenging. I appreciate the many people who came to me with kindness, who reached out to me privately to offer wisdom, education, and resources. That's what I needed and it was received."
Baby specifically called out to the LGBTQ+ community to make sure his words were felt.
"I want to apologize to the LGBTQ+ community for the hurtful and triggering comments I made. Again, I apologize for my misinformed comments about HIV/AIDS and I know education on this is important. Love to all. God bless. – DaBaby"