Rap superstar Nicki Minaj showed up for the #BackyardChallenge and shut it down. The chart-topping entertainer's backyard looks like a legit vacation spot, which Nicki showed off while flexing beach-body goals at the same time.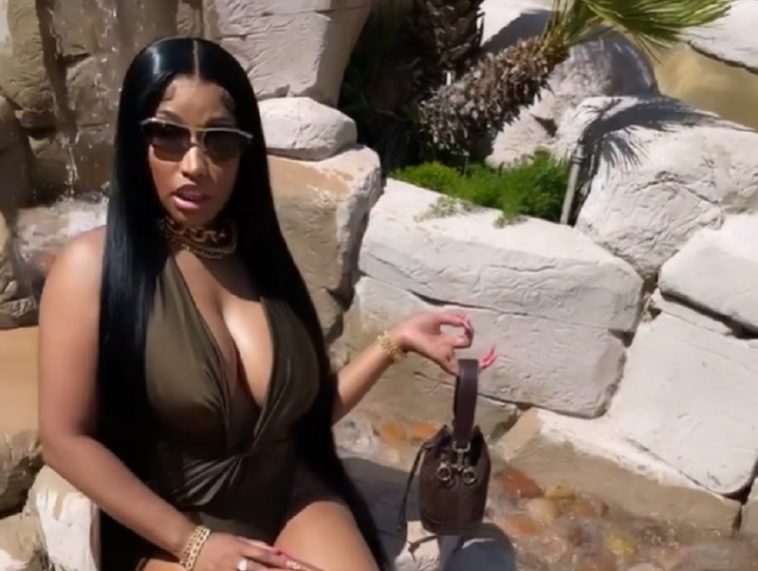 149 Views
Comments Off on Nicki Minaj Bodies The Backyard Challenge In A Bikini
Nicki Minaj Wins The Backyard Challenge
Responding directly to Memphis rapper Yo Gotti — who earlier in the day posted an epic "drowning in paper" video that was apparently from his backyard — Nicki Minaj gave a glimpse into how she's living on Instagram. The hip-hop queen got her props from Yo Gotti, La La Anthony and some others in the hip-hop community.
H O M E – it's the #backyardchallenge I 👁👁 u @yogotti — the rest of y'all wuddup? 🥴😆🤣😜👅
"The Queen 👑🔥!! (Yo Gotti)"
"A whole water park back there Sis 😍🔥🔥" (Tanisha Thomas)
"😂😂😂😂😂" (La La Anthony)
Nicki Minaj Shares Epic BTS Footage From 'Seeing Green'
Nicki really is treating her fans to some very personal behind the scenes content. The hip-hop superstar has lit up social media with a must-watch compilation video for her newly released "Seeing Green" anthem.
The visual comes packed with special moments – both recent and throwback footage of Nicki hanging out with Young Money's Lil Wayne and Drake. There's super vintage moments dating back to the trio's strong run together in the 2010's. One standout shot includes both Drizzy and Nicki gracing the stage together well before the days of coronavirus and COVID-19 pandemics.
Tekashi 6ix9ine's 100% Here For The Queen
A few days ago, rap troll Tekashi 6ix9ine went online to show Nicki big love. Along with plugging her new project in the caption, he also donned a pair of fire Crocs to pay respect to Minaj causing the Internet to practically wreck last week with her pink pair.
"GO STREAM BEAM ME UP SCOTTY @nickiminaj YOU KNOW WE STARTED THIS CROC SH*T MOMMAZ I LOVE YOU 4L PSA : STOP STEALING CARS 🤬🤬🤬"
G Herbo calls Nicki Minaj the best
Last week, Chicago rapper G Herbo went to his Instagram page to dish on his love for Minaj. Herbo even credited Nicki for helping pave the way for him to become a great.
"@nickiminaj GAVE ME MY FIRST BIG SHOT PUT ME ON THAT STAGE WITH HER & I AIN'T LOOKED BACK SINCE! LOVE YOU 4 EVER EVER!! 👸🐐"