LA Clippers star Kawhi Leonard is notorious for being perhaps the least-entertaining personality in the NBA. But the poker-faced champion is now getting into the entertainment business with a hip-hop project aimed at offering an assist to Kobe Bryant's family.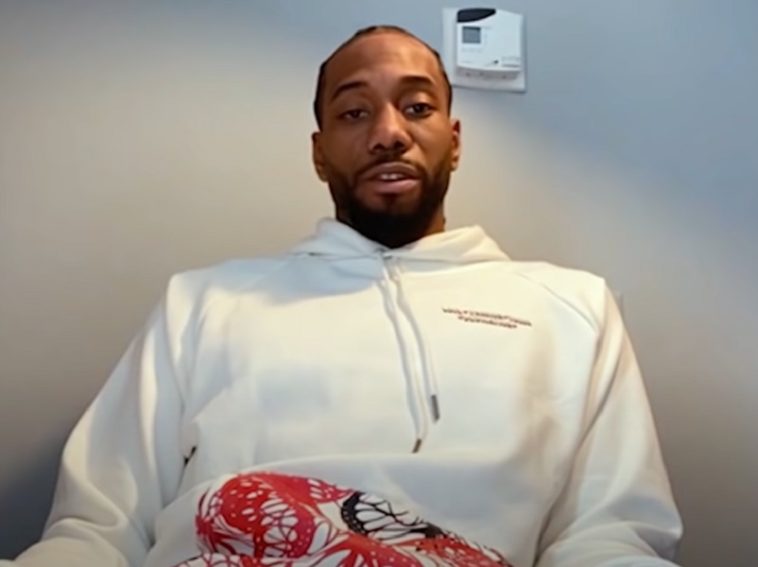 179 Views
Comments Off on NBA Star Kawhi Leonard Has Huge Rap Plans For Kobe Bryant's Family
Kawhi Leonard Collabs With NBA YoungBoy + Rod Wave
Two-time NBA Finals MVP Kawhi Leonard is set to release Culture Jam later this year, an album from which some of the proceeds will go to the late Kobe Bryant's charity foundation. Southern rappers NBA YoungBoy and Rod Wave are involved in the project, teaming up for a single titled "Everything Different."
"It just merges basketball and music together. It's always been something on my mind that I wanted to do, so it's just something that can uplift our community." (Kawhi Leonard)
Vanessa Bryant Launches Clothing Line To Honor Kobe + Gianna
Kobe's widow, Vanessa Bryant, is following through on her promise to honor him and their daughter Gianna. The celebrity mother announced the launch of a new apparel line, named Mambacita, dedicated to Gigi Bryant.
While details are still unconfirmed about the future of Kobe Bryant's brand post-Nike partnership, Vanessa Bryant has taken to social media to announce the launch of a new apparel line, Mambacita, in honor of her daughter, Gianna (Gigi) Bryant. (HYPEBEAST)
Vanessa Bryant Confirms Kobe/Nike Deal Over
In April 2021, Bryant reassured fans through her post that she and Kobe's team would always do all they could to honor his legacy. Vanessa stressed that she knew how meaningful the Nike-Kobe partnership was by acknowledging that, "Kobe and Nike have made some of the most beautiful basketball shoes of all time." She also hinted that she had hoped for a lifelong partnership with Nike that truly reflected her husband's legacy.
"Kobe's Nike contract expired on 4/13/21. Kobe and Nike have made some of the most beautiful basketball shoes of all time, worn and adored by fans and athletes in all sports across the globe. It seems fitting that more NBA players wear my husband's product than any other signature shoe. My hope will always be to allow Kobe's fans to get and wear his products. I will continue to fight for that. Kobe's products sell out in seconds. That says everything. I was hoping to forge a lifelong partnership with Nike that reflects my husband's legacy. We will always do everything we can to honor Kobe and Gigi's legacies. That will never change."
Kobe Bryant's Widow Names Officers In Lawsuit
In March 2021, Vanessa Bryant went to Instagram to share the details of a lawsuit she filed against Los Angeles County, the sheriff's department, and L.A. County Sheriff Alex Villanueva. The posts included the names of the officers — Joey Cruz, Rafael Mejia, Michael Russell, and Raul Versales — who allegedly took or shared photos from the crash that claimed the lives of Vanessa's husband Kobe, their 13-year-old daughter Gianna, and seven other victims.
"At the moment the deputies snapped photos of Kobe and Gianna's remains, they created a harm that cannot be undone, and the Department's response has only exacerbated that harm."