Pop superstar Miley Cyrus is officially rocking with Lil Nas X. The popular crooner has blessed social media with a look at herself donning a pair of controversial "Satan Shoes" by the "MONTERO" hitmaker.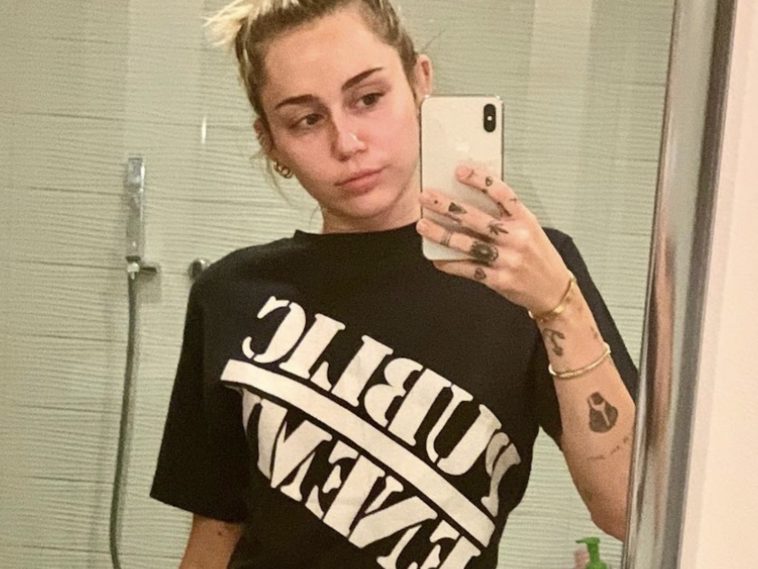 @sohh @sohhdotcom

119 Views
Comments Off on Miley Cyrus Wears Lil Nas X's Human Blood Satan Sneakers
Miley Cyrus Wears Lil Nas X's Kicks
Miley went to her Instagram page to show off the fresh-looking kicks. It's also worth noting Cyrus' dad Billy Ray and Lil Nas previously collaborated on their record-breaking "Old Town Road" remix.
"Can you see Satan? 👹"
Despite over 1.5 million likes include a huge salute from Lil Nas X, Cyrus' kicks also sparked a ton of comments section backlash.
"No bueno!!! 👎🏾"
"Why do you support this?"
"so sad unfollowing"
The big reveal came before news went viral of sneaker giant Nike seeing the creator of Nas' sneakers for trademark infringement.
In a lawsuit filed Monday, Nike accuses MSCHF Product Studio, Inc. of trademark infringement over the designer's 666 pairs of modified Nike sneakers made in collaboration with the "Old Town Road" singer. All 666 pairs sold out Monday. MSCHF has not responded to repeated requests for comment about the lawsuit. In its complaint, Nike (NKE) asked the court to order MSCHF to "permanently stop" fulfilling orders for the "unauthorized" Lil Nas X Satan Shoes. The lawsuit notes that social media users have threatened to boycott Nike over the controversial shoes. (CNN)
Lil Nas X Being Cancelled Over 'Montero' Video?
We asked the SOHH Fam in our YouTube Community for their thoughts on Lil Nas X's new video for "Montero" and the so-called "Satan shoes" he's put on sale as part of the promotion. Fans were split; some appreciate the creativity from the "Old Town Road" hitmaker, while others can't get past what they see as blasphemy and hints of devil worship.
"He will be the next cancelled superstar. Doesn't he know it's the year of being politically correct? People need to lighten up…"
"he did a big mistacke like bro whyyy???"
Some SOHH Fam saw things very differently and felt Nas X didn't do anything wrong.
"I don't see the problem tbh I love it"
"This demon wanna be gay guy … uzi a demon to they both need to be canceled its coming soon tho"
"Video and shoes (fire)"
Nike Isn't Rocking With Lil Nas X's Human Blood Sneakers
Iconic sports brand Nike wasn't here for speculation. The Just Do It brand had come forward to shut down connections to the new pair of controversial sneakers reportedly containing human blood.
"We do not have a relationship with Little Nas X or MSCHF," Nike said in a statement. "Nike did not design or release these shoes and we do not endorse them." (Statement)
Lil Nas X Apologizes For 'MONTERO'
This past Sunday, X went to his social media pages with a video statement. Instead of trolling or embracing the drama, X appeared to take a moment to clear the air and share his true feelings.
"I see everybody's been talking about this shoe and I just want to come forward and say," X said before cutting into his actual music video and giving fans the ultimate trolling moment. However, he did put "IM SO SORRY" in the pinned comments and shared his real apology which was a link to the "MONTERO" music video.