Houston rapper Megan Thee Stallion and Pardison Fontaine are in big love. The hip-hop pair have continued to share super gushy pics of themselves looking extra boo'd up and sharing hardcore relationship goals-driven moments.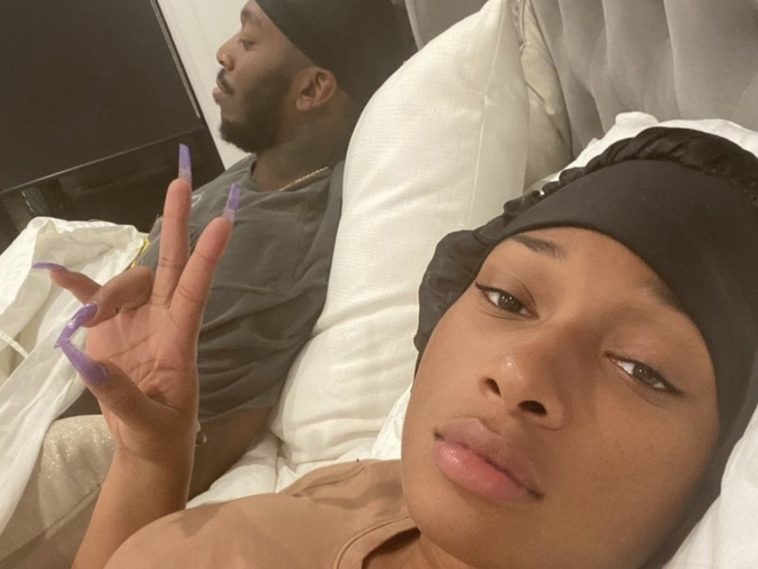 @sohh @sohhdotcom

119 Views
Comments Off on Meg Thee Stallion + Pardison Fontaine Share Bedroom Pics
Meg Thee Stallion + Pardison Fontaine Boo'd Up
Over the past few hours, both Meg and Fontaine have unloaded a grip of shots together. Some pics even include them extra comfy in bed together.
"I've been grinding so hard lately the hotties are abt to be so proud 😭 literally all I've been doing is working and entertaining mr hotboy 😂"
This past weekend, Meg went to her Instagram page with a sneak peek clip of her and Pardison together.
Meg Thee Stallion Boyfriend Announced
Recently, Meg went to her Twitter page to deliver the biggest tease of all teases. Despite not initially name-dropping her boo, Stallion did admit the mystery man was low-key upset with her right now.
"I'm healthy, I can take care of myself, my friends & family love me , my boo love me (he mad at me rn but he still love me) shiddd Beyoncé love me , I'm just happy and blessed lol"
The announcement follows Meg dropping a fire freestyle on her birthday.
Megan Does Her Own Cry Baby Challenge
Megan isn't waiting around to join her own challenges. The hip-hop star recently showed off her "Cry Baby" dance moves.
"Thee mf Hot Girls 😝 #CRYBABYDANCE"
The Fitness Goals Reached
MTV Video Music Award winner Megan Thee Stallion recently posted side-by-side pics on Instagram of how she looked after one week of Hottie Boot Camp, and how she looked after three weeks. The difference is noticeable even for the physically fit performer.
Week 1 to Week 3 Hotties 🔥
1 thing that has helped me a lot Is drinking a gallon of water a day ! Tag me in your gallon pictures if you're doing #HOTTIEBOOTCAMP with me 🐎