Chicago rapper Lil Durk isn't against money phones or stacks but now there's a twist. The hip-hop star has come forward to provide some insight and his personal opinion on who should really flex their wealth to the masses.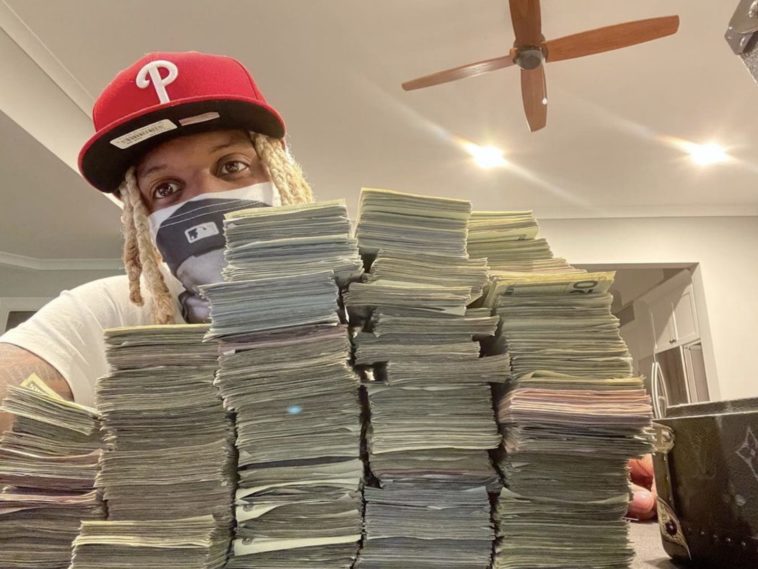 109 Views
Comments Off on Lil Durk Has A Message For Everyone Posting Money Shots
Lil Durk Has A Message
LD went to his Instagram page with a motivational post to his millions of followers. Durk said family and peers' security should come first before showing off thousands in money.
"You can post your money if you take care your family and put your n*ggas in position to win and def make sure your kids took good care of you gotta be a opp or somebody wit me hit ya h*e if you hate on me .. THE VOICE OF THE HEROS 6/4"
Lil Durk Gives A Sneak Preview Of Lil Baby Joint Album
The hip-hop super-team of Lil Durk and Lil Baby recently joined forces like the Brooklyn Nets' Kevin Durant and James Harden, and their championship-contending debut — titled Voice of the Heroes — is set to drop on June 4. A few days ago, LD teased some new music on his social media and gave Baby a shout-out.
"If this don't make it ima be 😡….. @lilbaby what we doing"
Initial Release Date Pushed Back
The duo initially announced a release date of May 28 for their joint album. But soon after Def Jam announced that late rap legend DMX's posthumous project Exodus was dropping on that date, Durk and Baby's album was held off for a week — reportedly out of respect for the fallen icon.
"The voice of the hero's may28th what y'all think….. @lilbaby"
"How Does 'Voice Of The Heroes Dropping May 28 Sound'? 🔥🔥🤯 I'm Tryna See Some… @lildurk"
Lil Baby Makes Game's Top 10 List
West Coast rapper Game has just provided enough ammunition to keep fans debating. The hip-hop veteran has shared his Top 10 best rappers list ranging from moguls like JAY-Z and Nas to Lil Baby.
My top ten best rappers alive list in order (Not including myself) 1. Jay-Z 2. NAS 3. Lil Wayne 4. Eminem 5. Kendrick 6. Snoop Dogg 7. Drake 8. Andre 3000 9. J. Cole 10. Lil Baby (And by the way, I'll go bar for bar with anybody on this list)