Rap rookie Coi Leray loves herself no matter what. The daughter to rap veteran Benzino went online to defend those who were body shaming her.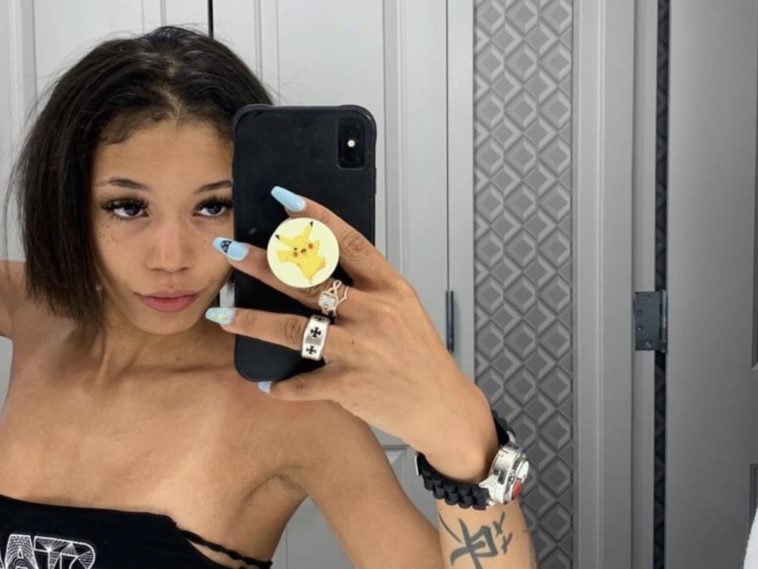 @sohh @sohhdotcom

129 Views
Comments Off on Coi Leray Responds To Body Shaming Comments
Coi Leray Responds To Body Shaming Comments
The "No More Parties" crooner took to Instagram with a TikTok repost showing off her body. She also went to Twitter to make it clear she didn't care at all if anybody had anything negative to say about her loving her body.
"Couple of y'all b*tches hate how comfortable i am in my skin. So weird"
"Couple of y'all be like "I love myself" b*tch no you don't"
"If you insecure just say that"
Coi Leray Responds To Benzino's Comments
Coi Leray doesn't have any time for criticism, no matter who it's from. She went to social media at the beginning of March 2021 to vent and air out her father and Boston rapper Benzino.
It came in response to his comments about her remarks regarding his skills as a parent. The rising star took to Instagram Live with her thoughts. Leray dissed Benzino and his abilities as a father, but it's nothing new. The pair have been going back and forth online with only harsh words.
Coi Leray Nearly Died In Car Wreck
This past holiday season, Coi Leray breathed a huge sigh of relief. The hip-hop entertainer came forward to reflect on almost having her life taken away from her following a near-death car accident. Leray went to her social media pages to speak out on practically witnessing her life flash before her eyes.
"So homie ran his light tryna be quick to get on the highway," she wrote in the accident. Stressing how serious it was and how it could've ended up worse for her, she added, "I could of died." Details of the accident are not yet available, but Coi later shared a message to her friends and followers about cherishing their moments with their loved ones. "Hold ya all loved ones. Your brothers, your sisters. Call them, tell them you appreciate them," she said in a short Instagram Live video. (Ace Showbiz)
Blueface Date
The same week of the accident, buzz developed about Coi having love in the air. Cameras spotted her on a date with West Coast rap artist Blueface.
The "Respect My Cryppin'" rapper and "Slide" singer hit up Harold's Chicken in Hollywood last weekend and appeared to be digging each other's company on this lunch date. We're told no one else was at the chicken joint, made famous in Chi-Town, so the celebs had no interruptions. Good thing, because they appeared to be in a very flirty mood. (TMZ)