Atlanta rapper Gucci Mane's wife Keyshia Ka'oir is sticking to the green. The hip-hop model has blessed social media with another up-close look at her latest hair transformation.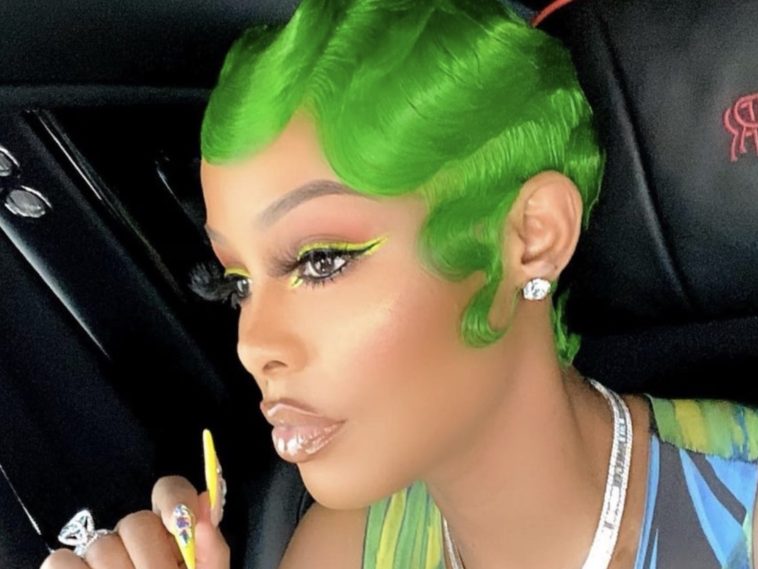 189 Views
Comments Off on Keyshia Ka'oir's All-Green Everything Hair Is Here To Stay
Keyshia Ka'oir's All-Green Everything Hair Stays
KK went to her Instagram page with some selfies of her bright green head top. She also acknowledged getting tagged a possible "weirdo" in the caption.
"A yellow b!tch with green hair, a real weirdo🤑 #MrsDavis"
Despite what she might think, KK's hairstyle has ignited a ton of major co-signs from rappers like Trina and City Girls' Yung Miami.
"Mrs Davis 😍😍😍 … Baddest 💚💚💚💚" -Trina
"🔥🔥🔥🔥" -Yung Miami
Gucci Mane Glows Marriage Goals
This past weekend, Guwop went to his Instagram page with a slideshow of pics hanging out alongside KK. In the pics, they're both showing off major love for one another, however, it's Ka'oir's beauty and noticeably green hair which steals the marriage goals moment.
"I got the finest wife @keyshiakaoir ❤️🥶"
KK made sure to remind her millions of fans about their marriage goals, too. Ka'oir shared a batch of pics of themselves together from paradise.
"B*tch I'm Rich Plus I'm Super Litttttty🤑"
Gucci Mane's Fit Goals Outshined
Recently, Guwop's ride or die went to her Instagram page with a batch of flashy pics. The shots showed Gucci draped in luxury gear but Ka'oir's iced and fit completely outshined Mane.
"Guwop's b*tch she's a masterpiece✨#1017"
Gucci even went to his Instagram page to acknowledge KK's flexing is on his level.
"When it comes to Stuntin I met my match @keyshiakaoir 💎🧊 #IceParents"
The Shocking See-Through Dress
A few weeks ago, KK went online with some fire pics of herself donning the eye-opening fit. While one shot featured her with hubby, the other showed KK posting with City Girls' Yung Miami.
"2 bad gyal link up!! Keyshiaaa & Careshaaa !!! @yungmiami305"
Gucci made sure to celebrate his fashion and marriage goals with KK by posting up pics alongside her.
"Every time we step out it's Epic 🥶🥶"