Toronto rap star Drake is in hardcore workout mode right now. The OVO Sound boss took to social media with a new gym clip and fans are loving it.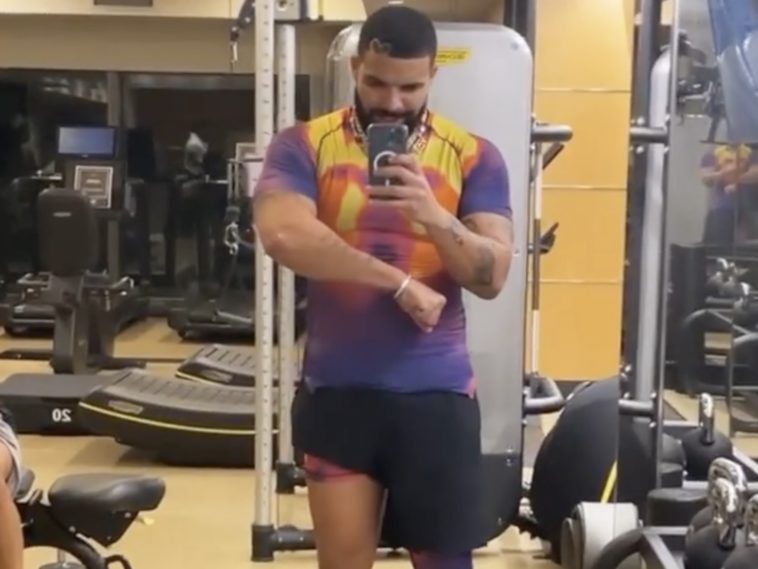 @sohh @sohhdotcom

129 Views
Comments Off on Drake Shows Off His Workout Goals During Gym Session
Drake Is In Hardcore Workout Mode
Drizzy went to his Instagram Story with a quick video of him flexing his muscles going hard in the gym. Fans are lighting up social media with all sorts of comments about Drake's look and how dedicated he is to the workout grind.
❤️🔥😍😂
Daddyyyyy😍
I mean 🤤
Drake + French Montana Are Sitting On Big Tunes
The "POPSTAR" crooner and French Montana are giving fans the biggest teaser of the month. The hip-hop pair have hinted at plans to possibly drop some serious new tunes.
Frenchie went to his Instagram page last week with a must-like shot. The pic features both himself and Drake chilling next to each other with a little foreshadowing.
"We'll see what's 'bout to happen next, okayyyyyyyyyyy?! @champagnepapi"
Drake + Lil Baby's 'Wants + Needs' Goes Gold
Recently, Drake and his "Wants & Needs" collaborator Lil Baby secured more than half a million sold units. Drizzy's "What's Next" – also from the new EP – is gold, too.
Both tracks "wants & needs" & "What's next" are now certified Gold. 📀🔥
The 6 God Hooks Up W/ Bow Wow
In March 2021, Drizzy went to his Instagram page to share some epic footage of himself alongside fellow rap veteran Bow Wow. Drake dished on just how much Bow Weezy really meant to him after making Billboard Hot 100 history with all 3 Scary Hours 2 songs making the Top 3 spots on the chart.
"I didn't know how else to bring in 1-2-3, I had to link up with Wizzo. Come on man! I want to thank-you, man! 1-2-3. Linked up with Wizzo, man."
Drake didn't stop there, he shared another clip of himself solo and being honest about Bow Wow paving the way.
"I had to link with Wizzo, so everybody wants to have drinks and everybody wants to celebrate and turn up. You know? I just had to see Wizzo. If it wasn't for you, it wouldn't be me so that's why I'm gonna, you know the rest. It's why I'm gonna rock with ya, forever more. Appreciate you."