OVO Sound boss Drake isn't worried about nothin' – especially Kanye West possibly trying to send goons his way. The hip-hop star has appeared to react to buzz and craziness surrounding Ye allegedly dropping his real-life home address amidst their current feud.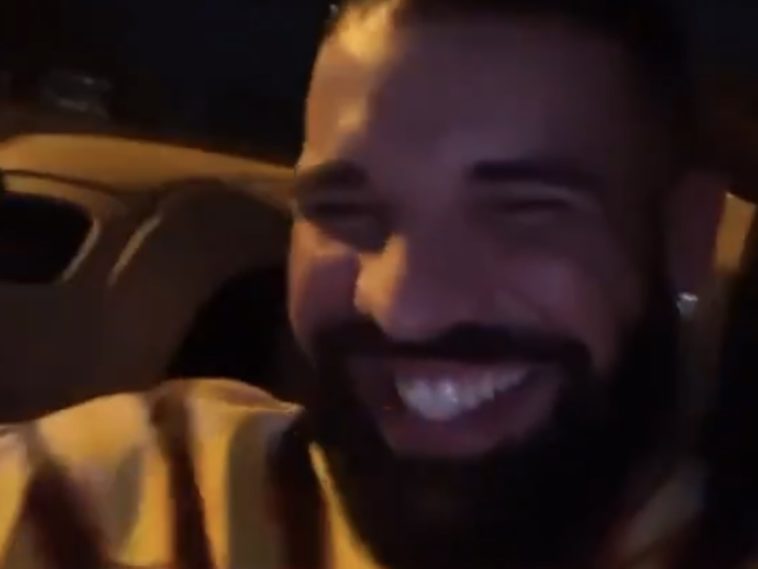 199 Views
Comments Off on Drake All Smiles After Kanye West Allegedly Posts His Real-Life Addy
Drake All Smiles At Kanye West
The 6 God went to his Instagram page to share footage of himself cruising around his hometown Toronto, Canada. While he didn't name-drop Ye, Drizzy's smirk and laugh appears directly aimed at his G.O.O.D Music rival.
Over the past few hours, social media has ignited with reactions to Ye's post and delete tactic
Kanye West Has Everyone Thinking He's Getting At Drake
This past weekend, Kanye appeared ready to go to war with Drake. The hip-hop superstar responded to direct shots fired his way from the 6 God's new "Betrayal" song with Trippie Redd.
Yeezy made a rare Instagram appearance with a post seemingly involving both Drake and his G.O.O.D Music general Pusha T. While Kanye didn't name-drop Drizzy, he did seem to go at him with both a reference to 2019's Joker villain movie and some very dicey words.
"I live for this. I've been f*cked with by nerd a** jock n*ggas like you my whole life. You will never recover. I promise you."
The drama seemed to stem from Drake's direct bars aimed at Kanye on "Betrayal" where he raps, "All these fools I'm beefin' that I barely know – Forty-five, 44 (Burned out), let it go," proceeded by the lines "Ye ain't changin' sh*t for me, it's set in stone."
It's worth noting both Kanye and Pusha are both 44 and appear to be the exact age reference Drake makes on Trippie's song.
Twitter's Ready For Kanye Vs. Drake
It didn't take long before social media ignited with reactions over Kanye's Instagram fingers putting in weekend work. Twitter users specifically wondered if the world is gearing up for a major Ye/Drizzy clashing.
Yeezy might want to focus on bigger things than Drake. Specifically? Diehard fans are eagerly awaiting the release of his highly-anticipated Donda studio album. Barring any last-minute changes, there is a third listening event slated to go down in the coming days.
Yeezy himself will grace the stage at Soldier Field on August 26, less than a week from now. Tickets went on sale this past Friday.
Ye's Streams Are Exploding Right Now
Although the Donda album is still nowhere in sight, it's not stopping his own popularity on the streaming giants. The hip-hop star's presence on everything from Apple Music to Spotify has exploded with people taking in his tunes.
Since buzz started around Donda possibly dropping around late-July 2021, Kanye's streams have racked up. All tallied up, Ye's combined numbers are nearly a quarter of a billion streams in just a few weeks.
All in all, in the 22-day period from July 19 (when he initially announced the first Donda live event) to Aug. 9, West has racked up 240.2 million streams, an average of 10.9 million a day — which is up 37% from the 22-day period prior (June 27 – July 18), when he posted a combined 175.7 million streams, an average of 8 million a day. Kanye might not even need to ever release Donda to continue enjoying the benefits from all the buzz surrounding it. (Billboard)