New York rapper 50 Cent's ex-girlfriend Daphne Joy has made Cinco de Mayo an unforgettable day. The popular mom to Fifty's mini-me Sire Jackson has come through with a jaw-dropping flex in celebration of the Mexican-American holiday.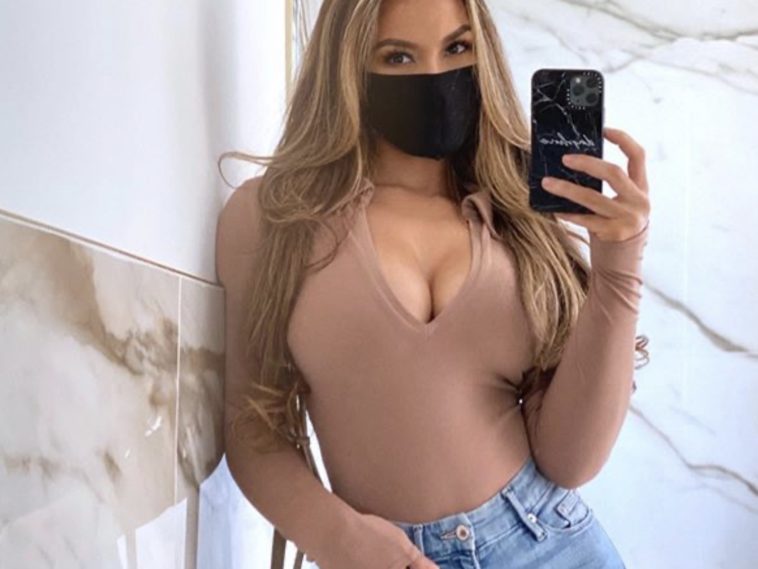 99 Views
Comments Off on Daphne Joy Went Nude For Cinco De Mayo
Daphne Joy Went Nude For Cinco de Mayo
Daphne brought more than joy to the world to her Instagram followers. She blessed more than 1.7 supporters with a snapshot of herself – presumably – in her birthday suit, with a huge hat and salsa-dancing emoji caption.
"💃🏻☀️"
While not showing off any type of Latin drip, President Joe Biden went to his Twitter page to acknowledge Cinco de Mayo.
"Today, on Cinco de Mayo, we celebrate the legacy of Mexican courage and resiliency. I am thankful for the incredible contributions of generations of Mexican Americans who have served in our military, explored outer space, fed our nation, and created countless jobs."
50 Cent Reacts To Diddy/Daphne Joy Outing
In April 2021, 50 Cent went to his Instagram page to share a pic of what appeared to be Joy and music mogul Diddy together. Instead of holding a grudge, 50 vowed to stay out of their possible romance.
"👀Nah me and puff fight over business sh*t,If he like the girl, he like the girl 👀I don't give a f*ck ! #bransoncognac #lecheminduroi"
50 Cent's Baby Mama Gives Powerful PSA
Back in March 2021, Daphne lit up social media with a selfie and strong caption. She acknowledged Women's Awareness Month and spoke directly to her lady followers.
"There is beauty about a woman whose confidence comes from experiences. Who knows she can fall and pick herself back up. A woman who is determined to follow her own path no matter the obstacle. That woman is you! Happy International Women's Day!"
DJ's Semi-Nude Pic Is Jaw-Dropping
Recently, Joy went to her Instagram page with an eye-opening shot. The pic featured her modeling alongside a pool and artistically using a small cup to cover her lower region.
"What's the tea?"
The possible Internet-breaking shot also left vixen Erica Mena stunned in her comments section.
"Wow" -Erica Mena