Legendary rap group Wu-Tang Clan is giving everyone some must-own reading material. Actually, it's priceless visual heat packed into a photo book, but the average person might not be able to even pick it up – literally.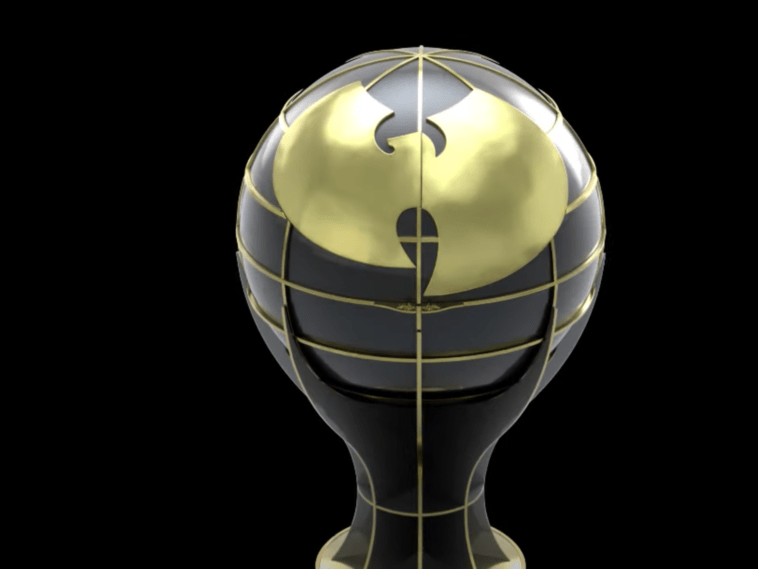 @sohh @sohhdotcom

129 Views
Comments Off on Wu-Tang Clan Announces 400 Pound Photo Book
Wu-Tang Clan is Releasing A Limited-Edition Photo Book
Wu-Tang is releasing a 400-pound, 300 page photo book. There will only be 36 editions of the weighty chamber created by sculptor Gethin Jones, which can be described as a steel and bronze sculpture. The dope art piece is being described as "the biggest and rarest book in the history of Hip Hop".
The bronze-encrusted black steel chamber sculpture — which looks a bit like the FIFA World Cup trophy emblazoned with the Wu-Tang logo — opens up to reveal the 21″ x 21″ book, which will be signed, dated and numbered and feature a certificate of authenticity alongside rare and unseen photos from famed photographers Danny Hastings, ProTim Photo, Kyle Christie and Andy Cantillon as well as friends and family of the Clan. (billboard)
Wu-Tang Clan Hops Into Marvel
The hip-hop icons are entering a whole new scene. They recently ventured a new battle, actually, as they've joined a fight in Marvel's comic series King in Black. In new (and also the last) tie-in edition Deadpool #10, which was released in February 2021, The Wu-Tang Clan were Deadpool's first choice in his team assembly to come along to defend Staten Island. Ultimately they weren't chosen for the squad, but it seems like they lent a quite massive speaker instead to help out.
The team that Deadpool puts together ultimately doesn't include any members of the Wu-Tang Clan. It doesn't even have any of the Wu-Tang's affiliates, the Killa Beez. But they still help out when Jeff the Land Shark is infected by the symbiote and turns into a bloodthirsty monster. Deadpool is able to get the symbiote off of Jeff by blasting him with music from a ridiculously large speaker. He tells Elsa that the speaker is a loaner, implying that get got it from the Wu-Tang Clan. "I told you some musicians who think fondly of the Island Formerly Known as Staten would appreciate my saving their beloved stomping grounds." The song he plays to get the symbiote off Jeff is "Tearz" by, of course, the Wu-Tang Clan. (Screen Rant)
Deadpool 3 Confirmed For Marvel Cinematic Universe
Deadpool 3 is heading into the Marvel Cinematic Universe! Kevin Feige, Marvel Studio's President & CCO broke the news in an interview saying Ryan Reynolds' next Deadpool movie will definitely have an 'R' rating & will be located in the Marvel Cinematic Universe! Check out MCU – The Direct's Twitter for all the details. This is super exciting news for MCU fans as we have been patiently waiting to see some X-Men vs. Avengers clashes! Maybe the Wu-Tang clan will hop in this, too!
Deadpool Star Ryan Reynolds Plugs Hilarious Match Clip
You know Ryan Reynolds. While he's not part of the Wu-Tang Clan, he's the goofball that plays Deadpool in the Marvel movies. What you might not have known though is he was 'born' to play Deadpool, well, because, his real life personality has always been exactly like the 'merc with a mouth'! At the end of 2020, Reynolds a hilarious short film created by his production company, Maximum Effort to plug popular dating app Match.