North Carolina rapper DaBaby isn't winning fans over with his dream of securing music icon JAY-Z for a massive collaboration. The Internet has responded to DB over his dream of clocking in studio time with Young Hov.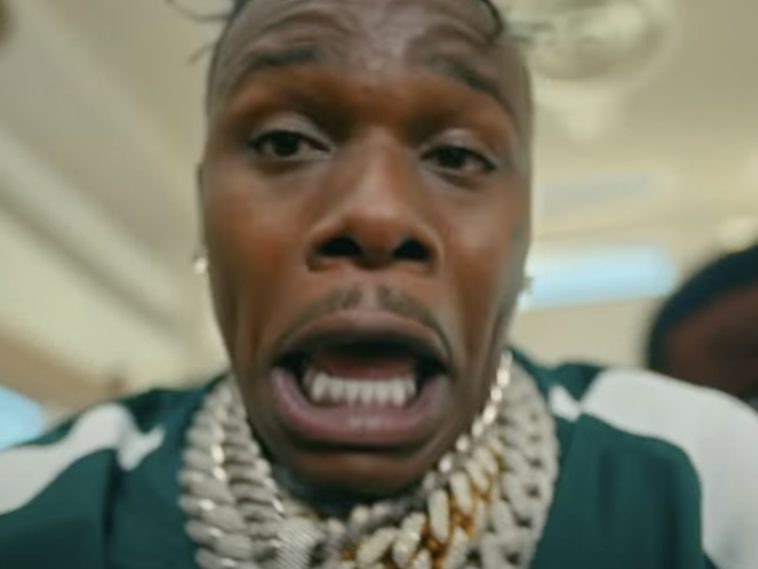 149 Views
Comments Off on DaBaby's JAY-Z Collabo Wish Gets Blasted By Twitter
DaBaby's JAY-Z Collabo Wish Gets Blasted
Baby initially went to his Twitter page to throw up the idea of working alongside Jigga. DaBaby even jokingly asked his millions of followers about who he should talk to in order to make it happen.
"Who I gotta talk to to get Jay-Z on a song?"
Instead of gaining a ton of support, people went in on his idea of making a fire collaboration with JAY.
"It's levels to the fame , Jay ain't messing with everybody son need a reference to Rap with the 👑"
"When Megan get the feature before you"
"You probably just burnt that… Megan is Roc Nation (mngmnt). They not fckin with you after that recent online back and forth. Them Mfs on that team definitely choose sides, and you sir may have made the wrong play in not choosing sides."
"Meg is managed by roc nation and Beyoncé f*cks with her… certainly ain't happening now buddy."
DaBaby + Meg Thee Stallion Are Clashing
Last weekend, tensions initially stirred up when rap heavyweight and JAY's Roc Nation artist Megan Thee Stallion publicly lashed out at Baby. She questioned his loyalty and tricking her about possibly being on her side in a publicized fallout with her ex-boyfriend Tory Lanez.
"support me in private and publicly do something different…these industry men are very strange. This situation ain't no d*mn "beef" and I really wish people would stop down playing it like it's some internet sh*t for likes and retweets. … ustice is slow … as we've all seen…back to my good day 💙"
DaBaby attempted to clear his name from any type of drama and stepped up to speak out. Baby also tried to end rumors and speculation about 'liking' or even retweeting someone's remarks about both himself and Lanez getting away with shooting someone and not having to do jail time.
"Baby got enough problems of his own my n*gga😂, ion got nooooo reason to inherit the next MF problems.🙅🏾‍♂️ Y'all chasing a story y'all ain't gone get. I'm out niggas bidness while still successfully doing business. … Idk what type of Illuminati sh*t Twitter got goin on😂… I ain't retweet nothing but "Ball If I Want To" promo. I ain't retweet that silly sh*t. Then once ppl start tagging me & I saw it and tried to delete it and undo the retweet Twitter didn't let me.🤔 Type sh*t yall on?"
DaBaby + Meg Don't Slow Down The Drama
Instead of speaking their minds and leaving it alone, the duo actually took things a step further with some hard-hitting clashing. Baby quoted Meg and specifically mentioned not wanting to have anything to do between Tory and Stallion despite appearing on Lanez's "SKAT" single.
"You done let these folks get the best of you thug. ion got no bad energy for ya. You know like I know I ain't no "industry" n*gga , let em fool you into thinking that you trippin. Stand on what you stand on without feeling like I'm against ya. Stay focused my g🖤💪🏾"
Meg refused to let Baby get the last word and questioned his true loyalty and stance in her situation with Lanez.
"My stance hasn't changed at all YOURS has. We already spoke abt this in private and you specifically said "that ain't even no good business move why would I promote that sh*t" but now this ain't your "beef" ? That ain't real. But you stay on ya "business" my g"
Baby followed this up by suggesting he had a similar conversation with Tory Lanez about how he wanted nothing to do with their legal situation.
"You ain't tweeting nothing I ain't tell dat n*gga directly. I told him da same sh*t. lol Whoever cleared it cleared it, so what. Sh*t still ain't enough of my bidness for MFs to be feelin some type of way bout my pretty chocolate ass Gettin into dat don't feed my ppl."
Finishing Touches
Just for good measure, DaBaby acknowledged he couldn't believe his Twitter fingers managed to get the best of him. Despite Stallion appearing to distance herself from him, Baby made sure to tell her he still loved Meg.
"on even go back n forth w/ my own b*tches on the net now I'm on dis mf goin back n forth w/ another n*gga woman about some shit another nigga accused of 😂. How tf dat work? Y'all n*ggas hell😂 Happy Juneteenth tho, we started this b*tch off wit a bang didn't it ? Luv u Meg."