Chicago rapper Common's bae Tiffany Haddish just landed the biggest role of her career yet. News has broke revealing the Hollywood actress will play legendary athlete Florence Griffith Joyner, also popularly known as the "fastest woman in the world," in a new film.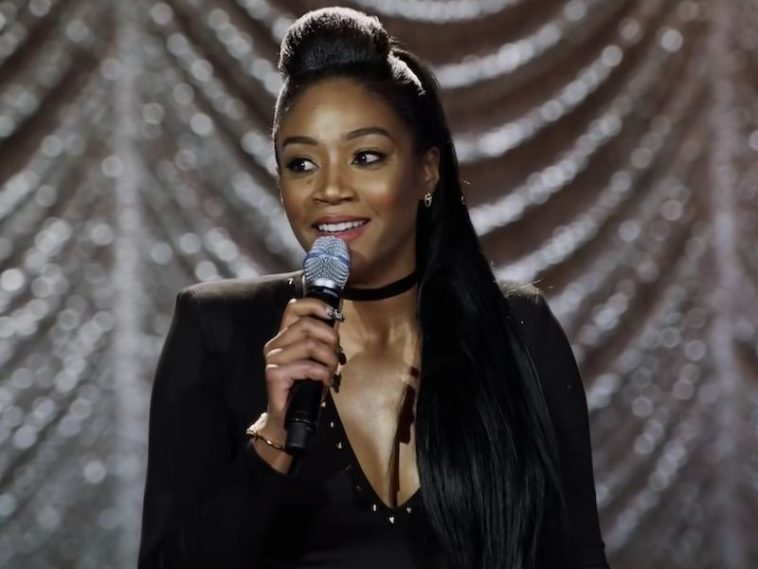 119 Views
Comments Off on Common's Bae Tiffany Haddish Becomes The Fastest Woman In The World
Tiffany Haddish Lands Florence Griffith Joyner Role
Tiff reacted to the massive news about playing Joyner through her social media channels. In a Twitter post, Haddish expressed how excited she was for the role and promised she would work hard to honor the memory of the track and field star.
"My Heart is so full Right now! I can't even explain how hard I am going to work to honor Her Legacy!"
When a fan of Flo-Jo made a serious request of Tiffany not to "mess up" her depiction of the Olympic star, Haddish was quick to reply with her promise.
"FloJo is my idol. Please, don't mess this up."
"She is mine too. If I mess this up I will kick my own ass." #Facts -Tiffany Haddish
According to reports, Tiffany will also produce the film. Joyner is most known for breaking records in the Olympics before her untimely death in the late 90's.
The "Girls Trip" actress will star as Florence Griffith Joyner, known as "Flo-Jo" to her fans, who helped popularize track and field with her record-breaking Olympic run and flashy personality and style (she originated the "one-legger" look with her running suits). Many of the records that Joyner set in the 1988 Olympics, including those in the 100 m and 200 m, have yet to be broken. Joyner died in 1998 at the age of 38 of an epileptic seizure. (Variety)
Tiffany Haddish Might Take Ellen DeGeneres' Spot
In mid-May 2021, according to reports, Haddish was considered the best candidate to take over the Ellen DeGeneres show.
The "Girls Trip" star, 40, has frequently filled in for Ellen DeGeneres, 63. In the wake of her killing her daytime talk show, a senior NBCUniversal source told us: "Tiffany is a favorite, she has humor and empathy in spades. "She's top of the list to get a daytime show – she's a fresh voice." (Page Six)
Ellen Announces Her Final Season
In May 2021, DeGeneres shocked the world after announcing her talk show run would end. The show will wrap up with Ellen as the host after nearly 20 seasons.
"Today is a big day. Next season is a big season."
Tiffany Haddish Secures Apple Murder Mystery
In November 2020, Tiffany Haddish proved she was staying extra busy when she's not chasing relationship goals with rap star boyfriend Common. The popular "The Last OG" actress secured a role in an upcoming Apple TV series called "The Afterparty."
The eight-episode series, which was exclusively reported by Variety in June, is set at a high school reunion afterparty. Each episode will feature a retelling of the same night told through a different character's perspective, each with its own unique visual format and film genre to match the teller's personality. Haddish will star as Detective Danner, the eccentric detective assigned to solve the high-profile case. Haddish is best known for her stand up career and her breakout role in the film "Girls Trip," but Haddish has also starred in multiple TV projects in recent years. That includes the animated series "Tuca & Bertie" and the TBS comedy "The Last OG." (Variety)