New York rapper Bobby Shmurda might have the best framed artwork in the world. The hip-hop star has lit up social media with some fresh shots of himself holding onto a painting inspired by himself, his now-signature Shmoney Dance and iconic New York Knicks hat.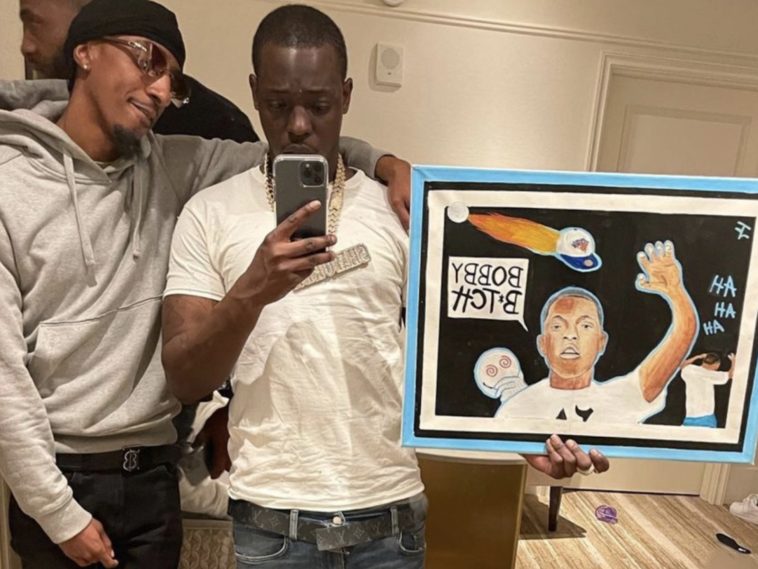 @sohh @sohhdotcom

159 Views
Comments Off on Bobby Shmurda Reunites W/ His New York Knicks Hat
Bobby Shmurda Reunites W/ NY Knicks Hat
The rap heavyweight went to Instagram with the must-see shots. The pics feature him holding onto the artwork.
"Left the spot like cheaaaa 😜 I love them"
The must-see IG post sparked a hefty co-sign by Atlanta hitmaker Rich The Kid.
"My Guyzer"
During his lockup, social media often created memes and jokes about the whereabouts of Bobby Shmurda's New York Knicks hat. It became a viral movement courtesy of Bob tossing it in the air in his "Hot N*gga" music video but it never appearing to land.
Gucci Mane + Bobby Shmurda Link Up
This weekend, rap star Gucci Mane went to his Instagram page with a slideshow of fresh pics. While he's shown chilling with fellow rap heavyweights like 2 Chainz, the standout shot is him and Bobby posing next to each other.
"Real N*ggas Back in Style!! Welcome Home @realbobbyshmurdags9 🥶🥶"
"Shmurda on da set ah ahh ahhh 🤫" -Bobby Shmurda
Bobby also went to his IG page to share the epic-looking moment.
"Da 🐺🐺🐺 is home #1017 wusshup baybieee @laflare1017"
"Welcome back" -Pooh Shiesty
"Welcome home Vato 🥶🥶" -Gucci Mane
Bobby Shmurda Goes Thirst Trap Mode
Recently, Bobby went to his Instagram page with a shirtless pic. Fellow recently-released rap star Rowdy Rebel had something to say about it too, and playfully roasted Bobby in the comment section.
"BlaccaShine🍫🌞 Hem woke up like this😎💪🏿 Chocolate city n*gga go get a tan😜"
"😂😂 that's him" -Rowdy Rebel
"Yessirr 💪🏾" -Quavo
NY Knicks Welcome The Hometown Hero Back
The New York Knicks know how important Bobby Shmurda is for the culture. The iconic professional basketball team recently trended courtesy of a pic showing how the organization welcomed home the previously jailed rap star. A must-see pic is circulating online showing Bobby's face plastered onto a massive billboard outside of the Knicks' Madison Square Garden arena.
"AH AH AHHHHHH "
Prior to getting locked up, Shmurda frequently showed love and appreciation for the Knicks courtesy of fresh outfits he rocked.