New York rapper Bobby Shmurda is really, really enjoying his freedom. His most recent escapade saw him at the Brooklyn Nets game and he received all sorts of hometown treatment.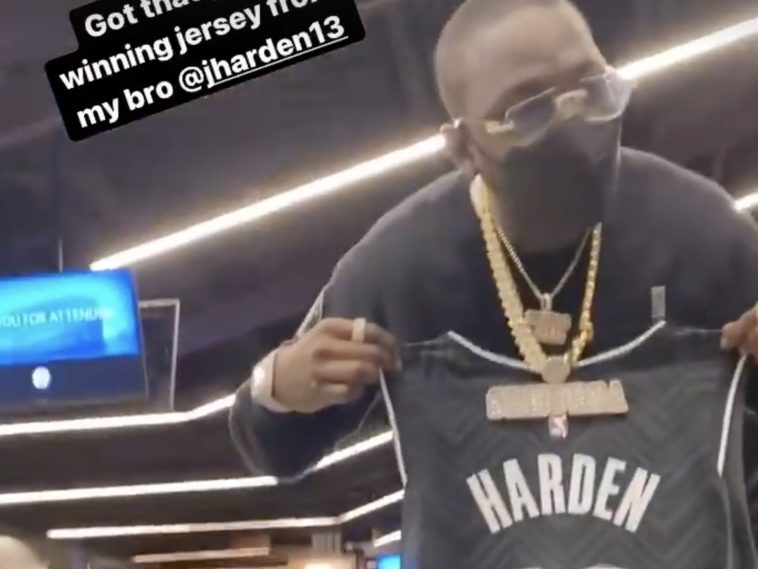 @sohh @sohhdotcom

179 Views
Comments Off on Bobby Shmurda Gets A Warm Welcome At Nets Game
Bobby Shmurda Gets A Jersey Hook Up From James Harden
Bobby Shmurda got hooked up for real at the Nets vs. Knicks Big Apple rivalry game. He received his own VIP suite as well as a signed jersey after the game from superstar James Harden, all of which he went to social media to show off and show his appreciation for.
"Spread love It's The "Brooklyn" Way 💙 Special thanks to @brooklynnets & @alwayscivil for the hospitality (( I got my own jersey yall don't act funny when I come warm up 🤣 ))"
Shmurda's longtime friend Rowdy Rebel also pulled through for the festivities. Rebel recently made headlines for getting out of prison weeks before Bobby.
"The Real Big 3‼️ thank you @brooklynnets x @alwayscivil for everything 💯"
Bobby Shmurda Reunites W/ NY Knicks Hat
Shmurda might have the best framed artwork in the world. The hip-hop star recently lit up social media with some fresh shots of himself holding onto a painting inspired by himself, his now-signature Shmoney Dance and iconic New York Knicks hat. The rap heavyweight went to Instagram with the must-see shots. The pics feature him holding onto the artwork.
"Left the spot like cheaaaa 😜 I love them"
The must-see IG post sparked a hefty co-sign by Atlanta hitmaker Rich The Kid.
"My Guyzer"
During his lockup, social media often created memes and jokes about the whereabouts of Bobby Shmurda's New York Knicks hat. It became a viral movement courtesy of Bob tossing it in the air in his "Hot N*gga" music video but it never appearing to land.
Gucci Mane Link Up
A few weeks ago, rap star Gucci Mane went to his IG page with a slideshow of fresh pics. While he's shown chilling with fellow rap heavyweights like 2 Chainz, the standout shot is him and Bobby posing next to each other.
"Real N*ggas Back in Style!! Welcome Home @realbobbyshmurdags9 🥶🥶"
"Shmurda on da set ah ahh ahhh 🤫" -Bobby Shmurda
Bobby also went to his IG page to share the epic-looking moment.
"Da 🐺🐺🐺 is home #1017 wusshup baybieee @laflare1017"
"Welcome back" -Pooh Shiesty
"Welcome home Vato 🥶🥶" -Gucci Mane
Bobby Shmurda Goes Thirst Trap Mode
Recently, Bobby went to his Instagram page with a shirtless pic. Fellow recently-released rap star Rowdy Rebel had something to say about it too, and playfully roasted Bobby in the comment section.
"BlaccaShine🍫🌞 Hem woke up like this😎💪🏿 Chocolate city n*gga go get a tan😜"
"😂😂 that's him" -Rowdy Rebel
"Yessirr 💪🏾" -Quavo