The late, iconic Chadwick Boseman will have his legacy as the one and only Black Panther celebrated once again in Marvel Studios' "What If…?" series. The Disney Plus show is slated to premiere his must-see performance this week.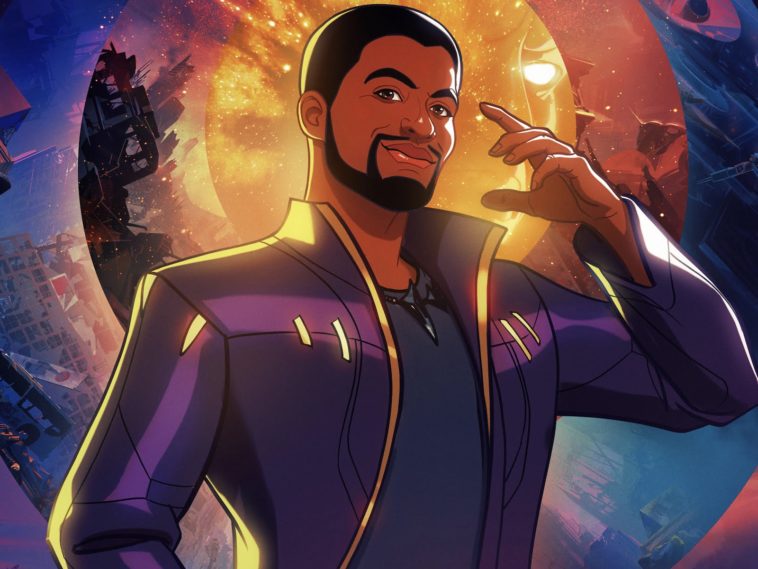 161 Views
Comments Off on Black Panther Icon Chadwick Boseman's Final 'T'Challa' Performance Is This Week
Black Panther's Chadwick Boseman's Final T'Challa Performance
According to Team Marvel, the must-see broadcast is set to become available this Wednesday, August 18. The series is Marvel's first animated series on Disney+ which reimagines famous events from films in the MCU, creating a multiverse of infinite possibilities.
In addition to Chadwick Boseman's T'Challa character, the series is known for taking some of the all-time fan favorites including Black Panther's Killmonger and Doctor Strange with plot-twisting alternate universe storylines.
Disney+ recently unveiled a new trailer and poster today for Marvel Studios' "What If…?," showcasing the compelling series that reimagines famous events from films in the MCU. Creating a multiverse of infinite possibilities, "What If… ?" features fan-favorite characters, including Peggy Carter, T'Challa, Doctor Strange, Killmonger, Thor and more. The new series, directed by Bryan Andrews with AC Bradley as head writer, features signature MCU action with a curious twist. Marvel Studios' first-ever animated series launched on Disney+ on Wednesday, August 11.
Black Panther 2 Official Movie Title Released
In May 2021, buzz developed about the long-awaited follow-up to 2018's Black Panther. Marvel Studios announced both the sequel's official title and release date.
Marvel hit the green light on a slew of massive announcements. Along with revealing a slate of release dates going into 2023 for its films, the superhero production company revealed Black Panther: Wakanda Forever is set to arrive in theaters July 2022.
Marvel announced the title of the hotly anticipated "Black Panther" sequel: "Black Panther: Wakanda Forever." The follow-up to the 2018 blockbuster hit will release on July 8, 2022. Marvel also announced the release dates of its other upcoming Marvel Cinematic Universe titles: Spider-Man: No Way Home: Dec. 17, 2021 Doctor Strange in the Multiverse of Madness: March 25, 2022 Thor: Love and Thunder: May 6, 2022 The Marvels: Nov. 11, 2022 Ant-man and the Wasp: Quantumania: Feb. 17, 2023 Guardians of the Galaxy Vol. 3: May 5 2023. (Insider)
'Black Panther 2' Will Honor Chadwick Boseman's Memory
In a recent interview, Black Panther star Lupita Nyong'o — who plays Nakia — revealed director Ryan Coogler has reworked elements of the movie sequel in honor of the late Chadwick Boseman.
"We have a leader in Ryan, who feels very much like we do, who feels the loss in a very, very real way as well. And his idea, the way in which he has reshaped the second movie is so respectful of the loss we've all experienced as a cast and as a world. So it feels spiritually and emotionally correct to do this. And hopefully, what I do look forward to, is getting back together and honoring what he started with us and holding his light through it. Because he left us a lot of light that we're still going to be bathing in. I know that for sure."
'Wakanda' Series In The Works For Disney Plus
Marvel Studios is out here proving there's no limit to how much the Black Panther franchise can expand. Earlier this year, new buzz circulated online about an epic series being in the works centered on the iconic super hero's Wakanda hometown.
The series is part of a new multi-year overall television deal Ryan Coogler and his Proximity Media have signed with The Walt Disney Company and will include other television projects in the future. Coogler previously directed and co-wrote the hit Marvel film "Black Panther," which takes place in the fictional African nation of Wakanda. Coogler is currently at work on the film's sequel. The deal will enable Proximity to develop shows for other divisions of the Walt Disney Company as well. Along with Coogler, Proximity's principals are Zinzi Coogler, Sev Ohanian, Ludwig Göransson, Archie Davis and Peter Nicks. (Variety)